AI and development of technology in the newsroom: 4 key takeaways from the Future of Media Technology Conference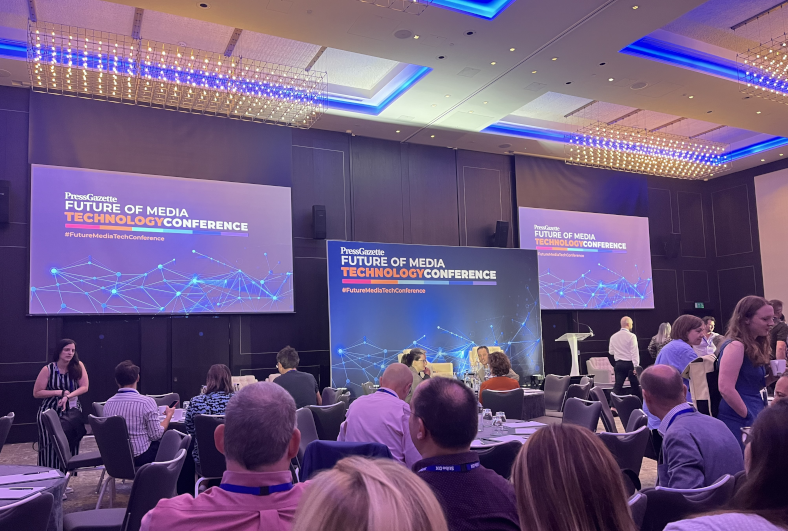 The media industry is constantly looking to the future, so it's no surprise that the use of technology dominates discussions between journalists, publishers and consumers.
Last week's Future of Media Technology conference by Press Gazette focused on how the recent advances in technology are transforming the industry – with AI being the common denominator that umbrellaed all the panel discussions. Undoubtedly, the rise in new tech has led to concerns that generative AI poses a threat to newsrooms – so should reporters and editors embrace the new way of working or is the fear justified?
Below we delve into some of the key points and issues highlighted at the event:
AI as an opportunity
The overall consensus was that the use of AI in newsrooms is a positive one. However, every panel of the day were in agreement that the attitude towards AI needs to change in order for it to be more effective. Trui Lanckriet, head of data and insights at Mediahuis, believes that journalists and publishers alike need to 'see the use of AI as an opportunity'. This means not being afraid of the benefits it can bring, starting from freeing the journalists up from spell-checking and verification tasks, to being open to possible future developments which may change the newsroom daily practices. Ultimately, a result of the use of AI 'productivity enhancements' may have a positive effect on quality. This is needed as trust in the UK media has fallen from 51% to 33% since 2015, according to Nic Newman, from the Reuters Institute.
Despite the hype on generative AI over the last few months, AI tools have been around for a long time. Kirsten Dewar, global senior director of news at Dataminr shared examples such as spell-checking tools and editing software like Photoshop. However, it's only now being spoken of in this way as the technology is at a stage where it is more advanced and has the potential to actually make a significant difference to journalists' workflow and content.
Marija Gavrilov, MD of the newsletter and podcast Exponential View, considers GenAI as a 'human enhancer' and said it can be used in three ways:
1. As a helpful librarian for deeper research.
2. A thought partner for brainstorming, creative thinking and hypotheses.
3. A clever intern for things like summarising catalogue information.
Marija's views chimed with Bauer Media UK CEO Chris Duncan, who sees AI as a 'big deal and a big opportunity" in productivity, speeding up research and automating what editorial teams don't like doing'.
Challenges with AI
Recognition of the challenges of AI were also highlighted throughout the day, with the most significant concerns surrounding text generators such as ChatGPT and their potential to use data without permission, including copy written by journalists. Jon Steinberg, CEO of Future plc, also pointed out that when blocking Google crawlers this would also block traffic going into news sites. Steinberg's comments highlighted the urgency for conversations between companies such as Google and publishers needing to be addressed sooner rather than later. On a positive note Claire Phipps, head of digital (live) at The Guardian, stated they have started a request for AI not to copy its work so it appears these conversations are building foundations.
AI might now be showing its potential to aid journalists with producing content, but the lack of accuracy seems to remain an issue with Generative AI. GB News' senior producer and director, Tom Pollard, shared that the company has used ChatGPT to write scripts and using AI 'has got more drawbacks than positives'. This is due to the AI writing style being lengthy, and its inability to fact-check. Tom went on to say that using AI to write and edit needs a considerable investment in time and money, but also goes 'against the accuracy, that is also your credibility' as a journalist or a media company.
On the same level, Matt Monahan from Arc XP drew the attention to AI still not reaching to the level the newsroom needs. Editorial still needs to be checked by a human and doesn't present the 'human element' such as humour and emotion. Journalists can have peace of mind that a human touch will always be needed, as it stands.
Using social media to tackle news avoidance
Following on from Nic Newman's overview stating 41% of 18-24s are saying social media is their main source of news, discussions on how to help with the increase of news avoidance was a key point discussed among news publishers using social media to help keep the audience engaged. In a panel, the group discussed how this increase of news avoidance may not be all as it seems. Sometimes the 'big topics' aren't the problem but the way they are presented is. Publishers are trying new ways to combat the problem, such as creating a guide or summary of these topics to make it easier and faster for audiences to understand, particularly the Gen Z audience.
Also, with TikTok dominating the social media scene, video and audio is becoming more important over time; as it's been said, it is unlikely they will replace text, but creating lasting relationships and news business models appears to be increasingly critical. Matt Payton, head of audience at The Independent, suggested focusing on engaging people directly on social media, rather than constantly trying to take them off it. This could help increase brand awareness, trust and hopefully drive audience growth.
AI in today's newsrooms: training and experimenting
Publishers need to get ahead of the newest technology coming into the transforming newsrooms. This will build trust between journalists and their publishers as well as providing the feeling of safety in their jobs. But, more importantly, to ensure that everyone is trained on the new technology to a high level, so they can ensure the quality of work is to the highest of standards, and to help bring in more traffic to news sites. 'The tech is only as good as the people behind it' said GB News' Tom Pollard.
Several media companies are already using transcription tools on a regular basis, such as Sky News, Future and AP. The latter have also been experimenting with summarisation tools and the Guardian have used AI to summarise their own work. Derl McCrudden highlight that an AI tool had been allowed access to large parts of AP's media archive that had otherwise been inaccessible due to poor metadata tagging and was 'opening up a very rich archive'. Meanwhile Tom Pollard of GB news spoke highly of AI applied to homepage personalisation and that it was 'really good at channelling the right content to the right people'. Highlighting the availability of new tools for newsrooms to experiment with.
Subscribe to the blog
Get weekly updates from the ResponseSource blog
Subscribe