Attitudes to PR revealed at Reuters Institute for the Study of Journalism event
A major study into the lives and attitudes of journalists in the UK was published yesterday and I wandered up to London's City University to attend the launch.
This academically robust project by the Reuters Institute for the Study of Journalism (if you think 700 journalists is an adequate sample size – the report's authors thought so) identified many areas of concern or interest – low pay, gender gaps, declining editorial freedom, among others. There's so much interesting stuff there it's worth reading the full report.
But what struck me was what the report, and the launch event itself, revealed about attitudes to public relations.
The report found that 44 per cent of journalists felt PR was 'not influential' or 'of little influence'. That sounds high but is in fact lower than the other sources of influence considered, which were government officials, politicians, pressure groups, business people and state security (the latter including the military and police).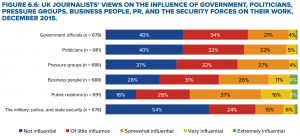 Looking at how the influence of PR has changed in recent years, the report found 61 per cent of journalists believe the influence of PR has increased in the last five years.
The report said: "The apparent rise in influence of PR in recent years – from an already high base – is prompting a backlash from journalists, and even from some in the PR industry."

This perception that PR – or at least the apparent rise in influence of PR – is a 'bad thing' was echoed during the launch event. During the panel discussions, City University journalism professor Suzanne Franks said: "The influence and power of PR worries me… we should teach journalists to resist."
As a trained journalist myself, I believe the vast majority of journalists are quite capable of making appropriate judgements when it comes to dealing with PR material. The real issue here is not perhaps journalist behaviour but the pressures they are under in terms of resources and workload – the report found 86 per cent of journalists found the time available for researching stories had decreased. It added: "The increasing use of PR material as an information or editorial subsidy may be one response to resource constraints in the newsroom."
Subscribe to the blog
Get weekly updates from the ResponseSource blog
Subscribe