Blogger requests – some data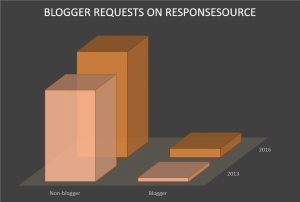 Blogger requests. That phrase conjures up some contrasting views from PR professionals.
Some PRs don't like enquiries from bloggers coming through the ResponseSource Journalist Enquiry Service – so much so that some use the filtering options to switch blogger requests off altogether. But there are many others who see value in blogger requests and welcome them.
My view is that bloggers represent an important part of the media and any PR campaign which excludes them is probably missing a trick. Influential blogs can sway buying decisions, are great for SEO and can trigger conventional media coverage. That's why we created the 'independent blogger' media type category within the Journalist Enquiry Service a while back.
Some perceptions are that blogger requests represent an increasing proportion of the total enquiries through the Journalist Enquiry Service. We decided to take a look at the data.
Our analysis revealed that the volume of blogger requests has increased – in the last 12 months there were 2,078 requests from bloggers, that's 7.8 per cent of all requests. This is up from 4 per cent three years ago (mid-2013). During this time total enquiry numbers have increased by around 20 per cent.
Perhaps the real issue here is there is a significant difference between a 'good' blogger – one who posts quality content regularly and has some influence – and a 'bad' blogger – one with not much of an audience at all and perhaps motivated mainly by the desire to blag free stuff.
We probably have more work to do in order to assist PRs who use the ResponseSource Journalist Enquiry Service to distinguish between good and bad blogs, but you may be interested to know that we are already pretty ruthless about what enquiries go out.
Looking at the numbers, across all enquiries – including blogs – we withhold 4.5 per cent of enquiries submitted for one reason or another (normally due to some conflict with our acceptable use policy). However, when it comes to requests from bloggers, we withhold just over 15.4 per cent. Looking at all requests excluding blogs, we withhold just 3.5 per cent. Put simply, we are more than four times more likely to withhold a blogger request than any other.
We could take a more aggressive stance in our moderation, but it's my strong view that the ResponseSource Journalist Enquiry Service should reflect the media of our time and it is not appropriate for us to 'play god' by being too strict on who can and can't use it. Ultimately, the best judge of whether an enquiry or media outlet is of value or not is the PR person on the receiving end.
Subscribe to the blog
Get weekly updates from the ResponseSource blog
Subscribe