Cycling the South Downs Way in preparation for Mont Blanc
By Daryl Willcox
21 May 2014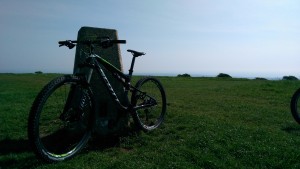 It is a bit last minute but I have finally started training in earnest for my Mont Blanc climb in June in aid of the Alzheimer's Society.
I guess I should have started earlier but I am blaming a foot injury that has only recently cleared up. My training so far has involved cycling and personal trainer sessions – as the objective is to improve fitness, something my Mont Blanc guide Simon Abrahams said I needed to work on.
Mont Blanc via the 'normal' route I intend to take is not technically difficult, more of a long walk with bits of 'scrambling', albeit some of it very exposed (crampons, a single ice axe and 'moving together' on a rope will be the order of the day). Therefore my training is focused in fitness rather than mountain skills.
The PT sessions – I have had two so far and four to go – have taken me a bit by surprise. My trainer is working on lower-body and core strength, ideal for the challenge, but I did not realise just half an hour of activity could result in aching muscles for so long.
But the really big training session happens this weekend. Over the Bank Holiday weekend I intend to cycle the whole of the South Downs way in two days, with a couple of old friends who are mad enough to come along. I have done it before, raising £797 for the Argus Appeal in 2007, but this time I will of course be that much older. So to compensate I have invested in a new bike (pictured). For the mountain bike geeks out there it is a Scott Spark 720, a lightweight (carbon frame) full suspension cross-country bike with handlebar-controlled suspension lock-out. The bike comes in at 26lbs including Canfield Brothers Crampon Magnesium pedals, which I ordered direct from the US. Geekiness over.
Cycling the South Downs Way is worth being a charity venture in its own right, but for me it is just part of gearing up for my Mont Blanc attempt – so please go ahead and sponsor me for that. So far I am well into my £5,000 target to raise for the Alzheimer's Society but there is a long way to go. Go on, every pound counts.
Subscribe to the blog
Get weekly updates from the ResponseSource blog
Subscribe