Engaging successfully with your audience: Advice from the Audiencers Festival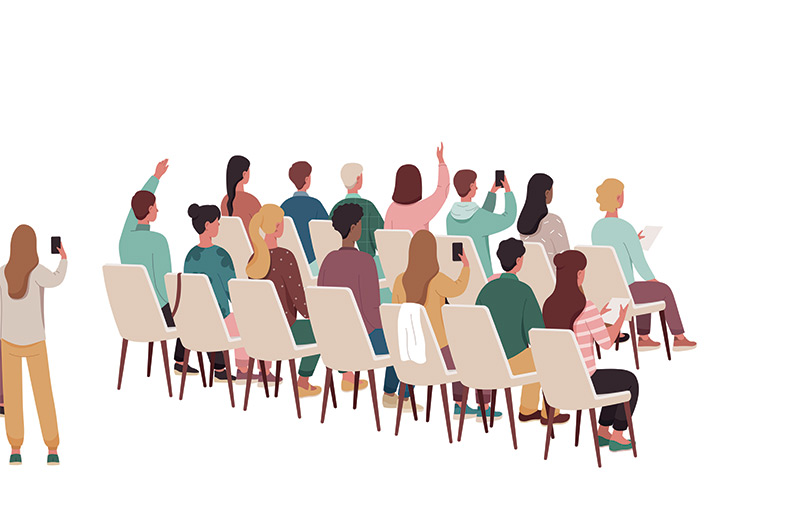 The audience is crucial to any publisher or media company – if they aren't engaging, then their audience will simply go elsewhere. There are so many different ways to connect, convert, and retain your audience now that you might not know which is best to help you achieve your goals.
The Audiencers has been advising media professionals on how to successfully drive up audience engagement for just over a year now. Last month, they held an in-person event with sessions covering everything from newsletters to subscriptions. Read on to find out some of our key takeaways from the day to help you build a stronger relationship with your audience.
Bridging the gap
Before looking at what can be done externally, it's important to start with internal processes that can help. Martina Andretta, audience specialist and head of social at the New Statesman, spoke about the challenge of internal alignment. She said that 'the audience team are central to talking to all the other teams'. They can help identify the customers on the different platforms and see where the most traffic is coming from. In the case of the New Statesman, 25% was from articles.
Lars K. Jensen, team lead audience at Berlingske Media, said there needed to be a 'shared language of what a good article is'. If you can get buy-in from management for this to make it a priority, then it will help the company to find a narrative and stick to it. This should then mean that all the different teams are working towards the same goal. It resulted in a circular workflow pattern for the New Statesman.
The value of newsletters
Newsletters are becoming increasingly more important to publishers and their editorial strategies. The Telegraph has made this a main priority and now has 34 newsletters in total, six of which are subscriber only. Head of newsletters Maire Bonheim believes it's a good way to build a relationship with the reader, with regular and direct contact. 'It helps lean into the personal side more and you get more engagement with the readers', she said. It's also produced more subscribers, with those who sign up to a newsletter 50% more likely to subscribe after 12 months.
The success of the Telegraph's newsletters on a national scale can also translate at a local/regional level. Michael MacLeod, founder of the Edinburgh Guardian, set up on Substack nearly a year ago and now has over 5,000 people signed up. His daily newsletter contains short summaries of news stories with links to the articles, and this has already generated over 250,000 click throughs. He surveys his audience to make sure they are getting what they want and when they want it, which is crucial to building that relationship.
'I think people trust us,' said Michael. 'If you've got a subscriber, don't abuse that – try not to sell them things they don't want. It's a relationship and it's fine to be honest about days you can and can't publish, but people do expect once they subscribe that you will continue to do that. It's trust in both directions.'
Premium content pays off
Premium content or anything behind a paywall is ideally where the publisher would like its audience to be. However, it's arguably harder than ever to get people to pay for content. But Madeleine White, editor-in-chief of The Audiencers, said that exposing the user to the paywall is important and the key is finding the sweet spot between exposure and engagement.
Madeleine believes the key is to 'test, test, test. Testing to see where the paywall advert or banner is best to come in. Even moving it 10% further up the page to cover 90% of the article rather than 80%, can lead to significant improvements.'
She also highlighted how constant exposure to the premium model via a button on the website can also lead to more of the audience converting into a paid subscriber. Plus, updating the paywall every four to six weeks with different colours, messaging, offers and seasonal promotions will also be beneficial, too. Forefronting the price of the premium content (especially if it's relatively low) rather than the benefits of membership or being a subscriber, usually leads to more of the audience wanting to engage with that content.
A community of subscribers
The Independent has created a community with its audience by increasing engagement. A focus on newsletters has helped, as well as taking into consideration who is engaging with the comments. This inspired the creation of 'Independent Debate', as explained by The Independent's chief marketing & data officer Jo Holdaway. Each week, a news story is selected for the audience to share opinions on.
Live Q&As on certain news stories or topics have also been introduced at The Independent to further encourage audiences to interact with each other and debate issues.
'We produce less content but the article views have still gone up,' said Jo. 'This shows the dedicated premium team are making content that people are willing to pay for'. The Independent now has 5.3 million registered users, showing what can be achieved when you put the audience at the heart of what you are doing.
Subscribe to the blog
Get weekly updates from the ResponseSource blog
Subscribe