Four ways to overcome writer's block and generate new content ideas
Anyone who writes as part of their role will have experienced it, those times when you hit the wall and struggle to get those creative juices flowing. You try and try to overcome the lack of inspiration but it rarely works. I've certainly been there. Usually after I've decided on a topic the  words begin to come out, forgetting layout and punctuation as I fill the paper. But sometimes it just doesn't come. I stare at a blank page, not sure where to begin, typing and deleting again and again. Sound familiar?
It certainly is frustrating, but hopefully some of these tips can help you find a way around that wall.
1. Walk and talk
Whenever I get stuck on a piece of writing, the first thing I do is step away from the desk. The main thing is for me to get my brain thinking of something else, whether that's making a cup of tea or just trying not to fall up the stairs as I go for a wander. However, one of the best ways to generate new ideas is to go for a walk with someone else – they should stay silent and you shouldn't stop talking. Similar to the idea of throwing your thoughts down on paper, by sharing your suggestions with someone else you will continue to justify the reasons for everything you say.
Good because: it helps you find ideas buried in your mind and gives others the ability to help develop the concepts.
2. Look back over old notebooks
This is one of my personal favourites. I write so many things in my notebooks, even labelling them so I know how old they are. Sometimes you'll have a great idea but it just doesn't work at that time, or with that subject. If you're like me a jot down every idea, you'll find a goldmine of adaptable notes in your old books.
Good because: you get to high-five your past self for being an idea-generating machine.
Also read...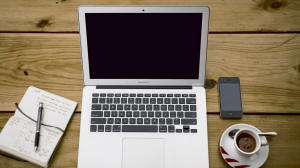 12 free tools to help you write better
7 Nov 2017
3. Create constraints
When you are forced to work within constraints you will find smarter ways of doing things. This could be a certain word count or number of sentences, or even something more difficult like starting each sentence with each letter of the alphabet in sequence.
Good because: it helps you think outside the box and use words you wouldn't normally.
4. Just move on
If you are really struggling with a topic, move to something different for a while. If time allows, come back a day or week later and you are likely to look at it in a different way.
Good because: sometimes you can't just force the pieces together. Your writing is likely to flow better when you are happy to be working on a piece of content.
I asked some copywriters for their top tips:
Usually a change of environment does the trick – coming back to it with fresh perspective. But if there's no time then I finding plugging in my headphones and playing music helps. Has to be an easy listen though!

— Anna Lewin (@AllThingsQWERTY) November 5, 2018
Just start writing. Any old tosh will do, but start writing and you'll shift any sense of a block. I don't actually think there's such a thing as 'writer's block', just a lack of confidence in how to kick off.

— MarkMcArthurChristie (@markchristie) November 5, 2018
Go for a walk – or change your environment some other way.

— Collective Content (@ColContent) November 5, 2018
I use https://t.co/fWinBmAGDm for question-led ideas

— Chris Lee (@CMRLee) November 5, 2018
We just wrote a blog about this, the most creative answer from our office poll was chopping veg! https://t.co/qRfCESu7L6

— Inkpod (@inkpodcomms) November 5, 2018
Can't vouch for this method I heard recently, but could be worth trying. To take away the power of the blank sheet of paper crumple it up, stamp on it, yell at it, throw it round the room. Then uncrumple and start writing.

— Writers (@writersintweets) November 6, 2018
Subscribe to the blog
Get weekly updates from the ResponseSource blog
Subscribe