How to cover wars and conflict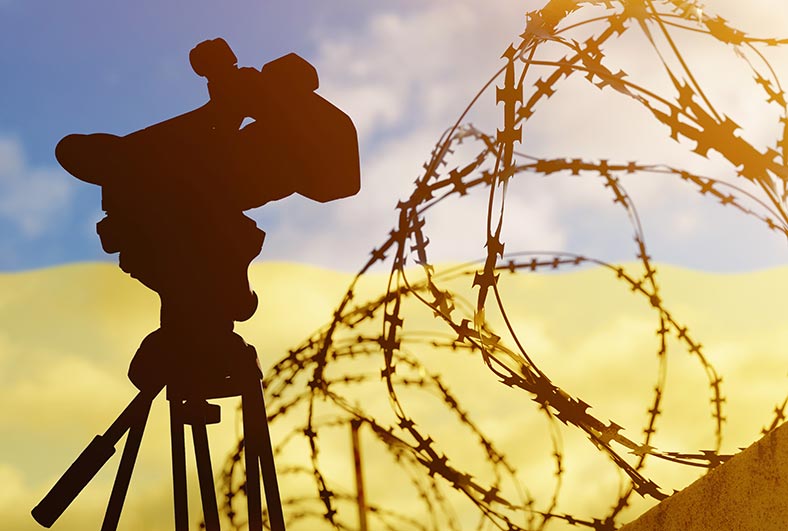 In February 2022, the world was shocked and appalled as Russia invaded the Ukraine. Just over a year on, with the first anniversary marked with a minute of silence across the UK last week, how should media outlets cover events in the Ukraine as they continue to unfold?
The Media Diversity Institute hosted a webinar to discuss exactly that as well as the ethical issues that have arisen from coverage of the conflict. Below are some of the key points from the event on conflict reporting with a focus on the Russia-Ukraine war.
Journalistic Principles
The first thing to note is how difficult it can be to stick to your values when reporting on a war. Aidan White, founder and honorary president of the Ethical Journalism Network, mentioned the five core values of journalism; accuracy, political independence, impartiality, humanity and transparency which creates accountability. These values are likely to be suspended when the media recognises that the safety and welfare of the public is threatened. Therefore, media outlets within the Ukraine and Russia are more likely to be supportive of their government and armed forces as there is a rise of protection of national interests.
Artyom Liss, director of Flying Fox Media, added that it is harder for journalists to report on other issues. For example, if there was an allegation of corruption within the government or a scandal in the armed forces, then highlighting this might seem unpatriotic. This makes it difficult for journalists to remain ethical and to cover topics in an accurate and balanced manner. That is where foreign journalists are useful – they don't have this pressure and can report more neutrally or highlight other issues. 
The Realities of War
Journalists must deal with many difficult and sensitive topics when reporting the news and arguably none are more distressing to cover than war. Elena Kostyuchenko, a Russian investigative journalist who left Russia for the Ukraine when her newspaper Novaya Gazeta was closed down by Vladimir Putin, believes that people don't know what war looks like as journalists don't really cover what's actually happening. She feels as though there is a general narrative detailing the heroes and villains to touch the heart of readers. However, self-censorship is stopping journalists from showing the true reality.
Of course, it can be tricky to portray the full extent of war and for the audience to fully comprehend what is happening in the Russia-Ukraine war. Aidan White feels that journalists need to focus on minorities and the people that are vulnerable or most at risk. However, don't report on them just as victims but give them power by allowing their voice to be heard. The best conflict reporting goes beyond soundbites and propaganda and gives more detailed context to its audience.
Trust and misinformation
The media has struggled for some time now to get its audience to trust what they are saying as the fight against misinformation goes on. However, Arytom Liss pointed out that in times of crisis, trust in the media actually increases. The Reuters Institute for the Study of Journalism's digital news report showed that during Covid, trust in the media increased as they relied upon media outlets to give them accurate and reliable information on what to do. There has been a similar affect with the Russia-Ukraine war, especially at the start when we are all in crisis mode, that news consumption and trust has spiked.
In Russia, the options for what media residents can consume has been severely restricted since the start of the war. Elena Kostyuchenko spoke about all the independent media outlets that were closed down when the war started, including the one she worked for. Putin has also blocked all social media channels with Russians unable to access Facebook, Instagram or Twitter. The only way to access independent information is via VPN but due to sanctions on the country, payment for this isn't possible. This increases the likelihood of constant misinformation.
Finally, Aidan White highlighted the issues around embedded journalism (reporters that are attached to military units involved in armed conflicts). It's difficult for embedded journalists to be journalistically independent as they are in such close proximity to the soldiers fighting the war. It gives great access to what life is like on the frontline but they can't always report freely. This is another trust issue to contend with in conflict reporting and must be taken into consideration with any reports that we see of this nature.
Subscribe to the blog
Get weekly updates from the ResponseSource blog
Subscribe