How to make the most of Social Media Newsrooms – latest whitepaper
By Daryl Willcox
3 Jul 2013
Our latest whitepa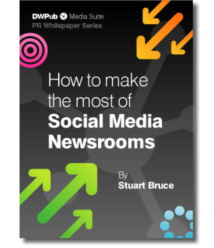 per published today examines the use of social media newsrooms.
Online newsrooms may sound a bit dry but if they are well-run they can be the heart of a modern public relations operation, supporting traditional media relations as well as digital PR, social media activity and stakeholder relations.
In How to make the most of Social Media Newsrooms, independent PR trainer and author Stuart Bruce explains how valuable an online newsroom can be and how to use it to maximum effect.
Stuart says in the whitepaper: "Using a social media newsroom successfully isn't about technological wizardry, but is actually about the fundamentals of good public relations practice. In fact it's even more fundamental than that and starts with good storytelling."
Stuart goes on to explain how newsrooms can be used to create a pyramid of content, allowing journalists, bloggers and others to easily access information they need and select the content relevant to them from a wider range of collateral that would normally be available.
How to make the most of Social Media Newsrooms is available for free download. You can also find out more on DWPub's SourceWire Newsrooms service here.
Subscribe to the blog
Get weekly updates from the ResponseSource blog
Subscribe