How to succeed within media publishing: Advice from the Publishing Show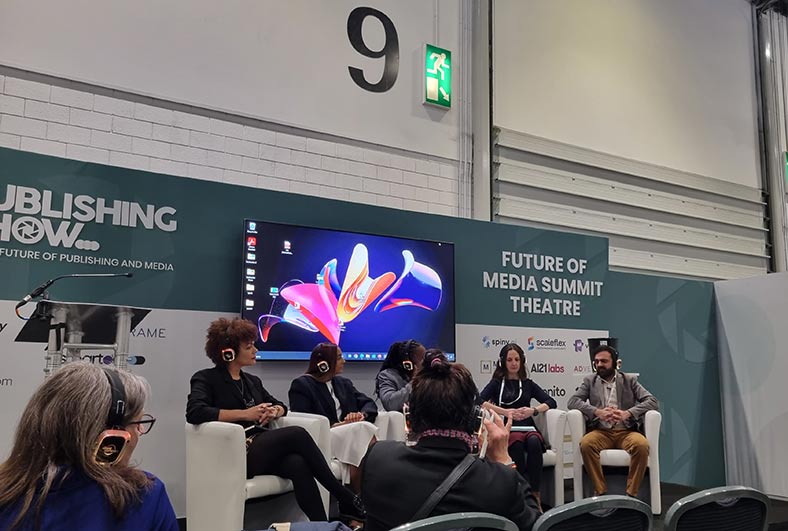 Media publishing is a busy and competitive market and both B2B and B2C publishers are having to deal with issues such as economic uncertainty and talent shortages. However, there are still reasons to be optimistic and many different ways that publishers can continue to thrive in the months and years to come. Last week's Publishing Show covered many reasons to be cheerful with sessions covering business models, podcasting, growing a community and the future of content creation.
Below you can find our five main takeaways from the two days at the Excel in London:
Diverse Revenue Streams
The media landscape has changed a lot in the last decade and the old business model of producing a monthly paid-for print magazine with advertising inside is no longer popular – or certainly not as a sole source of revenue. Carolyn Morgan, managing director of Speciall Media, said that publishers have an average of five revenue streams now. Research and membership is a new revenue stream for specialist media while there has also been a return for live events recently with the early days of the pandemic now behind us.
Nic Newman, senior research associate from the Reuters Institute, mentioned another revenue stream during his presentation of the digital news report about subscription revenue. This has been a big trend for publishers in recent years and 68% think it will continue to rise despite the cost-of-living crisis. The report also showed that subscription is the most important revenue stream ahead of display and native advertising and that bundled subscriptions could become more commonplace from news providers. If you want to succeed, having different ways to bring in revenue is needed.
The Value of Community
People like to feel as though they are a part of something bigger and that extends to media publishing as audiences increasingly want to be part of a community. Victoria Hart, community manager at the Mark Allen Group, said that a benefit of launching a community is that you get a better understanding of your audience as you are able to engage with them more regularly. This can help inform the content you make and your audience will also know they are surrounded by like-minded people.
Getting a community started can be difficult and Mark Alker, managing director and publisher at Single Track Magazine, advised not to break the community down into sub-divisions too much and to allow them to talk about anything. Moderators would be needed though in a forum setting. Once more established, Thirza Loffeld, community manager at WildTeam UK, said there is the option for online training or to meet in person and network at conferences and events.
Rise of vertical video/short form video content
TikTok exploded onto the social media scene back in 2016 and has continued to grow in popularity since. Nic Newman's report touched upon the fact that the appeal of Facebook is now declining with the under 25s, with just 58% using it within the last week – down from 75% back in 2017. TikTok, on the other hand, is now up at 40%. Publishers are therefore putting much more effort into TikTok and other vertical video format providers such as Instagram and YouTube while Facebook and Twitter are no longer a major focus.
Vertical video and short-form video content is the main way of storytelling for a lot of publishers and for companies like BuzzFeed. Caroline Fenner, commercial director at BuzzFeed, said that TikTok has helped to lead their strategy and they are going where their audience are. There is now monetisation on YouTube Shorts which could encourage more publishers to look at this but Gavin Jordan, publishing manager at The Drum, said that content must be valuable to viewers as they have so much choice now.
Diversity and inclusion is essential
Journalism, like any industry, has its problems and diversity and inclusion is one of those. It's often been said that it is 'who you know and not what you know' in journalism and that will obviously cause issues when it comes to creating a workforce that represents a diverse group of people. Joanna Abeyie, head of creative diversity at the BBC, said that central to that is equity. If you want to level the playing field then you need to remove the barriers for those that are facing them and this can only be done by understanding what their inequity is.
A lot of media companies now have a head of diversity and inclusion and Shelley Bishton, head of creative diversity at News UK, feels that this shows that the industry recognises there are problems and they now need to drive that change. Natasha Hirst, a freelance journalist and photographer, said that younger generations needed to see people like them in the media and give them something to aspire to and also show that there are opportunities regardless of their race, religion, sex, gender or background.
Threat of AI and ChatGPT
ChatGPT, launched back in November 2022, has been talked a lot about in the media and along with other advancements in artificial intelligence, should journalists be worried about losing their jobs? In Nic Newman's report, there was more talk about how journalism can use AI to its advantage and 67% of publishers are already using AI for recommendations. Companies like Semafor are using generative AI to make video journalism with AI images over the top and the Newsroom (still in beta) is an automated news service based on AI summarisation.
At Buzzfeed, Caroline Fenner told us that they are letting ChatGPT do their quizzes e.g. What Disney princess are you? She feels that AI is better for telling a story than for giving facts and that it will only enhance journalism, rather than replace it. Gavin Jordan said that it's best not to put all your eggs in the AI basket just yet. It's best to hone your content creation skills and use AI to assist rather than rely on it.
Subscribe to the blog
Get weekly updates from the ResponseSource blog
Subscribe