Journalist Enquiry Service January trends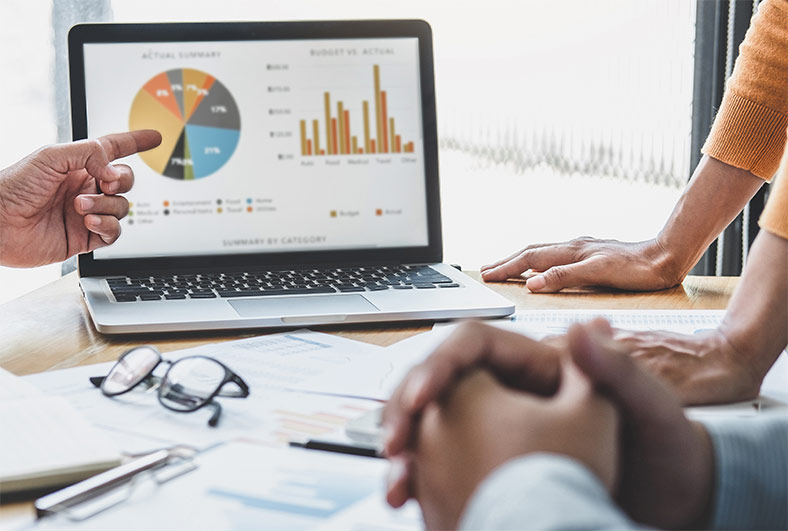 Blue Monday and the most depressing month of the year are now behind us. We aren't quite out of the Winter months yet but as February rolls around, we can look forward to more daylight hours and the first 'big event' of the year with Valentine's Day.
The start of a new month also means that we can look back at the last. Below we analysis what keywords and trends we saw on the Journalist Enquiry Service in January and also predict what stories and topics you might want to cover going into Spring.
The first thing to note is that we finally have a new top keyword. 'Christmas' had dominated requests from September to December but with that now behind us, journalists were very much looking ahead at the new year as '2023' was the most popular keyword, appearing in over 8% of all enquiries in January.
Requests around this did vary quite widely but were often looking for trends for the upcoming year in different sectors, from travel to beauty to fashion. The Travel, Women's Interest & Beauty and Retail & Fashion category all grew massively compared to December but then all categories saw an increase compared to December, which is a shorter working month. However, even compared to November, Travel saw the biggest growth as it rose 25%, with journalists keen to cover travel destinations to beat the Winter blues.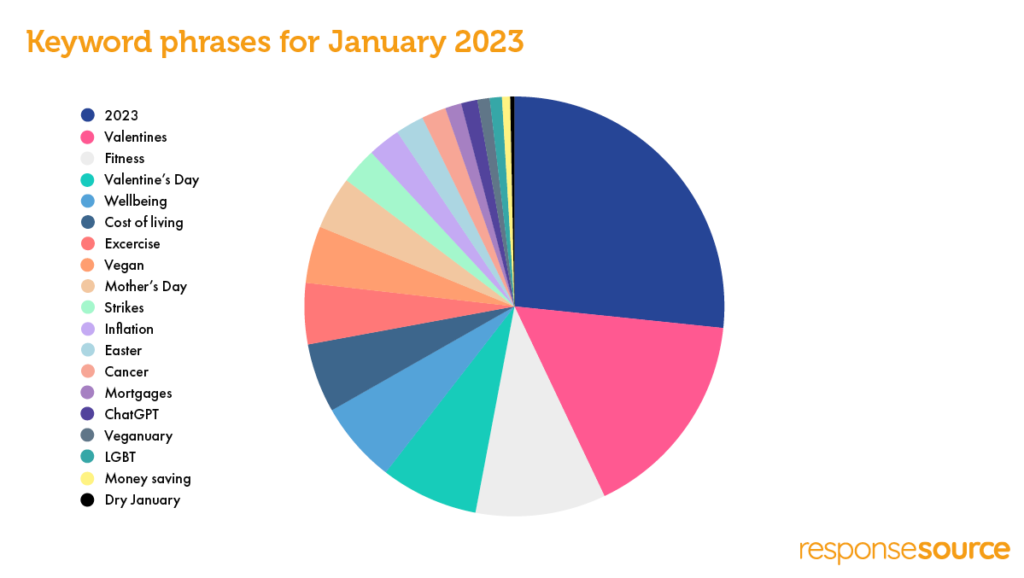 It was mentioned in last month's post but 'Valentines' requests have been coming in from early December and as a keyword in January, it was in over 5% of the total enquiries. Journalists have primarily looked to cover the best gifts for 'him' and 'her' and the Men's Interest and Women's Interest & Beauty categories saw big increases from December. The latter category remained the best performing category and even grew 6% compared to the November stats.
Also predicted to be popular on the enquiry service were requests around a healthier lifestyle for the new year. 'Fitness', 'wellbeing' and 'exercise' all appeared in our top keywords and combined cropped up in nearly 7% of the enquiries. This meant good growth for the Health category, which went up 9% from the November figures, and the Sport category, which had a 6% increase.
Health may also have seen a boost due to January containing Cervical Cancer Prevention week. Plus, journalists may have looked to get ahead with content with World Cancer Day (4 Feb) and the whole of February being National Heart Month. This probably accounts for why the Medical & Pharmaceutical category was our second biggest growing category compared to November, increasing by 18%.
The cost-of-living crisis has been the main focus for broadcast media for a while now but its popularity on the enquiry service did drop a little in January. The phrase 'cost of living' still appeared in 2% of the total requests but this was lower than the figures in December. 'Strikes' also made it in to the top ten keywords, making 1% of all enquiries as teacher's, train drivers and nurses among others decided to take industrial action.
Overall, in January, staff journalists sent 57% of the requests with freelance journalists the second most common sender type on 26%. Consumer media was the most frequent media type at 37%, followed by national newspaper/current affairs on 24% and trade/business/professional media on 20%. Nine of the top ten outlets sending enquiries in January were national press.
The first half of February will continue to see Valentines Day requests come in but there are several requests already coming in for Mother's Day (19 March). This means that the Women's Interest & Beauty and Retail & Fashion categories should remain popular.
February has several food-related events with British Pie Week (6 – 13 Feb), World Pizza Day (9 Feb) and Shrove Tuesday (21 Feb) – AKA Pancake Day – therefore the Food & Drink category will see an increase in requests. Plus, we could see a further boost for the Travel category and Leisure & Hobbies with requests coming in for things to do with the kids during the February half term.
Still looking for items for a last minute Valentines Day gift guide or looking for the best restaurants to go to on Mothers Day? Send an enquiry via the Journalist Enquiry Service here and get the information you need!
Subscribe to the blog
Get weekly updates from the ResponseSource blog
Subscribe