Journalist Enquiry Service: The First Quarter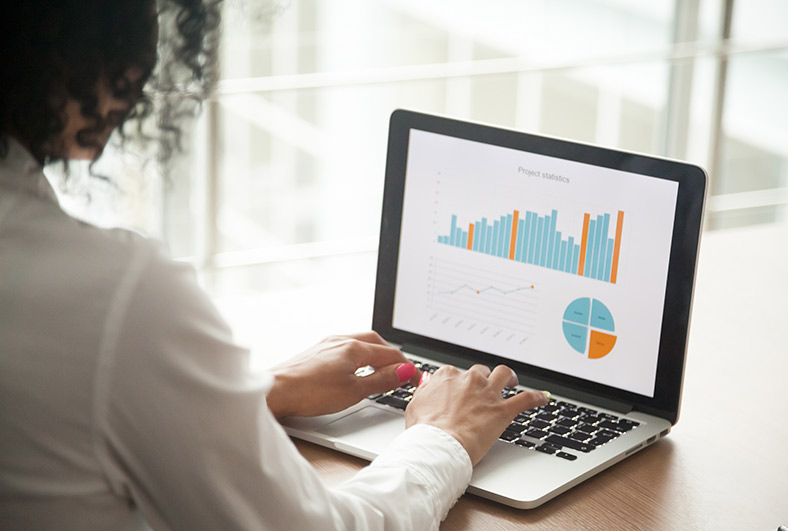 It's been a busy first few months of the year on the Journalist Enquiry Service with reporters looking to cover trending topics like the cost-of-living crisis, the strikes and ChatGPT. We take a deep dive below into the first quarter to see what types of journalist have been using the service, from what sector and what they have been asking for.
If you haven't used the service before, and are in need of some expert comment or some brand new information, then simply fill in the form for free here.
The Journalist Enquiry Service is primarily used by staff journalists. 57% of the requests between January and March came from journos that are staff at magazines, newspapers and websites. This was followed by freelancers who make up 27% meaning that combined, staff and freelance journalists account for 84% of the enquiries. The remaining 16% is a mixture of bloggers, TV/radio researchers and producers, and people working within editorial promotions.
If we compare this with the opening three months of 2022, the amount of staff journalists has risen by 3%. The number of PR- to- PR requests and the amount of blogger enquiries have both fallen in comparison to this time last year, decreasing by 2% and 0.5% respectively. This boost in requests from staffers hopefully reflects an increase in staff journalists across the media, working as part of healthily-sized editorial teams.
The journalists sending the requests come from a variety of media types but consumer media, as it was in 2022, is the most popular. 37% of requests in the first three months have come from journalists working for consumer media titles. National newspaper/current affairs is in second, with 24% of the enquiries, and the trade/business/professional media type is in third on 19%.
Despite already being the most popular media type, consumer media has actually increased by 5% compared to the first quarter of last year. However, the biggest growth we have seen is in the radio & television media type. This has grown by 40% in contrast to the opening three months of 2022 and has now overtaken both branded media and regional newspaper to be the sixth most selected media type. Broadcasters like ITV News and 5 News are becoming regular users of the service.
When using the Journalist Enquiry Service, there are eleven different types of request that you can send and over 35% of journalists were looking for a spokesperson or expert. This was followed by requests for information for article which was at 28%. Review products was third on 17% and personal case studies next on 11%.
The figures largely remained the same as we saw at the start of 2022. There was a 20% increase though for the product placement enquiry type and a 5% rise for competition prize, reader offer or goody bag.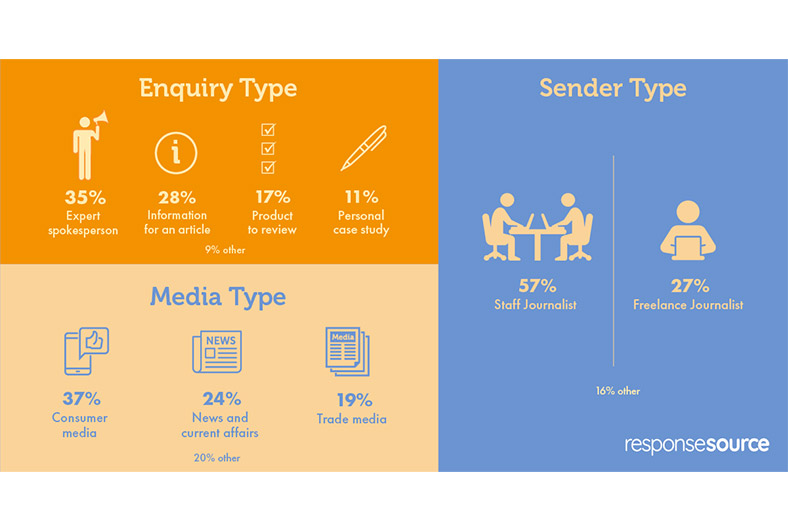 When it comes to the number of replies that a journalist can hope to receive on the service, it's those within the regional newspaper media type that get the highest average of responses. Meanwhile, for the sender type, editorial promotions had the highest average number of replies with the TV/radio researcher/producer only just behind. Therefore, showing that journalists working in both regional news and for broadcast outlets, should get good engagement with their request.
In terms of category choice, Women's Interest & Beauty remains the most selected. Around 10% of all requests so far this year have been for that category. This is followed by Health on 9% and Food & Drink on 8%, which is the same order and roughly the same percentages as last year as well.
Trends in the media though can be seen when we look into the difference between the number of requests for each category from the first three months of this year compared to last. The biggest growth we have seen has come in the Medical & Pharmaceutical category which has risen by 20%. Strikes and on-going issues within the NHS could account for this rise as well as requests around certain types of illness and conditions like Seasonal Affective Disorder (SAD) and hay fever, which are more time sensitive.
There has also been a healthy 10% increase for the Travel category. Again, the strikes affecting the rail industry here could play a part but a lot of requests have looked for destinations to get away too and also places to go during school half term and over the Easter holidays too.
The Retail & Fashion category has grown by 5% with journalists looking to cover the fashion trends for the year ahead and this category is also frequently selected for days like Valentines Day and Mother's Day.
Finally, the Media & Marketing category has increased by 5% and the Consumer Technology one by 4%. These could both be linked to more talk around AI and ChatGPT, plus the on-going saga of Elon Musk and Twitter.
It's interesting to see which keywords are often cropping up in requests and most are related to the time of year. 'Easter' as a keyword has been in 3% of all enquiries between January and March with 'Mother's Day' and 'Spring' on 2%. The beginning of the year also saw a lot of enquiries with '2023' in it as journalists looked ahead at what would be trending this year and that appeared in 3% of the total requests. More topical issues like 'AI' and 'Cost-of-living' cropped up in 1% and 2% respectively.
Overall, it's been an intriguing first quarter on the Journalist Enquiry Service with more broadcast journalists using the service (and getting a good average number of replies too!) and less bloggers and PRs. Category wise, the usual strong performers are in the top three but there is good growth in those traditionally further down the list, such as Media & Marketing and Medical & Pharmaceutical. The second quarter includes the upcoming Coronation as well as Father's Day, and several bank holidays too so we can expect Travel to perform well as a category again but others, such as Men's Interest, should see growth too.
Subscribe to the blog
Get weekly updates from the ResponseSource blog
Subscribe