Keeping journalists safe online, Rebecca Whittington of Reach plc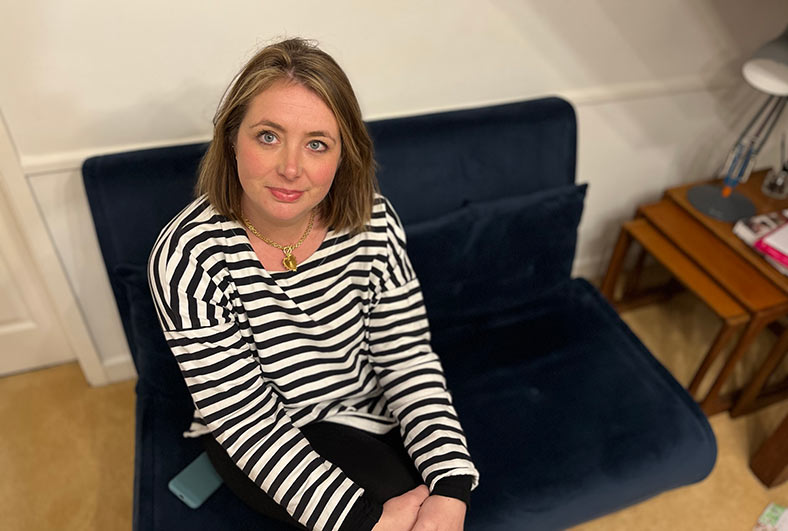 Online safety is important to everyone. If you are in the public eye, either as a celebrity, politician or journalist, staying safe online can be particularly challenging. Sadly, the amount of online abuse and hate in the UK is rising and despite trying to report the information and facts, journalists are now regularly subjected to this treatment.
Publishers are starting to put measures in place to help journalists and Reach plc has appointed Rebecca Whittington as online safety editor. After just over a year in the role, we caught up with her to discuss how journalists can handle any abuse they receive, what Reach is doing to tackle the issue and what more the Government can do.
What does the day-to-day job of working as an online safety editor entail?
It's very varied actually. We have a reporting system that automatically emails me if someone makes a report so I check that in the morning. I think that's the most standard thing that happens in the day! A lot of the work that I do is quite strategic; planning ahead for adverse incidents or working with our security team to make sure that people who are more high risk are getting the support they need. I also look at what's happening externally, so working with training providers and doing events like the Behind Local News conference, to raise awareness of online safety. Plus developing policy guidance around how to protect yourself online.
Reach has also just launched a survey in collaboration with Women in Journalism. It's essentially asking women working within journalism and the media industry to tell us about their experiences, whether they've experienced online harms or not, and the impact of what online harms has on their work. The job changes all the time, but the main thread of it for me is to try and keep Reach colleagues safe and knowledgeable and protected.
You have been in the role for just over a year now, do you feel as though online abuse towards journalists has increased in that time?
I don't know if I can measure that because I don't have a comparison point from previous. I think that abuse against journalists has increased in the last 10 years. The pandemic had a huge impact on that and Donald Trump and the anti-mainstream media rhetoric that we see from the populist right has had an impact on that. It's created this perfect storm, which has culminated in a rise in abuse against public figures and journalists, being among those.
In the last year, what I have done is set up a way of recording the abuse and online harms as it happens. Anything that's reported through the official channels at Reach is documented, and that means we can start looking at emerging themes, patterns and what's changing. There's been a trend, recently, towards directly messaging on email being reported, which is interesting, and an increase in people getting in touch with messages of self-harm and suicide. We then developed some guidance based on advice from the Samaritans which we offered out to all of our staff. That has been very useful and I feel that over time, the reporting system will be able to show us more evidence about, not necessarily the increase, but about the types of things that are happening and who it's happening too.
What steps can journalists take to deal with online abuse?
Journalists at Reach know that they've got the structure to report online harms but freelance journalists and those working in much smaller organisations might not have those facilities. Therefore, I think the basic advice I can give to everybody is to tell somebody about it. I find that if I reach out to somebody then they will get back in touch and say it's good to hear that other people have had this experience. So never feel that you're alone and do reach out to a colleague or a friend.
There are also really amazing organisations, such as the Coalition Against Online Violence, which has some excellent resources and advice. The NCTJ has got training and resources for anybody working in journalism that can be accessed and then the Rory Peck Trust is a good place to go for freelance journalists.
The other piece of advice would be just because you're working in journalism, and most likely in an online sphere where you're very accessible, doesn't mean people should be able to access you at all times and abuse you on those platforms. Set your own boundaries and decide what you want people to know about you and what you don't. Make sure your privacy settings are set up and check these on a regular basis. You have the power to report and to block bad actors that come into those spaces. Protection is the best form of defence. If you have your protective settings high and think about what your boundaries are and have two factor authentication applied, then that will protect you against some of the worst harm that can happen.
Reach plc have recently started a network of online safety reps, how is that helping to tackle online abuse?
It's fairly new but it's going well. We have 41 journalists and they're working in different areas of the business across sport, national, regionals etc. You must do some training before you become a qualified online safety rep. We need to make sure that we're consistent with the guidance, and protecting them because it can be traumatic, helping somebody that's facing something difficult online. If you've got a big workload on and then they come to you for help, you need to be able to know how to manage that or who to pass it on to if you can't.
We meet once a month as a group, but we're in contact all the time. They'll come to me and tell me when they've helped someone or ask me for advice. The online safety reps direct people to make reports, which is really important. However, not everybody wants to make a formal report and there are quite significant barriers to stopping people from doing that sometimes. So, the reps fill those gaps and make sure that whatever the situation, people know that there's resources or support out there and that they can reach out for that help if they need to.
Why is it important that publishers have someone employed in a role like yours?
It's not easy for all publishers to do that, but if you've got a number of titles then they should be looking to get somebody in place if they can. If you have somebody overseeing it across the organisation then it provides consistency and gives you an expert in the field who can then work with other experts. My job would be so difficult if I didn't constantly reach out and work with and network with other people who work within the online harms field externally.
I've made it plain previously that I'm really happy to talk to other publishers to signpost them to resources that are available to everybody because if you're a hyperlocal organisation and you're managing some of these online harms issues, it can be very difficult to know who to go to.
The government set up the National Committee for the Safety of Journalists a couple of years ago. What help does that offer to journalists and what more can the government do to tackle this problem?
The National Committee for the Safety of Journalists brings together people from across industry but also other bodies as well, such as the police and government, and they are starting to have that joined up conversation, which quite honestly, is needed. Government have the power to get the ear of the platforms in a different way to publishers and journalists.
I really value that it exists but I think the online safety bill isn't going to have the teeth that it needs necessarily to help journalists because I think the focus has changed over time. It's a very large bill, trying to do an awful lot of things. Protecting young people and children online is great, and I really applaud that. However, I would like to see further conversations around how we can start offering some of those protections for adults as well, because turning 18 doesn't make you Teflon coated. You can be vulnerable in certain situations as an adult, online as well, so I do think that there needs to be more done in that area.
You previously worked as a journalist for several local news titles, did you ever experience any online abuse and if so, how did you deal with it?
I finished working as a journalist in that kind of frontline situation in 2014, before joining Reach in 2021. In that seven years, I think a lot changed. When I was in journalism the first time around, I witnessed quite a lot of misinformation online. I did get emails asking me how I sleep at night, and that kind of thing. But it was criticism that I expected being an editor of a newspaper, which I was at the time.
I was working as a lecturer during the time it escalated against journalists. When I was doing my research, I had more abuse online than I did as a working journalist. I got told that I should just jump off a bridge because that was all I was worth. That really stung because I was quite heavily pregnant at the time. After reading that, I didn't go back and read those comments that were criticising me and my judgement. When I started in this role, it triggered those memories but I suppose I've learned to live with that particular one and also know that they're wrong.
Since then, I've had sexual messages through, and sexual pictures sent to me before. I've also had people asking me how can I be a safety editor when I'm not doing this or that. So, I do still get it. I have to say the notification settings on Twitter are my best friends. I set them quite high and then I can't see messages from people who just want to be abusive and those settings have really made quite a significant difference, along with talking to people about it when it happens.
More and more journalists are now using platforms like Instagram and TikTok to showcase their work so have even more social media. What do you think will be the impact on journo's and how can they protect themselves on these 'newer' platforms?
It's difficult because not every platform has good safety settings. However, Meta and Tiktok both have safety teams which look into safety. It's really important that I'm across those and drawing up guidance that's relevant and up to date. At Reach I regularly work with our social media team and find out what's happening and I go into their weekly call, just so that I can be across what platform they're working on.
You need to think ahead about the risks of the different platforms, depending on how you're using it as well, and looking to see what facilities and settings there are to actually help mitigate any risks. Journalists are often using social media, for personal use, as well as for professional use. You need to think about how you keep that personal and professional life separate so that you can actually go onto your personal social media and enjoy it and have downtime using that. When you open yourself up to that new audience, they might come and look for you elsewhere as well. So, think ahead for risks and remember that protection is the best form of defence.
If you have a spare 10 minutes then do complete this questionnaire to help investigate the extent and impact of online harms affecting women in journalism.
Subscribe to the blog
Get weekly updates from the ResponseSource blog
Subscribe