Meet the ResponseSource Mini
By Daryl Willcox
9 Mar 2016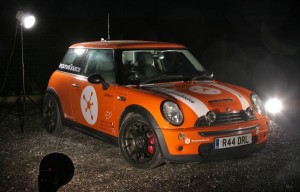 Meet the ResponseSource Mini.
I will be driving this car all the way to Hannover, Germany next week for the Rock the Blog conference at CeBIT. My presentation will be about the journalist enquiry service which is now established in Germany and France.
It's at least a 10-hour drive to Hannover and I will be sharing my progress on social media as I go along. I plan to have a tracking device in the car so you can see where I am on the journey.
After the Hannover trip I aim to visit Paris in the ResponseSource Mini and, of course, will spend some time driving the streets of London.
The first test for the car is a trip today up to the PRmoment Awards North in Manchester. That's assuming I get there – the car is no spring chicken at 14 years old, though it has a number of upgrades apart from the graphics.
Look out for the ResponseSource Mini! If you spot it, take a pic and tweet it to @responsesource.
Subscribe to the blog
Get weekly updates from the ResponseSource blog
Subscribe