Opening the lid on content marketing for PR professionals
By Daryl Willcox
12 Feb 2013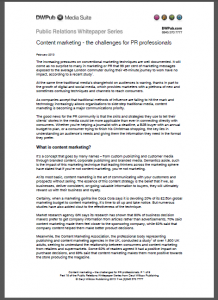 Today we've published a whitepaper examining the rise of content marketing and what this means for public relations professionals.
Content marketing is clearly a big thing at the moment as many brands realise the potential of publishing direct to their audience. Lured by the opportunity to create a closer bond with customers and a better return on investment than advertising, people from a range of marketing disciplines are showing enthusiasm for content marketing.
But what does this mean for PR professionals? I would personally argue that core skills of communications and relationship building puts PR professionals in an ideal position to coordinate content marketing activity, in the same way as it does for social media marketing. In fact, social and content are closely aligned, putting even greater emphasis on the role of PR.
However, to make the most of this huge opportunity PR professionals need to continue to adapt. While core PR skills are very relevant in this broadening world of content and social, PR needs to take a wide view of what skills and disciplines need to be understood to ensure it takes a significant role in an ever more sophisticated digital future.
Entitled Content Marketing, the Challenges For PR Professionals, our latest whitepaper is available for free download and is part of our Public Relations Whitepaper series. Many thanks to Joe Pulizzi from the Content Marketing Institute, Antony Mayfield from Brilliant Noise, Philip Sheldrake from Euler Partners, Toby Smeeton from Sunday and Niall McBain from Spafax for their input into the whitepaper.
Check out the press release in our online newsroom.
Subscribe to the blog
Get weekly updates from the ResponseSource blog
Subscribe