Research reveals PR industry divided over brand journalism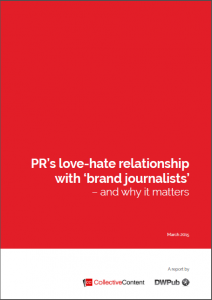 Brand journalism.
Is it an oxymoron? Many of you think so, according to our research published today in association with content agency Collective Content.
Regardless of the debate over the contradiction between 'brand' (biased by nature) and 'journalism' (independent by tradition), and whether 'brand content creator' may be a better expression despite its clumsiness, there is no denying there is a whole new world out there of branded media that the PR industry ignores at its peril.
That's why Collective Content and DWPub teamed up to examine attitudes to brand journalism. The report, entitled PR's love-hate relationship with 'brand journalists' – and why it matters, opens the lid on how the PR profession views branded content and how those who create it – the so-called brand journalists – are treated by members of that profession.
As a journalist by trade I am torn by my philosophical belief in the importance of an independent media and the wonder and opportunity presented by digital and social media that allows anyone to publish – brands included.
So it didn't surprise me to discover our research reveals a PR industry divided in its attitude to brand journalism.
I think it is critical that PR professionals examine the risks and opportunities of branded content and consider the value in working with brand journalists. Our report is designed to be a catalyst for that examination and the hope is that over time the industry forms rules of engagement (informal or otherwise) for branded media and those that produce it.
As for that phrase 'brand journalism', personally I do not mind it as despite my passion for independent, accurate and fair media, journalism has rarely been all of these things all of the time. And frankly, the word 'brand' in any term clearly flags up the obvious bias. The expression communicates clearly and concisely.
Which brings me on to that other expression our research found was contentious – native advertising – which to me does not communicate clearly and concisely and I think that is at least partly why it is contentious.
Download the report PR's love-hate relationship with 'brand journalists' – and why it matters.
Subscribe to the blog
Get weekly updates from the ResponseSource blog
Subscribe