Built to succeed: what your business model needs in 2023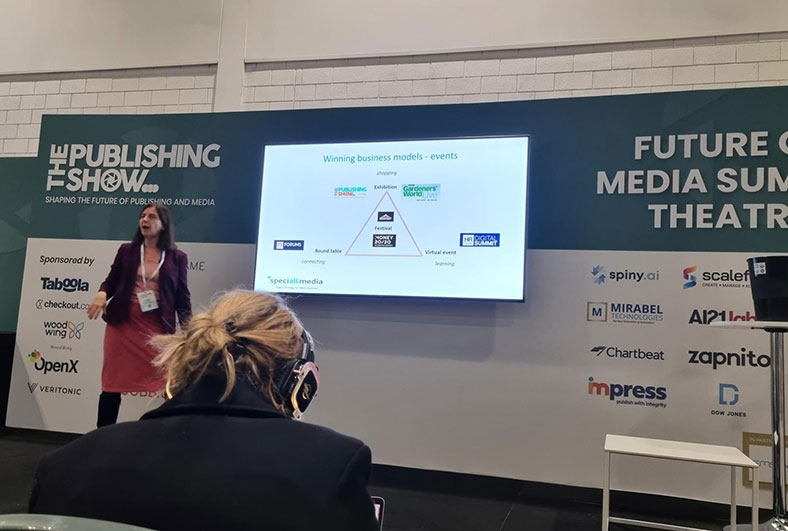 Companies and organisations, across all industries, are constantly having to adapt their business model. This is particularly true in the wake of Covid, which has shown more people the benefits of working from home full-time or hybrid working. Journalism has seen the impact of this too with offices closing as a result and publishers moving in new directions to keep up with audience demands and the current climate.
Traditional business models within publishing and journalism have altered and therefore there are new priorities, challenges and ways to succeed. Carolyn Morgan, managing director of Speciall Media, talked through what makes a winning business model at the Publishing Show. Below are some of the key points to consider if you want to thrive in the new media landscape.
Catch up on the main pieces of advice from the Publishing Show by reading our review here. 
What to prioritise?
With so many ways to make content now and various different avenues to make money from that are connected to that, then it can be difficult to know what should be the priority. The good thing is that most publishers don't just focus on one or two revenue streams. In fact, they currently average five with research and membership one of the new revenue streams for publishers.
In a survey of specialist media publishers, around 60% said that digital content subscription would be their main source of digital revenue growth for 2023. Membership proposition came second on 50% with marketing solutions and lead generation third on 45%. Digital display advertising, which had been above 60% in 2022, had dropped to just under 40%, showing that publishers are looking to move in new directions.
There are other options beside these, too. Sponsored emails and voluntary subscriptions and donations are two new choices to consider. Plus, hosting virtual or in-person events can be a good way to both make money and to promote the brand at the same time.
What are the challenges?
Having various revenue streams to try out is great but you also need to pay attention to the multiple challenges that the media industry faces at the moment. One of which is the economic uncertainty that the Russia/Ukraine war and the subsequent cost-of-living crisis has caused. This has in turn led to cost pressures on publishers and marketing budgets have been tightened, too. The cost of paper/print distribution has also risen which has the knock-on effect of declining print titles.
The cost of hosting a physical event has also gone up. Other challenges include talent shortages and increased focus from advertisers and clients on return on investment. There is also more pressure to grow first party data.
What do you need to succeed?
All of the challenges above make the publishing landscape difficult but there are solutions that can help you to be successful in 2023 and beyond. Firstly, audiences want value for money if they are seeing their subscription price increase so making sure you're providing good quality content is essential to improve retention. Those still offering print publications also need to consider other income streams – could you enhance your revenue by adding digital content? The cost of creating an in-person event could be off-set by making it a virtual event, which can still bring in revenue.
Advertisers will need to be shown the quality of the audience and leads that you get from your website and/or print title to satisfy that they are seeing a return on their investment. Then when it comes to first party data, tighter meters to monitor this can increase registrations and lead to better analytics on content preferences for them. This may require developing some in-house tech though to keep a track of this or investing in some.
Overall, what really drives value is having an excellent user/client experience that offers them multiple channels to consumer your content on – print, online, audio. There needs to be a flexible cost base across these to encourage them to sign up and to stay subscribed. This will help to build a trusted brand that audiences will be interested by and hopefully encourage advertisers to invest in.
Subscribe to the blog
Get weekly updates from the ResponseSource blog
Subscribe