Journalist as Author: Julie Cook, The Trauma of Captivity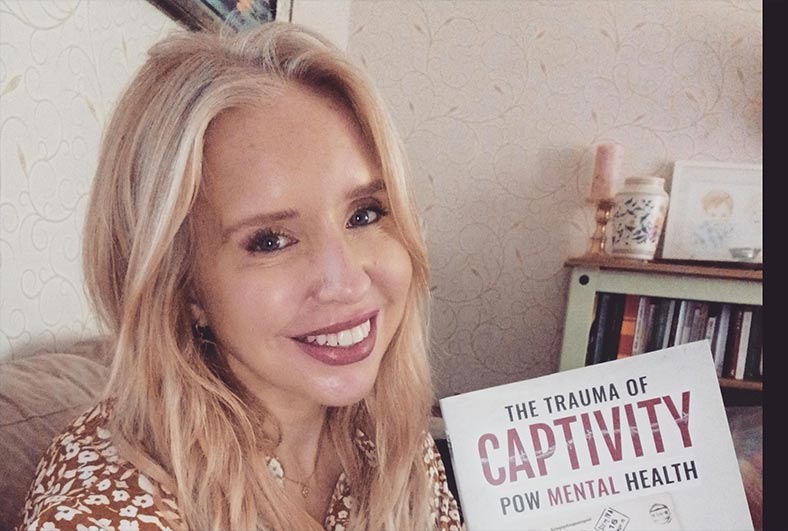 It's been nearly 18 months since Russia invaded the Ukraine, and the massive increase in audiences across broadcast media and online news outlets have underlined just how important war reporting is.
In her latest book, The Trauma of Captivity, Julie Cook has investigated the stories of POWs once they return home. We caught up with Julie to talk about the new book, her freelance career and how tabloid journalism skills help when reporting the important stories for broadcast.
Could you introduce The Trauma of Captivity in a couple of sentences?
It's all about what happened when POWs came home. I felt so many books looked at all the horrors POWs endured while they were away, but I wanted to look at how they were treated and helped (or not helped) when they came home.
Could you tell us about how you came to write the book?
I had my great-grandfather's war diaries from WW1. He was taken prisoner in Belgium. His writing was so beautiful and so lyrical, and he really painted a picture of what it was like to be a POW. I always wanted to tell his story somewhere and then his diaries became the base for The Trauma of Captivity.
What books are you reading right now, or about to pick up?
I've actually just started A Passage to India by EM Forster. I loved A Room with a View and always wanted to read A Passage to India so am finally getting round to it.
This is the fourth book you have written, how different is the writing process for a book compared to your usual freelance writing?
It's very different – completely. As a freelancer since 2006 and a journalist since 1999, I'm ingrained to write punchy, fast, short sentences for papers and magazines. Writing a book and researching is a totally different discipline. You need to be more patient with a book and less eager to 'get it out there' as we are with journalism. You need to take it a bit slower, to ensure you're factually correct but also that it's an enjoyable, lyrical read.
You've worked for national newspapers and women's magazines as a freelance journalist for about 15 years, what have been some of your biggest challenges and successes during that time?
I actually started in 1999 so it's 24 years now! I started at a news agency called South West News in my 20s and that's where I trained to become a tabloid journalist. I very quickly got a job on the then best-selling weekly Take a Break which was huge at the time and selling millions, which I was so proud to be a part of. Successes were rising pretty quickly to become a deputy editor and launching a new magazine. I met Tony Blair at Downing Street as the Labour party saw the importance of winning the women's vote via magazines. It was a really heady time in which there was lots of money around, lots of promotions and it was really exciting.
Challenges – that's all changed now! Magazines are selling fewer copies and the pay has not increased in years. It's harder to sell stories now – but can still be done if you're canny!
How important do you think print magazines are in an increasingly digital first media industry?
I fear they won't be around forever, which makes me really sad. I love the feel of a magazine, the touch of it, turning pages. I feel many people still feel that way but it's definitely changing, and magazines are selling fewer copies. I hope they'll stay but it's so uncertain at the moment.
More recently you've done broadcast work with the likes of GB News, what transferable skills are there from being a journalist to being a commentator/broadcaster on screen?
I think tabloid journalism is a great springboard into commenting via broadcasting. It's really the same skills – finding a topic, being able to present it or debate it, come up with back up or research. It's just verbal rather than written. I think the skills of knowing what to keep and what to not include is also an important aspect learnt from written journalism in a verbal debate or TV panel role. You still need to be quick, punchy and to the point which are all skills we hone as print/digital writers.
What advice would you give to any trainee journalists/budding writers?
It may be a very uncertain time regarding magazines and digital journalism but in true life, health and tabloid writing there is one thing that will NEVER run out – that's people's stories. They are an endless font.
If I'm a PR professional with a story or another opportunity for you, how should I get in touch?
The best way is via email – Julie_cook@outlook.com
You can find Julie tweeting @JulesJournalist and her latest book is available here.
Subscribe to the blog
Get weekly updates from the ResponseSource blog
Subscribe