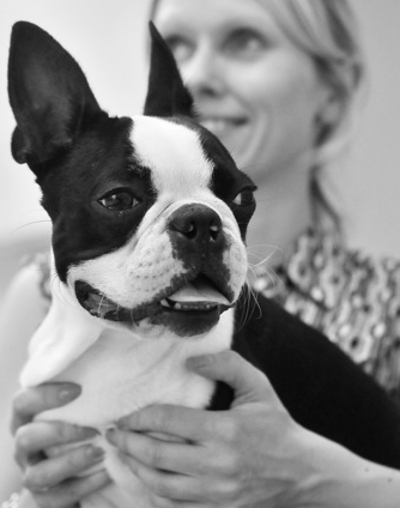 It's a hard mutt life but someone's got to do it – Alexandra Frith and Basil unleashed their blog to an unsuspecting audience in 2012 and are on a mission to showcase pup culture at its glamorous best. No, we haven't gone barking, just roll on over and have a read before you play dead for the rest of the day…
Tell us about your blog, how did you get started? Why did you choose your subject?
Barkarama first started in 2012 as an outlet for wanting my own dog but being unable to have one due to personal circumstances. As a non-dog owning dog blogger, I believe I did a good job of producing relevant content but, obviously, the addition of chief reviewer and roving repawter Basil has helped tremendously with generating content ideas.
How do you source content for your blog?
The site had a redesign in October last year and, aside from aesthetic changes, I edited down the channels/categories, which has helped provide more focus. Blogging about modern lifestyle products, services and events, to cater to both the dog and the owner/dog lover, as well as dog-friendly venues, I look to a wide variety of sources for inspiration. My reading list includes women's fashion blogs, lifestyle magazines, social media and on and offline shopping. My dog Basil is also a great help, as are PRs and brands where I've established a good relationship.
Do you have a favourite post or one that best sums up your blog?
My content is so varied (how I like it) so it's hard to pinpoint one particular post. I generally enjoy writing anything that spotlights Basil e.g. he recently shared his guide to creating the perfect dog wardrobe and we previously ran a review of our visit to Tilly's Studios, a photo-studio exclusively for dogs. I also love blogging about stylish new brands that you're unlikely to find stocked in old school pet shops or pet supermarkets e.g. Poppy & Rufus, and openings such as Scooby's Boutique Coffee Bar in Muswell Hill, a dog-friendly coffee shop for hounds and their humans. However, I'm most proud of my interview with a lady who adopted a rescue dog after her friend had seen it featured in one of my previous 'Give a Dog a Home' posts.
Do you write reviews?
Yes, but only if it's something that I would be happy for Basil to wear, sleep on, eat, use or 'do' etc., so I would encourage a PR or brand interested in working with Barkarama to have a look through the site to get a feel for our style. The only things I don't tend to review are dog food (treats are fine) and dog medicine, as I think there's too many varied opinions on both and I have no professional expertise on either.
How did you build a following for your blog?
Initially it was through Twitter and by sharing content via the featured brands' PR but since the new-look site was introduced, I've extended to Facebook, Instagram and Pinterest. Platform growth has been organic and I'm currently running a photo-led Facebook competition to drive likes, user engagement and blog traffic.
Are you PR friendly? Do you accept contributions and content for your blog?
Of course! My background is PR so I know how it works. All I ask is that the PR has a proper look at my site first to see how and where their proposed content might possibly fit. As previously mentioned, I don't tend to write dog medicine reviews but I've been sent some really great content from PRs, who have managed to take a product such as dog worming tablets and turn it into fun content that I'm happy to share with my readers.
How best do you like to be approached by PRs?
Email is best, and preferably with a steer on where the content will fit – either against one of categories or themed posts – so I know you've had a look at my blog! Mass mailers…not so good. I'm also happy to conduct face-to-face meetings, as I find that this helps create a stronger relationship and helps spark additional ideas.
What's in store for your blogging career in 2014?
Building on the blog's success to date. Basil is also featured in a dog-friendly travel guide out in the Spring and we are judging at a few events on in the Summer. I also hope to work on my photography skills to include more of my own images of Basil on the blog – he makes such a good dog model, so if there are any photography PRs reading this, I'd definitely be up for hearing from you!
You can find Alexandra tweeting @Barkarama.