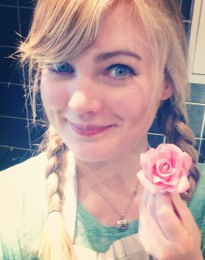 Peach Trees and Bumblebees is basically a celebration of food, cakes and other tasty treats. Editor Ashley Fryer takes us through the blog's beginnings and aims for the future as well as the prospect of baking a wedding cake for her sister's wedding. Join us in wishing Ashley good luck with that!
Tell us about your blog, how did you get started? Why did you choose your subject?
My blog, Peach Trees and Bumblebees, is devoted to all things food! I started it three years ago when I realised I couldn't keep ringing my mum every time I needed a recipe. I wanted somewhere to keep all the recipes I was coming up with as well as all the recipes handed down through my family, and a website seemed like the perfect solution. I'm obsessed with food and cooking – especially baking – so a food blog was the most natural fit for me.
How do you source content for your blog?
Most of the content comes directly from my own kitchen – I'm forever making new things and experimenting. But as the blog grew, more and more PRs got in touch about products and I started to write more features, reviews, and gift guides.
Do you have a favourite post or one that best sums up your blog?
One of my most popular posts is my salted caramel millionaire's shortbread – it's so indulgent! It's one of my favourite treats and it's not hard to make; that's how I like to think of my blog – delicious but not too challenging!
Do you write reviews? How many people read your reviews?
I do, indeed – I am quite picky about how many reviews I accept because it's important to me that my blog is still mostly filled with recipes. But my reviews get a decent portion of my traffic – usually around 3,000 per review over the course of a month.
How did you build a following for your blog?
Social media is brilliant for building a following – I'm always tweeting and Facebooking.
Are you PR friendly?
Yes, I am PR friendly! There's more info about how best to approach me on the website. I have a full-time job and another food blog – thegreedygirls.com – so I'm pretty busy but I always do my best to respond to PR emails, requests, offers, and invitations!
How best do you like to be approached by PRs?
Email – I can't pick up the phone much during the day. But you can tweet me, too – you may be more likely to get a quick response! I'm @ashleyfryer or for specific food stuff, I'm @peachtreesbbees.
What's in store for your blogging career in 2014?
This year's big challenge is my sister's wedding cake! I've been learning a few things from a friend who's a pastry chef and I'm planning to blog the journey. Other than that, this year will be filled with delicious recipes, reviews, and gift guides! And I hope to do more restaurant reviews – they're so popular!
You can find Ashley tweeting @peachtreesbbees.