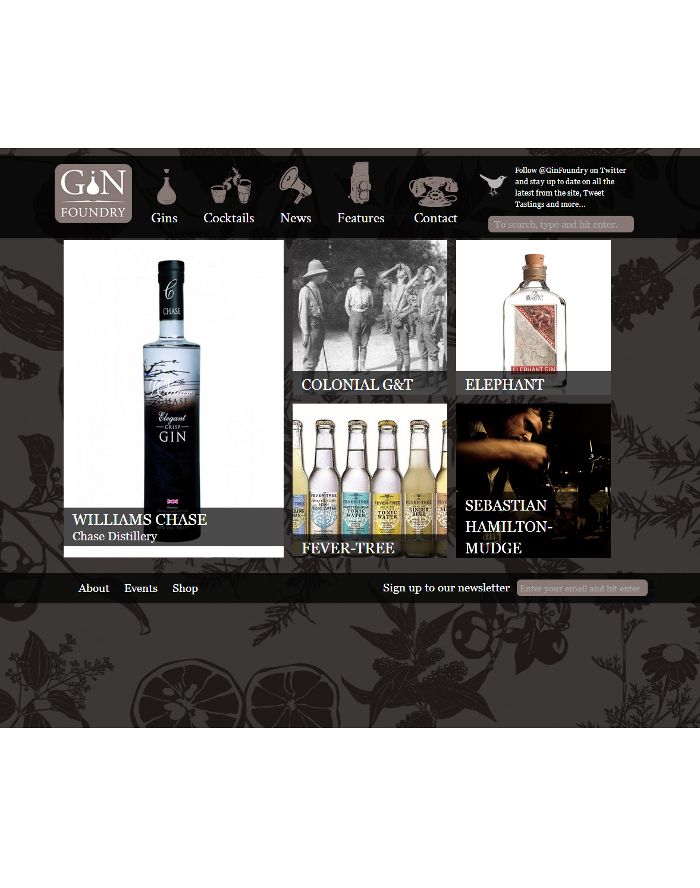 Never mind Mother's Ruin, Gin may have had a colourful history, but the team at the Gin Foundry are on hand to provide us with their in-depth knowledge and passion for the spirit. We chat with Emile Ward, who outlines the site's aim to becoming the largest online repository of Gin-formation (made that up all by myself).
Tell us about your blog, how did you get started?
Gin Foundry is the Home of Gin. It's that simple! It is starting to look more like what our eventual goal is – to be the largest online compendium of factually correct and unbias information about gin. There's someway to go that's for certain, but we're enjoying the journey rather than rushing to the destination! We review gins, we write about cocktails and news surrounding the world of gin. We also write features and opinion pieces about the spirit and its position in the global market. We all work in the trade as our day job and we all have a common passion for gin so we decided to launch Gin Foundry as a way of highlighting the category and taking a much more active role within it.
How do you source content for your blog?
We source content from multiple places such as getting directly in touch and meeting with producers, owners, brand ambassadors, brand managers for each individual gins. We also go to events, press launches and/or industry trade shows and therefore talk to other producers and organisers. We regularly visit new distilleries to see each gin's production up front and personally. We also organise our own events and make our own products so we get in touch with those behind the scenes actually making each element that goes into making gin. Finally, we also interview industry figures and people within the trade.
Do you have a favourite post or one that best sums up your blog?
We don't think that one post can encapsulate everything that we do simply because we have various categories to our website. So, maybe highlighting one from each is best: Features, Gins, Cocktails, News.
Do you write reviews?
We've now written over 70 gin reviews and counting. Our posts often go into the 2,000 to 3,000 word count so we aren't trying to be brief but in-depth and we look at many elements that make up each brand. Contrary to many online sources that try to be short and snappy, we go for the opposite where it takes time to read and learn about each gin. We get over 3,000 average readership per review and have more than 70,000 unique pageviews since launching in November with a monthly readership of almost 20,000 and growing.
How did you build a following for your blog?
We used a lot of social media, word of mouth and our newsletter. We also go to many events, host our own and make our own products, so our name is growing bigger and bigger every month. We use social media for everyday communications, our newsletter for big news and offers and events to meet in person and spread via word of mouth. We also use PR to spread our content and get our products in media outlets.
Are you a PR friendly? Do you accept contributions and content for your blog?
We are PR friendly and have our own PR person in house to help us get into the press. We do not accept any content for our website so all the content we write is self-generated and comes directly from our team. We do not process press releases unless we've rewritten them and reserve the right to pick and choose which we decide to publish. Please get in contact with Dani for any queries regarding PR opportunities.
How best do you like to be approached by PRs?
There are many ways to approach us. We're always attending events so you can catch us there. Otherwise, for any editorial queries please contact Olivier Ward and for any event or partnership opportunities please contact Emile. If in doubt, we are all available at via email where we try to get back to any queries as quickly as we can.
What's in store for your blogging career in 2014?
2014 will be a big year for us. We have the UK's biggest gin show in June called Junipalooza and we are also launching our second product called Anthology of Gin, which will be a pack of four different gins. The ginvent calendars will be back around November as well. We will also build on our gin and cocktail reviews as well as our interviews and features and by the end of 2014 become the biggest and most complete online resource for gin reviews and news.
You can find Emile tweeting @EmileWard