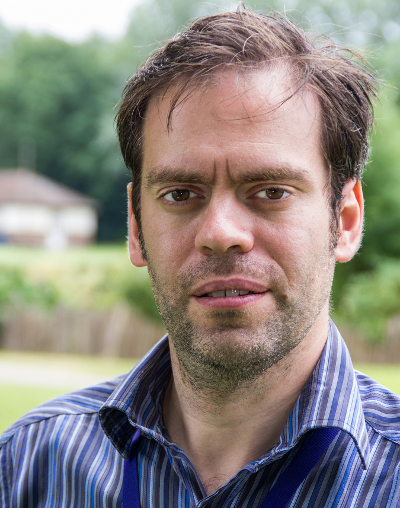 DadBlogUK.com charts editor John Adams' intrepid parenting adventures in a world dominated by mums. As his blog charmingly puts it: 'Gestation and Lactation; the only two things men can't do as parents.' Read on to find out what John can (and does) do as a parent and blogger…
Tell us about your blog, how did you get started?
Back in 2011 I gave up full-time employment to became the main carer for our daughter. The reasons were essentially economic (i.e. my wife has the better earning potential). I knew I was entering a world dominated by women so didn't think it would be straight forward. As the months rolled by, however, I was staggered at how mother-centric the world of parenting can be. Having been invited to one too many 'mother and toddler' groups, I snapped! I decided to start blogging about my experiences as a dad who is the main carer for his kids. In addition to writing my own blog I also write monthly blogs for Kiddicare, BritMums and have a Huffington Post blog that I occasionally write.
How do you source content for your blog?
I source content a number of different ways. If I have a particular experience or idea, I may write about it. Sometimes I am approached by PRs with a particular idea. If I like the idea, I will run with it. I am always happy to be approached by PRs.
Do you have a favourite post or one that best sums up your blog?
I'm going to cheat and provide links to two of my favourite posts. The first one is a light-hearted blog post about how, for two years running, I seriously messed-up the costume for eldest daughter's Christmas show. The second article covers a more serious subject. It's about positive body image and what fathers could do to promote it among their children.
Do you write reviews?
I do indeed write reviews. They are some of the best read articles on my blog. Truth be told, I never expected that to be the case. I'm not going to mention any names, but I recently wrote a very simple review of a couple of baby products sold by a supermarket. The total value of the goods was less than £5 but the spike in visitor numbers to my blog was absolutely staggering! You never can tell what's going to prove popular with your readership!
How did you build a following for your blog?
In the early days I relied heavily on Twitter. Since then I have to appreciate the importance of building networks and participating in 'blog linkys' and so on and so forth. It's also vital to comment on other people's blogs, I think this brings in readership. Crucially, working with brands is important. I have learnt that when I write a review that it's vital to share it on the brand's Facebook page, etc. This definitely makes you more noticeable as a blogger.
Are you PR friendly? Do you accept contributions and content for your blog?
I am PR friendly. Please do speak to me about reviews, giveaways and so on. I will consider content and contributions but I will reserve the right to say no. It is my brand and I won't do anything that I think could compromise what I've created. Subtle hint though – infographics tend to go down very well with my readers!
How best do you like to be approached by PRs?
Please email me.
What's in store for your blogging career in 2014?
Good question! I want to make better use of Google+, YouTube and Pinterest. I can't say too much, but a book could be in the pipeline.
John can be found tweeting @dadbloguk.