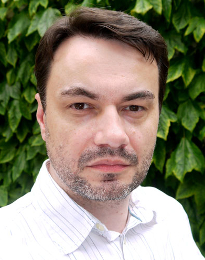 We're all doing our bit to save the planet, from recycling to composting. Lem Bingley has made it his mission to inform UK consumers of the growth in low-carbon motoring with his blog Green Motor. Aside from sounding like something out of a sci-fi film with electric motors, hybrid drives and hydrogen fuel cells, could this spell the end for the term 'petrolhead'? And let's face it, we all want to drive a car called 'Tesla'.
Tell us about your blog, how did you get started? Why did you choose your subject?
In 2007 I was working at a B2B publisher, trying to get funding for a new publication in the sustainability sector. That effort became BusinessGreen.com. My growing interest in sustainability at the time seemed at odds with my longstanding enthusiasm for cars, but there is an overlap that gave me the idea for Green Motor. I thought there was space for a green car blog because the motoring press mostly treated emerging hybrids and electric cars as beneath contempt. If you were interested in these vehicles in 2007, there was nowhere to go.
How do you source content for your blog?
Many of the articles published at Green Motor are reviews. Car makers all maintain fleets of press vehicles and organise driving days to publicise their products. The difficulty lies in persuading them to include a niche blog. Some manufacturers have been incredibly helpful, others less so. My 20-year background as a journalist and editor has helped, though I've never worked for an established motoring outlet, so I've generally had to start from scratch. I've also had to learn how to photograph cars. Some of my earliest attempts are awful, but I'm generally pretty pleased with the snaps I take today.
Do you have a favourite post or one that best sums up your blog?
I'm happy with the article I wrote after driving Hyundai's hydrogen-powered car last year. The post has a healthy balance between enthusiasm and scepticism, with a touch of humour while making some serious points. That's the mix I always aim for but don't always achieve.
Do you write reviews? How many people read your reviews?
An appraisal of a much-anticipated new model, like the latest VW Golf, will be read by more than 10,000 people within a few weeks, though the average is about half that figure. Car reviews also have a long shelf life. Visits to quite old reviews can pick up again when a car starts being bought second-hand. My 2012 review of Chevrolet's Aveo hatchback has clocked-up 13,500 views, more than half in 2014.
How did you build a following for your blog?
I actively use Twitter and Pinterest to spread the word, and I try to make my articles as search-friendly as possible – though the human reader always comes first. I also work as a freelance writer for other publications, including The Guardian, which can bring people to me via Twitter and onwards to the blog.
Are you PR friendly? Do you accept contributions and content for your blog?
I am friendly towards PRs, I do review motoring-related products that aren't cars, and I'm always happy to consider sponsorship proposals. For example, I'm currently working with eBay to promote the UK launch of its Collections facility. However, Green Motor doesn't ever publish guest-written copy.
How best do you like to be approached by PRs?
Email is best, or try me on Twitter.
What's in store for your blogging career in 2014?
I recently began the process of making Green Motor a multi-author blog – I'm now joined by freelance contributor Antony Ingram from time to time. I'd like to produce video reviews, but that requires a big step in investment of time as well as in cash. It is very difficult to make blogging pay for itself without ruining the reader's experience, so that creates a dilemma. Revenue growth is needed for Green Motor to expand beyond its current point.
Lem can be found tweeting @Greenmotor.