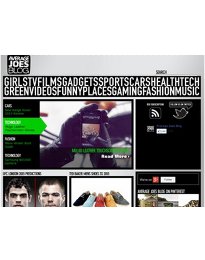 Tell us about Average Joes Blog, how did you get started? Why did you choose your subject?
I started the site very much a hobby a few years ago to try and provide an honest and independent view on products, news and features in the men's lifestyle space.
How do you source content for your blog?
Everywhere, from news stories, articles of the mind, events, new releases, press releases and getting out there to try new things.
Do you like to write reviews? How many people read your reviews?
Yes we do, on everything from cars to fashion, technology to restaurants. It is hard to quantify exactly as it depends on searches and the subject but many of our video reviews on YouTube are around the 10,000 views mark.
How did you build a following for your blog?
Organically through good SEO best practice and social media.
Are you a PR friendly blog? Do you accept contributions and content for your blog?
Yes we are a PR friendly blog, but all releases and details are completely rewritten in-house. Readers want to read life from people like us, not industry speak.
How best do you like to be approached by PRs?
In a personal and friendly manner, BCC is straight in the bin!
Marmite: Love or hate?
Hate – I would rather poke myself in the eye with a stick whilst listening to One Direction.