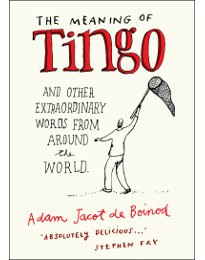 About QI, the wonders of whiffling, and other things…
How did you originally get the job of researcher on the first series of QI?
Ah, I met the producer socially, and we got on. It was quite early on in the days of QI, well before it got commissioned by the producer at the BBC.
Tell us a bit about what you did on the show…
I worked for the first series of QI; it was my job to find anything that was interesting beginning with the letter A. It was a difficult letter, because there are a lot of auditors and accountants and things like that. I picked up an Albanian dictionary, which took a while to get through because it was 1100 pages long. I found there were 27 words for moustache and 27 words for eyebrows. I discovered what a wonderful treasure trove of the world of languages it was.
I then got commissioned by Penguin to write three different books to do with peculiar words from around the world. I read about 600-700 dictionaries to research the first two – 'The Meaning of Tingo' and 'Toujours Tingo'.
And then I wrote one about the English language called 'The Wonder of Whiffling', which was from Anglo Saxon through to 'trailer park' slang.
How did you come to be commissioned to write the books and what intrigued you about the subject matter?
I became intrigued, initially, when I discovered the Albanian eyebrows. That woke me up into thinking, well, there's a real world out there, and although it's presented in a fairly unpalatable format (namely endless lists of dictionaries, from A to Z), none-the-less, in and amongst all that there's a lot of juicy material. I thought them a very innocent and non-judgemental exploration, celebrating the diversity of our cultures.
Do you think you'd ever go back and write another book, maybe about a different subject entirely?
Well, there're a lot of good and bad reasons for writing books. I mean everyone, I think, likes the idea of having written one, because it's quite a declaration. It's only really worth writing a book if you're absolutely passionate about it. You have to have complete and utter belief that what you're doing is going to excite or hopefully amuse more than just yourself, ultimately.
About freelancing, the media and PRs…
So after finishing the books, you drifted into journalism?
Yes, exactly: I got to the end of my material, as it were. There was only ever going to be three books, in terms of digesting the world's words. And so I left it there and decided to move across into the world of journalism.
My bearing is that I have a lot of material as a result of my research, and I'm now a journalist as opposed to an author. I write extensively for in-flight air magazines, where I will tailor the piece to the relevant language of the destination of the flyer, and I do a lot of local 'Call My Bluff' quizzes about particular dialects for local county magazines.
I also write about London a lot; all the peculiarities. I'm very interested in the freedom of the city, the guilds, the statues, the blue plaques, and the fact that Lord Kinsale is the only Lord who doesn't have to take his hat off in front of the queen. All of these one-off oddities that comprise our life, which is very redolent of English hierarchy. Coughing three times and touching a sword upside down before we're allowed to walk backwards, in Latin; all of that sort of thing appeals to me, I'm an archivist of it. I write for a lot of magazines about that sort of thing as well.
I'm also, simply, a Londoner and therefore offer opportunities to PR companies to be a London rep, dealing with things that go on here. I also do travel quite extensively on behalf of travel magazines, so I can be a good judge and quite critical of what is or isn't a good hotel, etc.
Do you ever go to industry events to interact with PR people and other journalists to get inspiration for your work?
Um… no, is the bold answer.
I go and meet a lot of editors if they're in the London area; it's an effective enough process. Generally speaking, I only deal with PR people in terms of them commissioning me to go and write up a certain hotel, or something of that nature.
How do you feel about the 'office jargon' that can be common in media/PR?
People feel that to impress they have to say things that the person they're talking to might not know, and therefore they're putting the other person in the dark – they're not communicating. A lot of office jargon is designed to make people sound as though they're up-to-date and in some elitist clique of knowledge, an inner sanctuary. But that's all bollocks, really, isn't it?
We get pedantic about words…
Is there a fact you came across while looking through all the dictionaries that really surprised you?
I think it was the recognition of how there are a lot words that you wouldn't expect the English language to have, because of the climate and cultural differences. There's a word in Namibia for when you walk on tip-toe on warm sand; there's a word in the Inuit for the exchange of wives for a few days only.
I think it's quite odd that the English language (that thinks of itself as being very rich in terms of different ways of expressing things) is actually lacking. For example, we don't have 'womba' from Cameroon, which means the smiling in sleep of children. And we don't have 'mahj', another Persian word, which means looking beautiful after a disease. These are all universal concepts that we're familiar with, yet it's other languages that bother, or are prone, to articulate them and we don't. So that's what's interesting. That discovery, yes.
Because the English language doesn't have single, specific words for such concepts, do you think English-speaking writers are, perhaps, forced to be more creative and poetic, finding lots of words to sum up one thing?
Well, generally, English abounds in different ways of wanting to be clinical and very accurate in describing what we're trying to articulate. So in answer to your question, generally we've got a wealth of different adjectives to describe anything.
In conversation, and when listening to the radio/watching the television, do you ever get frustrated that most people don't use a great wealth of words, and tend to stick to the same ones (like 'nice' and 'good')?
I think my only misgiving, but I wouldn't want to go into too much detail about it, is the very lapse use that everyone (the highly articulate and intelligent, down) makes use of abstract nouns. In the old days, you would just have a very straight-forward word like 'ratio', and that would embody all the different interpretations, but now… someone on television last night was saying something like "theraputicised" rather than therapy, and so on. People don't really understand or quite know where they are with abstract nouns; you end up with words like 'reasonability', when 'reason' says it all.
People at a certain age – it's normally about 40-onwards, certainly before they take up military history and the shed at the end of the garden (these are all parts of the correct process of becoming a middle-aged man, I can assure you) – instead of saying "I like to eat," end up saying "I have a liking for… the process of eating" or something like that. People become very pedantic and pompous and they start saying "I have a particiality for food" when all they're really saying is "I'm hungry!" It's a strange hybrid between business letter writing and formality on the phone, and it obscures.
How do you feel about the other side – simplification and the merging of words? I heard someone say "this is very eatable" on a cookery programme the other day, instead of "this is enjoyable to eat"…
Instead of 'edible', yes. Well, you know, it's always gonna happen! What annoys – I suspect – you and I, if we're going to be chummily pedantic about this…
Let's be chummily pedantic about it…
…is the fact that they're creating a word based on ignorance. They think 'eatable' is a word; that's the annoying thing. You have to allow them a wide berth to celebrate the fact that other people end up sharing 'their word', which is actually based on them not knowing the correct one. Whether they'd ever go back and say "well, I never meant to say eatable; I meant to say edible" in time would be another matter.
Do you think swear words can be limiting to the English language and destructive to conversation?
Well, swear words into two groups – vulgarisms and profanities. Vulgarisms are just basically "your mother's a whore" type stuff, and profanities are basically, you know, slagging off God. I remember having to read a 400-page American dictionary of contemporary vulgarisms and slang and it's all based on the 'rock and roll lifestyle', all about drugs and sex. After a bit it's quite tedious and rather unshocking. Like all new things, as with coining new words, it's all about being inventive and vivid, imaginative and fun. Those are the ones that'll probably last.
But… all these insults are very bare and sparse. There aren't that many intelligent, interesting, quirky ways for people to slag each other off, because normally people are too angry at the time of the insult to be particularly inventive. I have coined my own phrase, thanks to a friend of mine, which is 'hunter-ditherer' – a male that doesn't 'get on with it' with regards to a female, which I quite like.
About Adam himself
Out of all the languages that you've researched into, what would you say is your favourite?
Japanese, unquestionably. It's the most diverse in its outlook and way of expressing itself in contrast to English. It just has so many extraordinary words, in terms of their definition.
Are you fluent in any other language?
Not at all! I am in English, to a point. I mean, we're understanding each other, I trust?
Indeed!
Although, I'm relying on you as our memory of what the last thing we said was and so on.
I do, generally, have a very bad memory, but I think we're doing okay in this conversation.
I think we're doing alright as well. But, um… though I have forgotten now what you just said…
Fluency in other languages!
Yes, no; I'm not. I did Latin and Greek at a very young age. I started Latin at seven. Which sounds slightly Dickensian, but that's true. And Ancient Greek came along at about ten or 11, and I did that right through to the end of my time at university. Highly recommendable.
Were they your best subjects at school?
Yes. People always bang on about which college they went to and so on, but I was lucky enough to find someone who inspired me, who made me want to perform. It turned out to be a Latin teacher. It could have been wood work, but it wasn't.
And was wood work your worst?
I think it was wood work actually, yes. But I don't remember it very well. I'm well past school.
Tell me about your career path, you went to university…
Yes.
What did you do after that, and how did that lead you to having the conversation about QI?
Well, I've had several jumps – 'career' is probably a flattering word for it. I started in local advertising; it was my own business, so slightly different to just being a 'wage slave', so to speak. I worked for a hedge fund manager at one stage. I had an art gallery in Mayfair. I worked for a financial magazine; I did the QI; I did the books. I've hopped about a bit. It's quite painful reinventing yourself, I would say.
If you had to do a regular job, what would it be?
It's beyond me, that! It's just not the way of thinking I want. I'm very actively pro being self-employed; I like to shape my own day. I like to work according to mood and not the clock. If I'm on a roll I'll drop everything and just work, work, work through the night. You just know your own body – you know days where you aren't going to accomplish very much, and you do what you have to do that day and leave things that can wait until you're in a better frame of mind.
Yes, I'm always going to have to be self-employed and rely on my wits.
Out of all the words in all the dictionaries you've read, do you have a least favourite word?
Least favourite?
For example, my aunt really hates the word 'tights', it makes her feel physically sick. So I was wondering if you had a similar word you don't particularly like hearing…
I don't really, because I'd dismiss it from my mind if I didn't like it! Apart from the word 'like'; people can't cope with their own pregnant pause and throw in the word 'like' all the time – I find that fairly unfathomable. I also don't like people who say 'look' or 'listen' as though I'm meant to be under their grasp. but that's more of an Australian mannerism.
I think my favourite of all time is a six-letter Persian word, 'nakhur', which means a camel that won't give milk until her nostrils are tickled.
When you're not working, what media do you enjoy?
Magazines, newspapers, television, films, Youtube. Well, if I'm going to be brutally honest and sound impressive…
You can do that!
…which I can do. I read The TLS, and I listen to Night Waves on Radio 3 – that's all very good for furthering the mind, because the language of the criticisms, write-ups or reviews of The TLS, generally speaking, is better English than I find in any of the other leading national newspapers.
Newspaper of choice?
They're all soiled with political affiliation, unfortunately. I will read broadsheets, I won't declare which ones.
Do you ever pick up a tabloid?
No, unless I'm in a waiting room or something. I wouldn't buy one, personally. I don't think I'd benefit very much from it.
Sometimes it's quite nice to see how bad things are…
Well, yes, that's true. We all like the old-fashioned, corny, News of the World-style strapline.
Who are your favourite authors?
Paul Auster (and his wife, Siri). His work is so seamless, it looks very effortlessly written. Also having heard him speak, I know that he does a considerable amount of drafting, rather like Ian McEwan; I think they do up to about 20 drafts before they feel satisfied that they can move on and leave it be.
It is quite important when you write that you learn the art of – this is probably something more true of a portrait painter – that you learn when to let go, when not to be so polished about it, or overly perfectionist. When I discovered that there were 27 ways of talking about Albanian eyebrows and moustaches, I didn't then go into all the reasonings as to how that came to be. I wanted readers to think "well, that's strange, what is it? Are they hirsute, are they manly and a macho lot; who are these Albanians?"
So, out of the 27 words for eyebrows, how would you describe your own?
I haven't looked recently, but they're tapering! They're – there is an Albanian word – they're not shaped like the crescent moon.
What would you like for Christmas?
I think a Roberts Radio would be nice.
That sounds reasonable.
It is reasonable.
And do you still watch QI?
Yes I do! Not religiously, but I certainly leave it on if I'm in!
Adam Jacot de Boinod can be contacted for commissions via email.