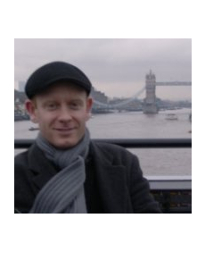 A sports-movie-esque montage of Andy Brown's career would feature his long hours of hard work at World Sports Law Report, him sweating over editorial for the Press Association, and a wood cabin training sequence intercut with scenes of Dolph Lundgren as a Russian super-boxer trained by Brigitte Niel– sorry, forgive me; that's 'Rocky IV'.
Andy has reported on Soccerex Conventions from Dubai, becalmed irate football journalists at conferences with FIFA, and has faced dangerous sponsor heavies during his time in the industry, but that's not really why we wanted to do an interview with Andy – he had us at 'hello'.
About your journalism
Hello Andy! We heard that you'd recently left your role at World Sports Law Report to go freelance – what prompted the decision?
I left my role as associate editor at Cecile Park Publishing over three years ago following the birth of my daughter, Charlotte. I worked across a range of publications, but Cecile Park Publishing was kind enough to allow me to continue as editor of World Sports Law Report on a freelance basis. My daughter is now four and the extra time I will gain now that she has started primary school will allow me to take on more freelance work. In the past, I have written about online gambling regulation, data protection issues, e-finance, e-commerce and more. I have also been a managing editor at the Press Association, so I am hoping that my experience will allow me to take on more varied work.
Did you meet any Jerry Maguires while working at World Sports Law Report? …Is that why you went freelance?
Ha! Working in sports law requires all of the qualifications required to work in other areas of the law, but often without the equivalent remuneration, so people who work in this area tend to do so for a love of sport. Lawyers often move firms, however it takes guts and confidence to set up on your own, as Jerry Maguire did in the 1996 film.
However, I have met lawyers who have done this. Within sports law, lawyers tend to develop an area of expertise, such as intellectual property or doping, so it can make sense for them to set up on their own if things are not working out within the firm they work for. However, you are banking on athletes and clients coming with you rather than staying within the security of a contractual relationship with an established firm – it's all about the type of relationship you have with your clients.
I have certainly met plenty of characters working within the sports law industry. However, I don't want to embarrass them or myself by 'dishing the dirt'!
That's a classy decision. What are you looking forward to getting stuck into as a freelancer? What are your specialist subjects?
Without giving too much away, I have a few projects planned – it depends on how much time I can create to do them. My specialist subjects are the business of football and doping – I have projects planned on both topic areas. I would also be interested in writing about some of the other things that I am interested in, such as brewing, music and vinyl records, however I am not sure if anyone would pay me to do that! I also sing with a community choir, the Hackney Singers, and would love to write a feature on that, if anyone is interested…
During your ten years in the journalism biz, what has been the most enjoyable/memorable piece you've worked on?
Highlights have included reporting on the Soccerex Conventions for Football Insider magazine, which included trips to Dubai. In the late 1990s, Soccerex was held at the Madinat Jumeriah hotel, which – needless to say – was much more plush than the hotels where us journos stayed. It had its own private beach and pool and on the last day of the conference, I remember taking my swimming trunks…
Visiting Munich for a specially organised conference ahead of the 2006 FIFA World Cup was also excellent – not least because I was the only UK-accredited journalist and was able to secure a number of exclusives.
Other personal highlights include breaking the news that UEFA was launching a Club Licensing System back in 2000; winning third place for best spot news from the Specialized Information Publishers Association (SIPA); covering Garforth Town's groundbreaking coaching of child and youth players; being invited to Portugal ahead of Euro 2004 to cover UEFA's partnership with DeltaTre to produce enhanced coverage of the European Championship; securing Dwain Chambers to speak during the early days of World Sports Law Report's Tackling Doping in Sport conference..
However there have been stranger moments – including receiving a phone call from heavies associated with a football club saying that they "knew where I lived" after a sponsor cancelled a deal after reading a comment piece from a sponsor that had been gazumped when dealing with the club; conducting an interview with Danny Jordaan (during South Africa's 2006 World Cup campaign) in a taxi on the way to the airport in Dubai; as Chair at one of World Sports Law Report's conferences, having to calm a journalist who told FIFA that they were speaking "*bull****"; watching the collapse of WorldSport.com during the first dotcom boom after the person put in charge while the owner was ill spent all the money…
What would be your dream commission?
I do dream about the possibility of writing a book, as I am interested in the unsung heroes of social history who have a story to tell that hasn't been told before. However, I am worried that if I print who I am talking about here, somebody will pip me to the post…
About you and PRs
How can PRs get in touch with you?
PRs that have information relevant to the regulation of sport can get in touch using my email address, me@andybrown.eu. I will be attending any events that I can to do with the regulation of sport.
About you
How did you originally get started in journalism? What drew you to working in the media industry?
I had always wanted to be a journalist. I am interested in politics and studied it at University, focussing on issues where people that exist on the margins of society are discriminated against, such as through criminal measures promulgated against the travelling community. While at University, thanks to a friend, I was captivated by Brighton & Hove Albion's fight against the club being sold off by profiteering owners. I was struck by the fact that there were no rules to prevent this from happening, and that nobody could do anything about it – apart from the fans themselves.
Politics exist in sport and this area is certainly getting more coverage now than when I first started out. I am interested in the social history of sport – especially sport in Britain. I think that Britain is unique in that we play a wide variety of sports and expect to be good at them all – yet nobody questions that…
I happened to live over the road from the owner of a media company after I graduated from University. I was offered a role as an editorial assistant for Perspective Media, which produced SporTVision – the official magazine of the General Association of International Sports Federations (GAISF). The magazine merged with SportAccord, which at that time was a commercial conference for the international sporting federations. It went on to replace the unwieldy GAISF monicker. I was later appointed editor of Football Insider while at Perspective Media, a magazine we took from zero to 200 subscribers. The company's products were later assimilated by the Press Association, whom we also went to work for.
We can't find you on Twitter (yep, we were creepy and checked for you…) – do you think social media has changed journalism for the better/worse?
One of the things about being called Andrew Brown – or Andy Brown – is that nobody can find you – ever! I have had several commissions through my internet site which I have had to turn down, as it was obvious that they were expecting me to be the Guardian journalist Andrew Brown! My twitter account is @sport_law, and I currently have just under 3,000 followers (thanks, guys). I also operate the World Sports Law Report LinkedIn group, which has around 1,300 members.
Twitter has recently come under a lot of criticism following the 'trolling' of celebrities and journalists. However, the value of Twitter depends on how you use it. For me, it has become an essential tool that I place above email in checking for interesting news articles. If you follow your peers within your subject area, it has the potential to tell you what they also find interesting and valuable. In other words, it can enrich your understanding of a subject.
I try to never put my opinion on Twitter – unless it is a link to an opinion-based article. As a journalist, it is my job to report what other people think. I do, however, have a blog where I do post my opinion on various issues within sports regulation.
Writing news is an art. I suppose that the danger with social media is that it can replace reporting. If a journalist spends all his time posting links, they are not going to have much time left for writing news and features.
What media do you enjoy in your spare time (books, TV, films, blogs?)
I enjoy reading books about social history and autobiographies. I am currently reading a history of London's Docklands and Bradley Wiggins' 'My Time'. I am a Tenor with the Hackney Singers who will be performing on 5 October…I also DJ using vinyl, and brew beer, cider, porter and mild. Some of the ingredients (apples and hops) come from my garden.
Do you play any sports yourself, or are you strictly a spectator?
I cycle, but that's about it. The farthest I have ever cycled is 127 miles, in an overnight unsupported ride called the Dunwich Dynamo. Fantastic fun! Somebody once said that cycling is the closest that humans will ever get to flying – I can't remember who – but I couldn't agree more. I enjoy watching football and Rugby League.
"You…complete me and I just…" want you to know that Andy is tweeting @sport_law.