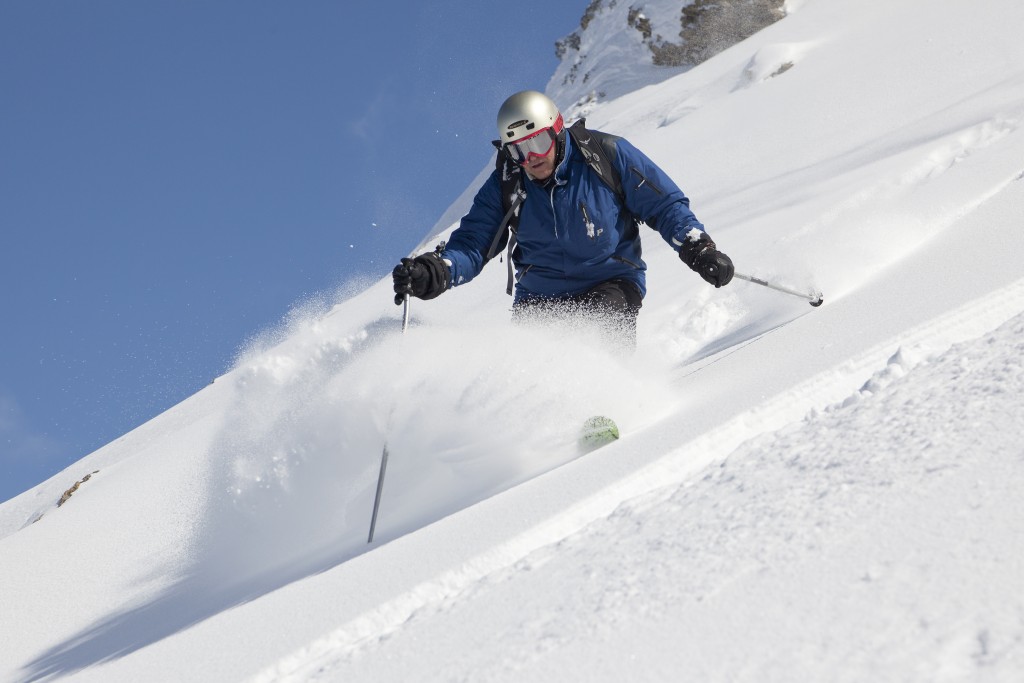 We have a LOT to get through with today's freelance journalist interviewee Arnie Wilson (television reporting, The Telegraph, The Independent, record-breaking, celebrity interviewing; so many things, all of the things), so let's get our skates skis on and jump right in…
Hello Arnie! You've had a very busy career in journalism so far so we have a lot to cover… let's start with what your focus is on now – which subjects do you write about, and which publications do you regularly write for?
Hello Phoebe. I seem to have morphed into a travel writer who specialises (very much) in skiing. I have edited the Ski Club of Great Britain's magazine, Ski+board (spelt like that – it's a designer thing) for 12 years, but may revert to just being a contributor next year. I also write now and then (but not often enough!) for The Telegraph, The Independent, Country Life and the Financial Times. I was the Financial Times' ski correspondent for 15 years before taking over at Ski+board in 2001. I didn't start skiing till I was 30 and it was always a hobby, while Fleet Street provided my main income – a lot of it from celebrity interviews. These days it's the celebrity stuff that's a hobby, and I write on a fairly regular basis for Richard Kay's column on the Daily Mail and occasionally for Adam Helliker's diary in the Sunday Express. I try to find funny quirky stories about celebs I know.
Can you tell us a bit about your time on Fleet Street – were you one of the hard-working, hard-living journos battling for exclusives and working late into the night surrounded by cigar smoke we see on TV (those of us who watch too much TV…)?
Not sure if that quite sums me up! It's complicated! I made my way into Fleet Street in the 1970s on the back of diary stories. What happened was that when my career started on the Kent Messenger as a district reporter covering about a dozen villages just outside Maidstone – my stories somehow caught the eye of Bob Friend, who went on eventually to be BBC TV's man in Sydney and Tokyo and then Sky TV's early morning 'anchor'. When I knew him he was running a news agency in Tunbridge Wells called the West Kent News Service. Working for Bob was wonderful training, especially because he got me (indirectly) into TV and writing diary stories (in those pre-celeb dominated days that meant ringing up mainly titled people – Lords and Ladies) – and writing for the good old William Hickey column and John London in the now long defunct London Evening News.
I ended up (I told you it was complicated) usually either working in TV during the week and Fleet Street at weekends, or vice versa. I worked on various Fleet diaries (Sunday People, Daily Mirror, The Star, and the Sunday Express). Bob had also got me writing news scripts for Southern Television. Both these skills – writing TV news scripts and diary stories – were extraordinarily useful to me later, until skiing took over my life in 1986 when I unexpectedly got the FT ski correspondent's job after the paper's leisure editor Arthur Sandles died tragically young in the Swiss ski resort of Saas-Fee (most of the ski writers, including me, were with him on the same press trip). Meanwhile, my work on the Sunday People had got me a Saturday staff job on the news desk where I worked every Saturday for 18 years, ending up as deputy Saturday night news editor.
Being on TV as an on-screen reporter for ten years – what makes a good TV reporter, in your opinion? Was the turn-around time for pieces very quick?
I had three sessions at Southern Television, first as a bulletin sub-editor, then weekend bulletin editor and then ten years on screen (overlapping with TVS when they won the franchise from Southern) – and in between I was (fairly briefly) chief sub-editor at Anglia TV and a scriptwriter at ITN (News at Ten). I'd kick-started my broadcasting career by grabbing a job at South Yorkshire News Service who were running the news desk at brand new radio station Radio Sheffield. This got me to Southern TV. I was not very good at live TV, so most of my reports were on film (back then) and I had the luxury of working with the various film editors on my pieces – which were usually around five minutes, but occasionally half-hour documentaries – and transmission was usually the following day or even two days after they were shot. I might have become better at live TV if I'd done it more, but I wasn't confident enough, even though I did some studio interviews and about 1,000 film interviews.
You've worked as a showbiz journalist/interviewer (one of your six published books is about your time in that industry) – who were your three favourite people to interview, and is there anyone else you would love to have some time with?
Let me think. I think over the years (bearing in mind, I am still doing showbiz interviews as a hobby) my favourites would be Peter James, the crime writer, Ken Bruce of Radio 2 and Heston Blumenthal. They're all good mates, and I have skied with Peter a few times and Heston, too. Heston and Ken have become friends through my initial journalistic approaches, and Peter was a contact I made through my Swedish wife, Vivianne. I think it's wonderful when interviewees become good friends too and know they can trust you. I've known Ken for about 30 years and Peter for about 18 years. Heston is a more recent chum, but we get on famously and I still write about all three.
Going back to the days when I was doing this full-time, I have happy memories of interviewing the great Jack Hawkins in New York, Dudley Moore in Los Angeles, Joanna Lumley a few times before she got really famous, and countless others including Peter O'Toole, Noel Coward, Omar Sharif, James Fox, Michael Crawford, Alec Guinness, etc., etc. They all feature in my book 'Big Name Hunting'. I ought to say that the man I enjoyed working for most was Peter Tory, who apart from being William Hickey, also had columns in the Mirror, Star and Sunday Express where I was his number two. A wonderful funny friend who I adored. Sadly, he died last year.
How can PRs be useful to you, and how and when do you like them to get in touch? Are press conferences, trips, parties and other events still a big part of your working process?
I'm not the best person to ask! I've never really used PRs that much, though the ski industry is swarming with them and a few of them are hugely important and much-loved friends of mine (and take me skiing!). I get swamped with emails from PRs and I try to answer them all but some of them can be quite irritating if they send follow-up emails and phone calls asking whether you've got their initial email and if so are you going to do anything with their "story". However, press trips are a huge part of my life as a ski writer and editor. I ski for about four or five weeks a year (used to be more) which is how I've managed to notch up 707 ski areas in 26 countries to date!
You skied every day in 1994 with the late Lucy Dicker for the Financial Times and got into the Guinness Book of Records – could you tell us a bit about the experience?
This is too big a question to answer. I could write a book about it – and I did. It was called 'Tears In The Snow' (the revised paperback version was called 'Ski The World'). Sad ending. Lucy was killed in a skiing accident in the French Alps three months after we got back from our trip, which notched up 240 resorts in 13 countries. I don't mind talking about it but it would take for ever to answer your question. Our favourite mountain range in the world was the Andes. We adored Chile and Argentina, where we spent nine weeks.
What are the other most memorable experiences of your career?
There are so many – mostly eclipsed by skiing around the world in 1994. Getting married in 2000 on the mountain in Jackson Hole, Wyoming – my favourite ski area in the world – was hugely important. My Swedish wife Vivianne rescued me from despair after Lucy was killed. But having four wonderful daughters was and continues to be hugely memorable. Incidentally, my second daughter Samantha is an executive producer with Ricochet TV in Hove. Chip off the old block, maybe!
Do you use social media at all – Twitter, Facebook, etc.? Do you think it's an important part of journalism now, or can it be ignored successfully?
I really dislike social media – suppose that makes me a dinosaur. I'm on LinkedIn and that's it. No tweeting and no Facebook. I feel they are so addictive and rather a waste of life!
What media do you enjoy in your spare time (books, magazines, newspapers, television programmes, film)?
I'm a keen amateur astronomer in the sense that I'm fascinated with the subject (but I don't own a telescope!). But I'm really into quantum mechanics. I was hopeless at physics at school but somehow the subatomic world grabbed me ages ago. I think it's because at the subatomic level many of the rules of physics are broken. Carl Sagan's intoxicating 'Cosmos' TV series back in the 1980s had a huge effect on me, and also incidentally introduced me to the music of Vangelis, which I adore. I love Peter James' books and the Japanese author Haruki Murakami. I've read all his works of fiction. I love French movies (especially the comedies) and also the current wave of Danish TV series like 'The Bridge' and 'Borgen'.
Lastly… do you think you'll ever get bored of skiing, Arnie?
No!