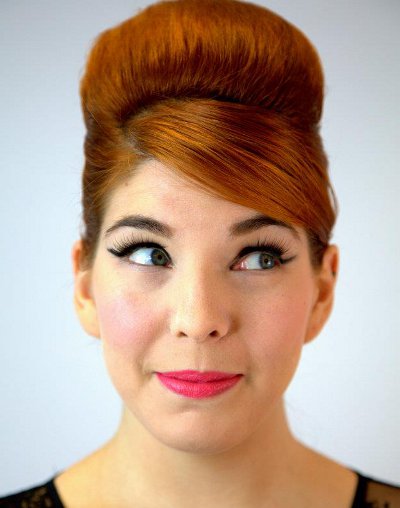 California's loss is our gain, with freelance journalist Cate Sevilla reporting on pop culture, feminism and lifestyle from UK shores. Having written for The Guardian, Stylist and Emerald Street, presented Pop Hive and edited Bitchbuzz.com, Cate's eight(ish) years of journalism experience qualifies her to answer some of our most important interview questions yet.
Who would be brave enough to interview polarising people like Zooey Deschanel and Taylor Swift? Can feminism break out of online-only outlets to join women's interest mags on the newsstands? And is Matt Smith a better Doctor than David Tennant? Don't know for sure? Read on to find out…
About your journalism
What's the most memorable work you've done so far in your career?
I loved the piece I wrote for the Guardian about the show 'Girls' and TV shows for women. I also wrote a really interesting feature for Emerald Street about the stories behind nail varnish names – some companies take their naming processes very seriously. I love speaking to experts or people who have very niche interests as it makes the job as a writer much more interesting.
What interview or feature would you love the chance to do? Is there a particular magazine/paper/website you're itching to write for?
It would be fantastic to interview someone who really polarises opinion. I'd love to speak to someone like Taylor Swift or Zooey Deschanel, for example, and ask them questions about feminism, how women are portrayed in the media, and how they think they contribute to this in their TV shows or music.
As for publications I'd love to write for, both Psychologies and Bust Magazine come to mind as they're magazines I love reading cover to cover.
You founded and edited Bitchbuzz. There seems to be an increasing number of feminist publications/sources online, but there isn't much on the average newsstand – why do you think this is?
There aren't really feminist magazines on the average newsstand because unfortunately feminism isn't mainstream – not in the marketing sense. At the end of the day, magazines are a business. They need to sell copies, and an entire magazine with a feminist angle may find it hard to bring on advertisers. A lot of publication's board members or directors may not believe that their advertisers will be happy being associated with the word "feminism", however, I think Stylist magazine has done really well with this. They've had stories about feminism and even abortion on their front cover which I think is a huge step and sets a great example. I wish more women's magazines would take a risk and try it out. It's a very complicated issue, but the main reason you have more online feminist magazines and blogs is simply because it's easier. Whether or not they can make money is another issue!
About you and PRs
Where do you source ideas for articles? What has been the strangest/most unusual source of inspiration for you?
I get ideas for articles from pretty much anywhere. A lot of times I'll get an idea from something I've seen on TV or have read online. The weirdest ideas tend to come to me in the bath, and the strangest sources of inspiration generally come from odd interactions or observations I've made on the streets of London.
How can PRs be useful to you, and how and when do you like them to get in touch? Do you find press conferences, trips, parties and other events useful or an interruption?
PRs can be incredibly useful when I'm looking for information from an expert, or when I'm sourcing items for a feature. I prefer to be contacted via email, mostly just because I find speaking on the phone time consuming. I find events useful for meeting people, but parties aren't essential. Sometimes just getting the necessary information from a press release or simply being sent a product to test out is easier.
About you
You're originally from sunny California, yet chose to move to England…why would you do this?!
My husband is British so I moved here to be with him, but also because I love it here. I think I must have been British in another life because the UK feels like home.
Do you find social media useful in your work?
Social media is essential to what I do. It makes it easier to know what's going on in the world, what people are talking about, what people are feeling about a certain subject. It's also obviously really helpful if you're looking to push a story you've written.
You blog at Catesevilla.com – do you think an online portfolio is vital for journalists in the publishing industry today?
Having a regularly updated blog or a professional website is very important. However, having a detailed LinkedIn profile or having links to your previous work on your website/blog is more important than putting together a full-blown online portfolio. Make it easy for people to find you, find your work, and to get an idea of who you are and what you talk about. If you're using social media the right way, this won't be hard.
What magazines/newspapers/websites/blogs do you enjoy?
I'm kind of obsessed with BuzzFeed, and I tend to read sites like Jezebel, The Cut and The Guardian's website on a daily basis. There are also a few American 'mommy blogs' I've been following for the last seven years and I'm admittedly way too emotionally involved in their lives.
As a self-proclaimed sci-fi nerd, who is your favourite Doctor? And your favourite Companion (apart from Amy and Rory Pond, who are obviously awful)?
My favourite Doctor will always be David Tennant – as charming as Matt Smith is and as intense as Christopher Eccleston was, I don't think anyone can compare to Tennant. He was dark and endearing and heartbreaking all the same time – although a lot of this must be credited to Russell T Davies' writing. My favourite companion is Rose Tyler, with Donna Noble as a close second. The Ponds… well, let's just say I was ready for them to go when they did!
Cate Sevilla can be found blogging at Catesevilla.com and also tweeting @CateSevilla.