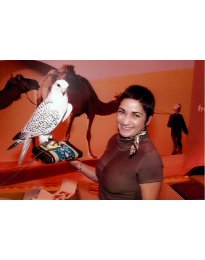 In today's five star interview Christina Bridge (pictured above, right) takes us through the many projects she has on the boil, including her written work on world travel, making time to keep her blog updated, filming a TV pilot and starting up The Gastronomes and Project KEFI.
If you're hungry to hear about the best spots around the globe for a good time – as well as where to find the nearest toilets in St. Mark's Square in Venice – Christina lets us in on some of her favourites*.
*Fern the female falcon (pictured with Christina above, left) wasn't available for comment.
About your work
Hello again Christina! Tell us a bit about what you've been up to since the last time we spoke…
Well, since we chatted in May of last year, I've had a few articles published (mainly on Prague); I've been updating my blog; started up a new collective called 'The Gastronomes'; done some tour guiding in Europe; consulted on a new menu for a five star hotel in Athens and have been filming a multi-media TV pilot in Greece. Was awarded the title of Metaxa Academician on a press trip to Samos. Abseiled 200ft down the Lancaster Hotel in aid of the Springboard charity, and am currently recovering from a long overdue foot operation, which was an injury I sustained ten years ago in the British Virgin Islands.
Back to August of last year, I spent a couple of months acting as a tour guide for a budget coach trip operator, seven countries (France, Switzerland, Italy, Austria, Germany, Netherlands and Belgium) in ten days. I can honestly say it was the hardest and most challenging job I have ever had. You have to be a walking encyclopedia of each country and city that you are visiting. From the history, museum and attraction opening times, costs, how to get there by public transport, the best country to get a deal on designer handbags, the cheapest places to eat – the list goes on. It certainly was immersion travel for me, but not in the way I had become used to. Being only 4 ft 11 and leading 40 passengers on a walking tour of Paris for three hours and not losing any was quite a feat. However, such learning experiences have enriched my knowledge of Europe on a budget and I know where the nearest free toilets to St. Mark's Square in Venice are. Took me some time to recover from that job.
Fast forward to this year, I was hired to do a complete revamp of a menu at the summer restaurant of a five star hotel in Athens. This was around the time of the secondary elections and somewhat exaggerated reports of violence and starvation in the streets. I was reading articles and tweets about riots and how unsafe it was, whilst eating an ice cream in a perfectly calm and sunny Syntagma Square. I was there for five weeks and didn't experience anything of the kind of news that was being reported. The only thing that upset me was the day we were supposed to open after a week of glorious sunshine; Boris and the Olympic boys came from London to pick up the Flame and brought the rain with them. Not a good day for launching an open-air restaurant.
While I was in Athens, I had an inkling of an idea to come back and make an entertaining documentary about Greece using all available media outlets – print, radio, social, online and TV. So Project KEFI was born and after four months of organising from London, myself and three of my team left to film our TV pilot for 'Four Seasons of Greece'. We filmed at gastronomic festivals, cooked with local chefs, made cheese up in the mountains, ate the sweetest grapes off the vines at harvest time, messed around on a yacht in the Ionian and swam in waterfalls. This was work! We had been posting photos and updates to our Facebook pages and Twitter and blogging all through production. We are now in post production and planning our winter season, which will encompass skiing, canyoning and a crocus festival in the snow.
Is there anyone you haven't managed to work with yet who you'd love to hook up with on one of your projects?
I still haven't managed to pin down Anthony Bourdain, but as we invite guest chefs to present with us I think he might like to abseil down the cliffs in Santorini to pick his own caper leaves. That would make a much more fun interview; both of us suspended above one of the deepest calderas in Greece.
You and PRs
Do you find that the idea of what makes a good lead, or story, is very different for journalists and PRs?
I think that PRs and Journalists will always have a difference of what would make a good story. Though I have worked with some that really have a great imagination and sense of adventure, trying to sell the pitch to an editor is another thing altogether. It also depends on whether it is an in-house PR or an agent. I find the in-house ones are more receptive to new ways of writing about a destination. A good travel writer will always try and find a unique edge to a piece. I tend to focus on gastronomy because it is what I know about and I do believe that it gets to the heart of a place and conveys a feeling rather than facts, which I feel that savvy internet-using travellers want these days. I know a lot of journalists who are now working as PR representatives, so with that crossover I hope that it will make a change and a better understanding between both.
About you
If you had to choose a last meal, what would it be and who would cook it for you? You can have as many courses (and chefs) as you want in this scenario; we aren't stingy!
I know that my last meal would be a complete meat feast. Churrasco from Brazil, lamb from Greece, wild boar from Italy, German sausages, baby back ribs from the Caribbean, rib eye from Texas, bison from Africa and maybe a simple green salad on the side. Who would cook for me: It would have to be a chef with a very big outdoor barbeque and a cute smile. Must say Curtis Stone is pretty hot stuff.
Hmm…I must say that too. What would be your tipple of choice?
My favourite tipple is definitely red wine; it doesn't have to be expensive, though if someone wants to treat me to an Amarone or a Muga Reserva, it would certainly keep me smiling. I really love some of the smaller vineyards that I have found on my wanderings. Found some fantastic Greek wines on our travels this year.
Do you watch any of the cookery/celebrity chef shows on television? Does Monica Galetti from 'Masterchef: The Professionals' frighten you?
I don't really have much time to watch television, though I have seen Monica Galetti on a bit of an episode from last season. She does what she has to do; you have to be three times as tough as a man when you are a woman in the kitchen, and have the proverbial skin and strength of a rhino. When I was doing the restaurant opening in Athens with 15 Greek male chefs, with myself being the only female and non-Greek in the kitchen, they nicknamed me 'Mrs Ramsay'. All good humoured – well, not all the time – but you have to stand your own, pick up seriously heavy hot equipment and work incredibly long hours.
As a chef, is there a signature ingredient you couldn't do without, like Jamie Oliver can't do without lemon juice and rock salt?
As a chef, the ingredients I certainly couldn't do without are a good virgin olive oil, and if I had only one seasoning ingredient it would be herbs de Provence as it is so versatile. I don't often have the luxury of all the ingredients I need when cooking on location, or a yacht, or doing a restaurant consult so you get used to working with what is available.
When on location around the globe, what are your favourite food and liquid hang outs?
Greek Islands: I'm still discovering, even after twenty years, that there is such a choice. If I had to put a name to it, it would be Argo Restaurant in Fira. Santorini, the menu, the view right over the caldera, and it's on three levels as well. Plus, it's owned by a friend of mine who is also a chef and a sailor.
British Virgin Islands: Hands down, got to be the Soggy Dollar Bar on White Bay, Jost Van Dyke. Sipping a Painkiller while lazing in a hammock; it has a great laid back vibe, and perfect shallow water swimming. There is no dock, so you swim ashore with your dollars and they peg them up behind the bar. Hence the simple name. Great gourmet meals at night and a small little hotel, too.
The Balearic Islands: Although I mostly lived in Palma, Mallorca, the most memorable meals and times were definitely had at the lamb restaurant Es Verger in Alaro. It's a long winding road up to this family run restaurant; the menu is so fresh that the lambs walk past you as you enter the door. With the rustic communal tables and massive stone wood-fired ovens, the lamb melts off the bone. Wash it down with what we affectionally call 'Electric Blue Soup' – It's a local spirit that is ignited to warm it in a big copper pot, you ladle it slowly until it is ready and let it warm you. Expect to stay for a few hours.
South of France: Le Brulot in Old Town Antibes. More wood-fired ovens with fantastic meats, but my favourite is the Magret de Canard –i n my opinion, so far the best duck in the world.
Croatia: The Ancora Tapas and Wine Bar in Cavat, which is just south of Dubrovnik. It is a lovely little port. The Ancora has over a hundred Croatian wines by the glass; I think after four months there I had imbibed a considerable number.
South Florida: Someone once asked me to sum-up living in South Florida, I only half-jokingly said "Budweiser and chicken wings". For a slice of old town Florida we used to go to Lauderdale-by-Sea. It's a great mix of restaurants, bars, art shops and (generally) live music, plus a super beach. I used to live in Dania Beach, they say Al Capone used to hang out at the end of my road. It's also home to Jaxson's Ice Cream Parlour and Restaurant, which has been run by the same family since 1956. It's been featured on Food Network and Good Morning America. Besides the incredibly massive variety of flavours and portion sizes of ice creams, we are talking BIG knickers on their glories. They do huge burgers and diggity dogs. I would also recommend taking a trip to Calle Ocho in Little Havana – the other side of 'CSI Miami Land'. The name really does speak for itself, and you will be eating Cuban food, drinking some Cuban rum, and you can pick up some hand-rolled cigars.
Do you tweet?
Yes I do tweet, though not religiously. If there is something interesting to share, then I will do it. Not just inane nonsense; well, I hope not.
What's the worst thing you've ever tasted?
'Mechanically Manufactured Chicken Gunk', which came under the guise of an amuse bouche at a cocktail party for a yacht manufacturer at a large event centre in the Docklands. It certainly did not amuse my bouche – and I would never usually do this kind of thing – and as soon as it touched my tongue I spat it straight out as it was so foul (no pun intended). I felt so sick, I had to go home. Shame, 'cause the champagne was lovely.
We've done a far bit of travelling with Christina today (from the sanctuary of our office chairs), so why not take one more little trip? Christina can be found tweeting @yachty1969 and blogging over at Pocket Chef.