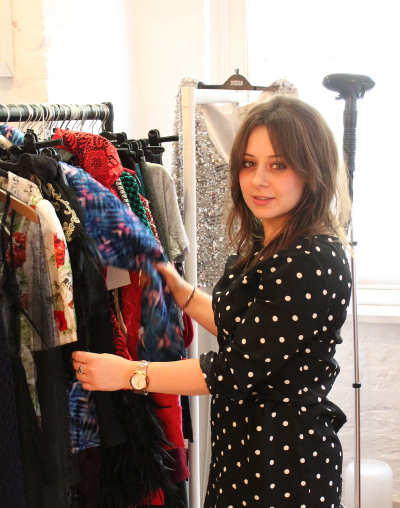 Fashion stylist and writer Hannah Eichler recently left her fashion assistant role at LOOK magazine to delve into the world of full-time freelancing. We talk London Fashion Week, how styling can help with writing, and the persistant problem of demin hotpants on the high street – will it stop? CAN it be stopped? When will it stop?!
Hello Hannah! You've recently gone freelance – what were the best things about your time at LOOK magazine, and what prompted the decision to freelance full-time?
I loved the creative, fast-paced environment at LOOK – I had the opportunity to develop broad journalistic skills, from styling and directing shoots, writing and compiling shopping stories, and writing and uploading fashion news stories to the website. I chose to leave as after four years I was keen to take the next step in my career, experience working for different publications, and increase my portfolio for commercial clients.
What's the most memorable/enjoyable pieces you've written so far in your career?
I loved reporting at London Fashion Week for thelondonpaper and interviewing celebrities at shows for ELLE TV. Styling a high street hottest shoot at LOOK was a real highlight, as was helping to plan and working at The Look Show three years in a row!
How does your work as a stylist fit in with your work as a writer? Does the styling help with the writing, and vice versa?
I think if you can work with clothes and know how different cuts and fabrics fit the body, you're better equipped to write about them. In turn, if you're used to writing about trends and researching collections, you'll come up with more original styling ideas.
What would be your dream freelance writing commission?
I'd love to write for The Sunday Times Style Magazine!
Where do you usually source ideas/get inspiration for articles?
Instagram, blogs, street style, celebrity trends, what's new in stores, designer collections.
How can PRs be useful to you, and how and when do you like them to get in touch?
By email – to be kept updated of any new collections, launches and events.
Do you find press conferences, trips, parties and other events useful or an interruption?
Yes, all very useful.
What media do you enjoy in your spare time (books, TV, films, blogs)?
Reading magazines, I love Twitter and Instagram, and I enjoy reading the Bloglovin' and Flipboard apps.
How important is social media for making contacts when freelancing?
Twitter is great – I can build up a relationship with different contacts by discussing different things in the news that are trending, even if I haven't met them! Instagram also helps you to get a feel for how people like to work and what they're interested in.
Can you take us through what styling a fashion shoot involves? Is it as glamorous as it sounds?!
First up, I'll decide what theme or trend I'm shooting, I'll then book a studio or location, photographer and hair and make-up artist. I will cast models and choose a model depending on who will work best with the theme. I'll also go out on appointments to chose the clothes, whether that be to stores or press offices, and then I'll wait for the samples to come in and style up! In the shoot, it's all about working with the team to plan what hair and make-up looks will suit the overall theme.
A final important question…when do you think people will stop wearing demin hotpants?
As soon as possible, I hope!
Hannah can be found tweeting @hannaheichler, and more about her work is at Hannaheichler.com.