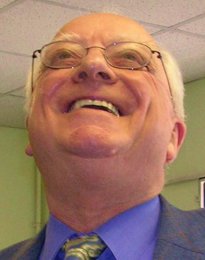 About your journalism
What do you write about?
People, places, events, ideas, problems, challenges, nonsenses, and more.
Where are we likely to see your work?
In too few places right now. Journalism was an add-on to my life as a retailer. I have contributed to a sports trade monthly for some 40 years, meeting personalities in the trade and attending events, exhibitions, promotions and trade shows. Also regularly contributed a 'gossip' column under a nom-de-plume; 'Midfield' and later 'Arkwright'. I have retained my membership of BAJ.
Non-commercially, lots of letters published (several in The Times) and recently two 'Meet The Editor' spots in The Times.
Articles too in 'parochial' magazines, reports, etc.
What's the most memorable work you've done?
Tricky one, that. Surprisingly, some of the unknown people I have met and described have proved more interesting that some better-known figures. Everyone has a story, and folk who have doubted if they would be sufficiently interesting have often proved to be the ones with most appeal.
What interview or feature would you love the chance to do?
I would like to write about some of the individuals connected with the Olympics. Not excluding, but not only, actual sports people. Their trainers and suppliers of footwear, clothing and equipment – those responsible in so many ways for the success of The Games. And I would like to engage with unusual aspects such as, for example, crowd control, policing, refreshment providers, ground (surface) keepers/maintenance, film crews, broadcasters, etc. And especially of interest, the Paralympics – every aspect of which has a special human interest.
Away from sport, I would love to be in conversation with the many people who contribute to our wellbeing and lives, so often 'taken for granted', e.g. the garbage collector (nowadays called 'bin men', though they have no bins…where have you bin all this time?), the postman, scaffolder; the list is without end. I am itching (pardon me while I scratch) to meet with the local vicar, plumber, undertaker, window cleaner, pest controller, chef, yes, even the local newspaper editor if needs be. There is a series of 'Jack meets…' waiting to be written and this Jack is waiting to be called to write it. So much for sourcing for ideas.
About you and PRs
How can PRs be useful to you?
In a roundabout way I need a PR to put me on the map.
How and when do you like them to get in touch?
Well, I am ready, waiting, and eager to go.
Do you find press conferences, trips, parties and other events useful or an interruption?
Parties and events as a means to my desires are very welcome. Parties, well, they are always welcome.
If you could make one change to the way PRs deal with you, what would it be?
I could not suggest any way that PRs could deal with me differently. If only they would deal with me. Believe me, I do need dealing with (please excuse the split infinitive, just this once!)
About you
Now about me. Perhaps its time to confess. Ouch; I am in my eighty-second year. But you've read this far and may not have done so had I mentioned it earlier. But surely age will not be held against me.
If we gave you £1000, how would you spend it?
Let's keep the questioner in suspense over that one. Cut out the 'if'. Hand over the money. I promise to write a full account of how I spend every penny and that in itself will be another story.
Do you tweet?
Twittering is not my scene. Well, not yet, but no doubt one fine day I will get round to it – something I've been promising myself for a long time.
What books are on your bedside table, magazines in your bag, or blogs on your screen?
My bedside table, since you ask, is free of books. It has a notepad and pen so that I can write down my thoughts as and when they occur, and they do occur as and when. When I am not reading or writing, there is usually a Scrabble board on my screen and I'll stop here because there are no less than seven Facebook friends waiting for me to take my turn.