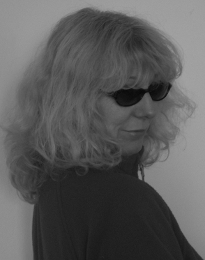 About your journalism:
What do you write about?
Interesting people doing interesting things in the local community, plus dancing, music, art – I blog about the reality shows but I've no time for sensationalism; reviewing is my bag. I've met the foster carer of a one-eyed dog, had a tour of an old nuclear submarine, responded to an art installation and blogged an entire one day community project about empty shops and meanwhile spaces. I've also, along with two other local writers, instigated the Rochester Literature Festival and we held our launch event recently.
Where are we likely to see your work?
My main body of work is on Rochester People but with that finished, I've been writing for a new, community focused website, goingoninmedway.co.uk. And I'll be picking up on my sketch and scriptwriting, as well as collaborating with local creatives on community portals and making more use of my blogs. I also write community reports for the Medway Messenger. With commissioned writing, you could find me dotted around all over the place!
What's the most memorable work you've done?
I particularly enjoyed responding to the art installation 'Figure Ground' – while writing is an art form too, I don't consider myself an artist in the traditional sense, so my aim is to make art accessible to the wider community, to show the public that they can be involved. I had an inspiring interview with a cancer survivor who's also an artist. He's leading a voyage to the Arctic next year and I wrote two articles in the end, rather than leave anything out. The other can be found here.
I'm also extremely proud of how the launch event of the LitFest went – the feedback was fantastic and we can't wait to expand on it – http://rochesterlitfest.com/the-garden-poetry-party-2012/
What interview or feature would you love the chance to do?
David Attenborough is always first on my list; total legend! I could listen to him for days.
About you and PRs:
Where do you source ideas for articles?
Everywhere, from overhearing a snippet of conversation in the street, catching sight of a hashtag subject on Twitter, news alerts, TV, radio – I've bundles of notebooks and cuttings begging to be sorted through.
How can PRs be useful to you?
I love PRs, my niece is a PR – I'd like to hear more from them!
How and when do you like them to get in touch?
By email to me would be lovely.
Do you find press conferences, trips, parties and other events useful or an interruption?
Very useful – you can't beat hearing things first hand or soaking up the atmosphere to inspire an article.
If you could make one change to the way PRs deal with you, what would it be?
I can't say I've ever had a problem – one firm sent me pictures of celebs in their skimpies with news of their love life; I simply explained that wasn't what I was looking for, that I'd prefer just news of their professional lives, and they were fine.
About you:
How would you pay the bills if you weren't a journalist?
Leisure venue receptionist.
If we gave you £1000, how would you spend it?
Hmm, chocolate, pens, chocolate, notepads, chocolate, printer ink and possibly more chocolate. And a donation to the coFWD coworking space in Rochester; it's awesome.
Do you tweet?
Oh, yes, I tweet – for the cricket club, the LitFest and me! It's brilliant for meeting like minds and also very funny, if you follow the right accounts.
What books are on your bedside table, magazines in your bag, or blogs on your screen?
At the moment I'm reading Jasper Fforde's 'One of Our Thursdays is Missing', WOW magazine is a must and the last blog I visited, which is still on my screen, is called A Roof Over Their Heads, a local writing collective.