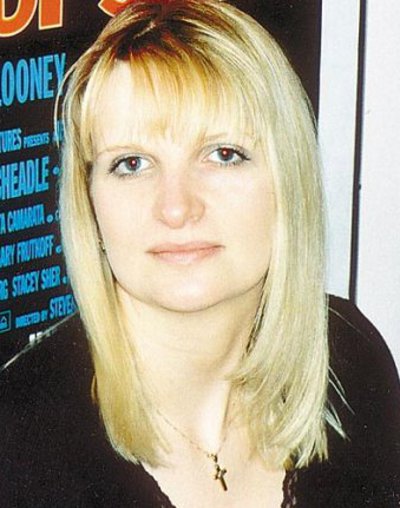 Starting as reviews editor and staff writer on Empire magazine at the age of 18 was just the start of Jo Berry's career in journalism. Having taken on the celebrity and reviews editor roles at Maxim, the deputy editorship at XY for the Daily Express, and authoring books including 'The Ultimate DVD Easter Egg Guide' to 'Katy Perry: California Gurl', Jo's freelance work in the movie and television sectors has also lead to interviews with Hollywood royalty, including a certain Ms. Lindsay Lohan…
Now heading up Movies4Kids and regularly writing for The National, Jo herself is the subject of our interview today.
*The film? 'The Hudsucker Proxy'. It's fun, it's healthy, it's good exercise!
About your work
What do you write about?
I've been writing about movies, TV and celebrities since I was 18, starting off on the film magazine Empire and then writing for what I'd call an eclectic selection of magazines and newspapers – everything from Radio Times, Sainsbury's Magazine, Practical Parenting, The Guardian, the Daily Express and women's magazines Eve, In The Know and Marie Claire, to men's mags Loaded and Maxim. While my background is mainly movie reviews, I've also interviewed lots of actors, directors and celebrities over the years and written books about a few of them – including one on Lindsay Lohan that I wrote under a pseudonym because I found her parents so scary!
Where are we likely to see your work?
I run a website called Movies4Kids (www.movies4kids.co.uk) that features over 1000 film reviews of movies aimed at kids, teens and families and features all the new relevant cinema and DVD releases, and I also write regularly for newspaper The National. My books are still available, too – 'The Parents' Guide To Kids' Movies' (which grew into the Movies4Kids website), 'Chick Flicks', 'The Ultimate DVD Easter Egg Guide' and 'Katy Perry: California Gurl' among them.
What's the most memorable work you've done?
I'm proudest of the website, but probably the most memorable work I've done has been some of the celebrity interviews. I chatted to Dermot O'Leary in his underpants, bought Beyoncé a McDonalds, and was nearly car sick all over Nastassja Kinski in the back of a limo.
What interview or feature would you still love the chance to do?
There are still quite a few people I would like to interview, including Quentin Tarantino, Kiefer Sutherland, Bruce Willis and Maggie Smith. Nowadays, you only get 30 mins or an hour with someone, but I would love to really sit down and spend a day with some of the Hollywood greats who are still with us who have led amazing lives – people like Jack Nicholson, Dustin Hoffman and Robert Redford. My big regret is I never got to meet or interview Paul Newman.
About you and PRs
Where do you source ideas for articles?
I pitch a lot of ideas to places like The National by finding out from websites like IMDb what movies are coming out in the next few months and building ideas around them, or seeing what events are happening that could be relevant – for example, it's the 50th anniversary of Alcatraz prison closing this year, so I'm writing a feature about movies based on the island at the moment.
How can PRs be useful to you?
Film PRs are great already, sending lots of press releases and info, though sometimes it can be a struggle getting them to let me into a 'grown-up' screening, as they associate me with the kids' movie website!
How and when do you like them to get in touch?
Email is always preferable as then I have the information in front of me for later. And as to when – as far in advance as possible! Even though a website is instant, so I can add things all the time, it's good to have a plan, and as a freelancer pitching ideas to magazines with very long lead times it's always good to know what's coming up in the future.
Do you find press conferences, trips, parties and other events useful or an interruption?
They're useful, and a good way to tear me away from my desk before I go square-eyed. Being freelance, working from home, can be quite isolating so it's good to get out there and put a face to the name that sends you useful emails.
If you could make one change to the way PRs deal with you, what would it be?
If I email a PR asking a question, I find some don't send any reply if they don't have an answer. I'd rather have a "sorry, don't know yet" response than nothing at all!
About you
How would you pay the bills if you weren't a journalist?
I'd like to think I could write a wonderful novel and be the next J.K. Rowling! (If you'd asked me this question when I was in my 20s, I would have said I wanted to be a movie stunt woman…)
If we gave you £1000, how would you spend it?
Flights to New York for me, my husband, and my eight year old son.
Do you tweet? Why, why not?
Yes, but not as often as I would like. I'm @movies4kids.
What books are on your bedside table, magazines in your bag, or blogs on your screen?
Books – I'm addicted to the Kindle I got for Christmas and have already read 'Gone Girl' and 'Sharp Objects' by Gillian Flynn and the first two parts of Justin Cronin's trilogy that begins with 'The Passage' and 'The Twelve' (he's still writing the third part) both of which were excellent. Next up is 'Dare Me' by Megan Abbott.
Magazines – I still read Empire, the first magazine I ever worked on, and the American magazine Entertainment Weekly, and look at Grazia and Look for the fashion.
Blogs – I used to love School Gate, The Times' education blog by Sarah Ebner, but it's behind their paywall now. I'm addicted to the Watch With Kristin blog at EOnline.com as she reveals upcoming plots in US shows I like, and the blogs at Televisionwithoutpity.com – a US website that started out years ago as a Dawson's Creek fanpage of all things, but now is deliciously sarcastic about lots of American TV shows.
Jo Berry is tweeting @movies4kids and can also be found here on the JournalistDirectory.