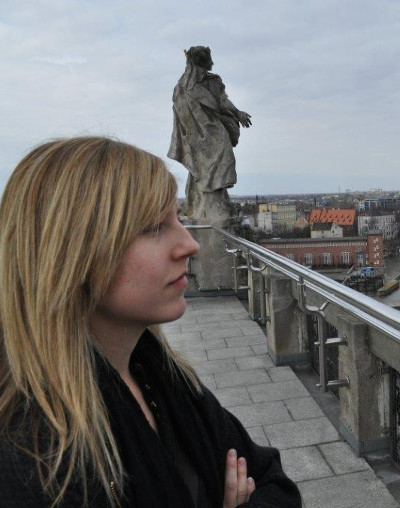 Hi Jo, tell us about the topics you cover in your freelancing, and where we might see your work?
I write mainly about travel and the arts, though if I come across a story on another topic that piques my interest, I'm always happy to branch out into other areas. When I started out I was writing almost exclusively about theatre, but my focus has broadened over the years to include visual arts, film, museums, music and dance, as well as the places where those genres cross over.
I'm particularly interested in creative practice – I find myself writing more about process than end product – and arts policy. I suppose it comes down to the same thing – an interest in the work behind the work.
Travel-wise, my writing reflects my passions: cycling, diving, walking and, of course, all things cultural. My work appears in all sorts of places: the nationals, arts industry publications, travel websites, inflights, customer magazines. Working with a broad range of clients keeps me on my toes.
What is the most memorable work you've done?
Interviewing a South African theatre-maker for The Guardian about a show she made on the horrific experiences of black lesbians living in townships felt like really important work.
On a lighter note, a story for World of Interiors on the extraordinary home of a Finnish artist who built artworks into the fabric of his house was a real joy to write. And scuba diving in the giant kelp forests of Tasmania for a story for Sport Diver magazine is certainly an experience that will stay will me.
What feature, interview or travel destination piece would you jump at the chance to do?
I don't think there's any travel destination story I wouldn't get excited about – part of the joy of travel writing is being surprised by what I find in unlikely locations. That said, I'd love to dive in the Galapagos, and South America in general is very tempting at the moment.
When it comes to interviews, great artists whose work plays with feminist themes are always high on my list: I'd love to talk to the novelist Chimamanda Ngozi Adichie, for example.
A lot of your writing focuses on London life – do you think, as a writer, some places offer more inspiration than others?
There are interesting stories to be found all over the place; it's just that with some destinations you need to work a bit harder to make them give up their secrets.
You've stated that for you fiction reviewing is one of the best jobs there is – what is it that makes it so appealing to you?
The fact that it doesn't feel like work at all. That's true of a lot of what I do: talking to people about their passion projects; seeing plays and art exhibitions; exploring places I've never visited before. Freelance journalism has its tedious moments of course, but mostly it feels like my job is to have a nice time learning fascinating new things.
You regularly contribute to a variety of publications – would you ever be tempted to settle down at one publication and write for them exclusively?
I love the variety of writing in lots of different styles for lots of different readerships, but I'm always open to new opportunities. As long as I'm being challenged by what I'm writing, it doesn't really bother me whether I'm working for one publication or many.
How can PRs be useful to you, and how and when do you like them to get in touch?
On a basic level, PRs are most useful to me when they respond promptly to requests for information, interviews or images. I'm often juggling a number of tight deadlines, so speedy responses – even if it's to tell me that they can't help with whatever it is I've been in touch about – are much appreciated. I also have closer relationships with a handful of PRs who know very well what sorts of stories I'm interested in and have a good chance of getting commissioned for.
I prefer emails rather than phone calls from PRs and I like to hear about projects as far in advance as possible. Some of the publications I work with have lead times of four to six months; the more notice I'm given, the better the chance there is of me being able to cover whatever it is they're contacting me about.
What's not useful is when PRs send me press releases that are completely unrelated to any of the topics I write about: all my work is on my website; it's very easy to see what sorts of things I'm interested in. And aside from the PRs I work with all the time and who know me well, I don't like being chased up: one email is almost always sufficient.
Do you ever attend press conferences, trips, parties and other events?
I get to as many launches, parties and press conferences as I can – for the opportunity to put faces to names as much as anything else. It's amazing how few of the editors I write for and PRs I work with I've ever met in person. I'm a fan of press trips too, but try to combine them with independent exploring.
As a travel writer, how do you use social media in conjunction with what you do? Is it a help or a hindrance?
My main social media outlet is Twitter and I use it a lot when travelling, particularly when I'm on my own. I share photos and curious details about places I'm visiting and engage a lot with the community, asking for and acting on recommendations and reporting back afterwards. I wouldn't say that social media is ever a hindrance as such, but it's important to be able to recognise when it's time to put the smartphone away and fully engage with what's in front of you.
You cover a large variety of subjects – if you could only cover one for the rest of you career, what would it be?
It might be cheating to say 'the arts', given how many areas that covers, but I couldn't pin it down further than that. There are times when I'll spend a few weeks writing about just one subject and find myself going a little stir crazy as a result. I think it's the breadth of topics I cover that keeps my work fresh.
Jo can be found tweeting @JoCaird.