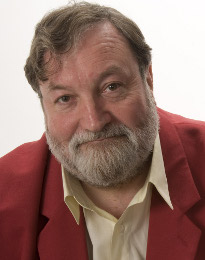 He's looking stylish, he's working on a fresh edition of 'The New Spain', he's kicking it old school; he's taking names. Did I mention that John's worked as a MIPR? And on BBC local radio? Interviewed world-famous chefs? Seems like this freelance journalist could do anything. Read on to marvel at what else he can turn his hand to…
About your journalism
What do you write about?
In my 30 years+ as a feature writer, I think I've covered everything from aardvarking to zoöplasty, but my main work has been food, drink and travel-related. I have, however, edited B2B and retail magazines, and written extensively about technology and catering management. For several years, I was a MIPR working with clients in technology, and doing media training for major plcs, pre-privatisation utilities and PR agencies.
Where are we likely to see your work?
Decanter magazine (regular contributor), Chef magazine (consultant editor), Wine Press magazine (Shanghai – regular contributor). Books include 'The New Spain', 'The Wines Of Rioja', 'Rioja Revisited 2011', and contributions to 'Great Wine Tours Of The World', 'The World Atlas Of Wine', 'Eyewitness Guide To The Wines Of The World', 'Global Encyclopedia Of Wine', and many others.
What's the most memorable work you've done?
I suppose the most successful was my book 'The New Spain', which went into reprint after only four months in 1998, with a new edition in 2004 (I'm working on a new version now). It won four international awards. Also, interviewing world-famous chefs and restaurateurs, profiling hotels and restaurants, visiting wine regions, etc. When I was with BBC local radio I used to love hosting a news programme, holding squirming local MPs and councillors to account over local issues.
What interview or feature would you love the chance to do?
The travails of the traveller – some of the many disasters and weird things which have befallen me during my career.
About you and PRs
Where do you source ideas for articles?
The news, sometimes press releases, trade gossip, seasonal matters, newsletters on the internet.
How can PRs be useful to you?
Letting me know what's happening, arranging interviews, sourcing pictures and contact details. I used to be an MIPR and I know the tricks of the trade.
How and when do you like them to get in touch?
By email. Any time.
Do you find press conferences, trips, parties and other events useful or an interruption?
I avoid parties and press conferences (unless I'm one of the speakers). Trips are sometimes useful (especially for food and drink) but they have to be generic, i.e. not hosted by a single company or group. I've just finished a tour of 24 wineries in Spain, for which I created my own itinerary. I've just turned down an offer of a further trip this autumn because the visits were all part of the same group. However, as I'm semi-mobile at the moment I'm not travelling as much as I used to, and trying to do more work that can be done at home.
If you could make one change to the way PRs deal with you, what would it be?
Don't send me press releases which are outside my remit.
About you
How would you pay the bills if you weren't a journalist?
Used to have an HGV licence but that expired. I do lecturing and training and speak at conferences, dinners, etc.
If we gave you £1000, how would you spend it?
Upgrade my computers, buy an iPad.
Do you tweet? Why, why not?
Yes, @johnradfordcom, mainly to drive traffic to my blog.
What books are on your bedside table, magazines in your bag, or blogs on your screen?
Mostly works of reference, my own books, wine, food and travel guides, Decanter, Chef, Private Eye, The Week, The Oldie.
For more from John, you can head over to his blog, tweet him, or email him; he does it all.