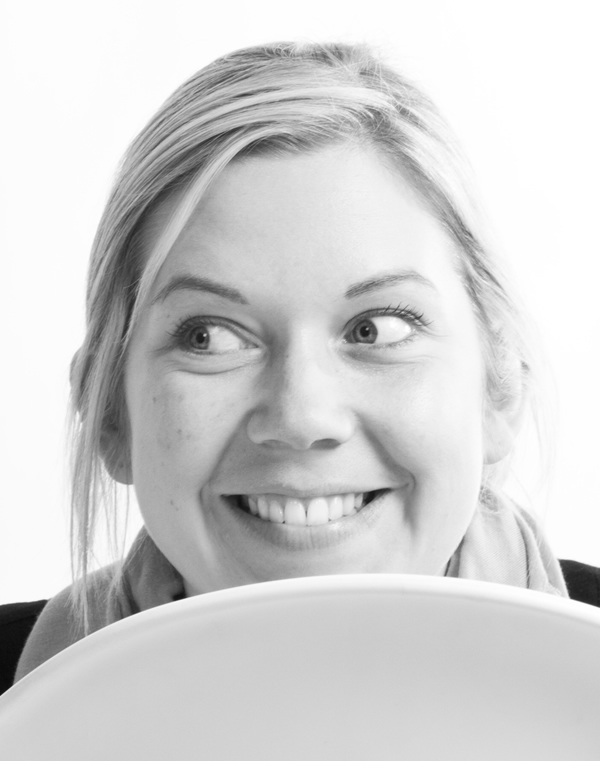 Journalist Katie Treggiden takes great pride in promoting design that makes people's lives better, and does this through her blog Confessions of a Design Geek and her book 'Interviews', featuring chats with 18 designers (including Wim Crouwel and Zoe Murphy). Being editor at large of design milk and working with We Heart also takes up Design Geek Katie's time. But what exactly is a Design Geek? Katie confesses all in today's interview.
About your journalism:
What do you write about?
I write about design, including graphic design and illustration, product design, furniture design, interior design and architecture. I believe good design has the power to make people's lives better and so I take great pride in promoting it.
Where might we have seen your work?
I write award-winning design blog Confessions of a Design Geek and recently published my first book, 'Interviews'; a collection of 18 conversations with designers. I am editor at large for design milk, covering European trade shows and other events. I write a weekly column for We Heart and one for the Heart Home Magazine blog. I had an essay published in the London Design Guide. I've just written my first article for LivingEtc.
What's the most memorable work you've done?
Publishing my first book was pretty memorable – a huge amount of hard work, but something I've wanted to do since I was five years old, so a massive achievement too.
Plucking up the courage to ask Dutch Design-God Wim Crouwel for an interview was amazing too – even more so when he said yes!
And I was really proud to feature Maggie's Cancer Caring Centres as part of my creative spaces series. I am in absolutely awe of the amazing work they do and try to support them in any way I can (50p from the sale of every copy of my book is donated to them.)
About Confessions of a Design Geek and 'Interviews':
Tell us a bit about your blog…
The name says it all, really. I'm a bit of a geek (okay a lot of a geek!) when it comes to design and Confessions of a Design Geek is where I document what I get up to. I write four types of posts – Interviews, Out and About, Creative Spaces and Here's One I Made Earlier. I guess they're all fairly self-explanatory – Interviews posts are interviews with designers and other people who make their living within the design industry in some way; Out and About posts are reviews of exhibitions and other events I've been to, or just things I've seen when I'm 'out and about'; Creative Spaces are photography-led posts about creative people's working environments and Here's One I Made Earlier posts document me making something.
I also have an events page – a sort-of design calendar. I try to generate all my own content, so I write all my own posts about something I've been to, or done, or about someone I've spoken to, and wherever possible I use my own photography. I think it's really important that the content you see on my blog, you won't see anywhere else.
What was the inspiration for starting it?
A colleague suggested it after I turned down a drink at the pub on a Friday night to go and see the private view for a new hand-printed wallpaper collection! I'm not sure I even really knew what a blog was at the time. At the time, it just seemed a good way to document things I was seeing and learning about without having to hoard quite so much paper! I soon found that by blogging about things I was doing further research, checking facts and generally learning more. And from there it became addictive, a book, and now my full-time job!
Did the blog help with putting 'Interviews' together?
Very much so. Interviews is one of the series of posts I write for the blog, so the book grew out of that. Some of the interviews in the book had already appeared in-part on the blog, and some were conducted specifically for the book.
Who did you enjoy speaking with the most for the book?
Wim Crouwel is one of my heroes, so that was incredible! But, honestly, I really enjoyed talking to everyone I interviewed. I am fascinated by the design process, by how designers' minds work, so any opportunity to get more insight into that is a real privilege for me – and incredibly exciting! I got just as much from interviewing Joanna Boyle, who graduated the week the book came out, as I did from some of the bigger names like Javier Mariscal, John Makepeace and Anthony Burrill.
Any plans for a follow up?
I'm definitely hoping to publish another book, so watch this space!
What advice would you give to someone wishing to get published themselves?
I self-published, so it's a bit different. I would give someone the same advice I was given but really didn't appreciate at the time – finishing the book is only the first 10% of the effort. Marketing it and getting distribution and sales is 90% of the work – so true; and still ongoing for me!
What interview or feature would you still love the chance to do?
I'd love to interview Terrance Conran – he's done so much for British Design from Habitat to the Design Museum. That would be amazing. But that said, I am constantly completely inspired by designers I've never heard of, so as long as I keep getting to do what I do, I'll be a very happy bunny indeed!
About you and PRs:
Where do you source ideas for articles?
I'm not sure really – I've usually got more ideas than I know what to do with! If I'm pitching something to a magazine, I'll spend lots of time reading the magazine to make sure I completely understand what they're looking for, and then go out into the world and stay open to ideas. If I'm on the hunt for something specific, I'll usually send a tweet or two, or sometimes email the PRs I already have relationships with.
How can PRs be useful to you?
By being as relevant as possible. If they're pitching something to me for my blog, it really helps if they've read it and have an idea of how the idea might work for me. Or if they're pitching to me as a freelance writer, having suggestions for how I might pitch their product to which magazines is super-helpful! If I can immediately see what I can do with their product it short-cuts the whole process.
How and when do you like them to get in touch?
By email please. I'm a writer – I'm a bit frightened of phones!
Do you find press conferences, trips, parties and other events useful or an interruption?
Oh, really useful, although sadly I haven't got time to come to them all. It's always great to see new design, especially when someone's got the time to talk you through it, you can meet the designer, etc. I'm also keen to meet other journalists as I'm quite new to all of this.
If you could make one change to the way PRs deal with you, what would it be?
Most of the PRs I deal with are amazing, actually. I prefer a personal approach rather than generic emails, but I do appreciate that's not always possible. It's just more likely to work, I guess – I don't always have time to open all the generic emails I receive, but if something starts with my name and is clearly written for me, I'll make sure I read it.
About you:
How would you pay the bills if you weren't a journalist?
I spent 11 years working in advertising agencies, so that's how I paid the bills for a long time. I only went full-time as a writer in January, so I'm still keeping my fingers crossed I can pay the bills as a journalist!
If we gave you £1000, how would you spend it?
Easy! A MacBook Air and a 'sit-up-and-beg' bicycle with a basket on the front!
Do you twitter? Why, why not?
I'm an absolute twitter-addict. I love it! Before I discovered social media I was the only person I knew who cared about design as much as I did – it's connected me to a whole world of amazing people. And the people in my twittersphere are so positive, energetic and inspiring. It's a wonderful little world!
What do you think differentiates Design Geeks from Design Nerds and Design Dorks?
Design Geeks are cooler! Seriously, I actually looked this up. According to the dictionary definition, all three groups are obsessive about something, but dorks and nerds lack social skills! That said, I'm not one of these newfangled geek-chic geeks. I'm more of a straight-A student with a stationery fetish kind of geek.
Can you give us an example of bad design (other than the design of the previous question)?
Can I tell you about good design instead?! Good design, to my mind, is first and foremost something that works, something that works really well. It should have a purpose; it should make your life better or easier somehow. Then, it should be beautiful – and ideally its beauty should come from the way it works. Form follows function and all that. The two should be in harmony, in balance – they should contribute to each other. So, to answer your question in a long-winded way, bad design is something that isn't any or all of those things!
What books are on your bedside table, magazines in your bag, or blogs on your screen?
Books on my bedside table – I've just finished 'Touch The Earth' by TC McLuhan – a really beautiful book about the Native American experience, told in their own words – really moving. For Christmas, I asked my Dad to buy me the books I ought to have read and that was one of them. And I'm now reading a book called 'On rereading' by Patricia Meyer Spacks for my book club, about re-reading books!
I've just had a meeting with Nick Compton, the features editor of Wallpaper*, so magazines in my bag – three copies of Wallpaper*! Since I started writing full time my already vast collection of design magazines has grown exponentially!
Blogs on my screen – I've just discovered an amazing app called Zite, which pulls in content from newspapers, magazines and blogs based on your preferred topics and then refines the selection based on the articles you like or don't like – it's amazing! And it links to the original source, so it's crediting and driving traffic to its sources. I'm mostly reading that at the moment – and therefore too many blogs to mention!
And finally, a big question… cats or dogs?
No question there, dogs, specifically spaniels. I hope to own one, maybe two, very soon!
[img|jpg|Katie Treggiden]
[lnk|http://www.featuresexec.com/mo/19095/|_self|Confessions of a Design Geek]