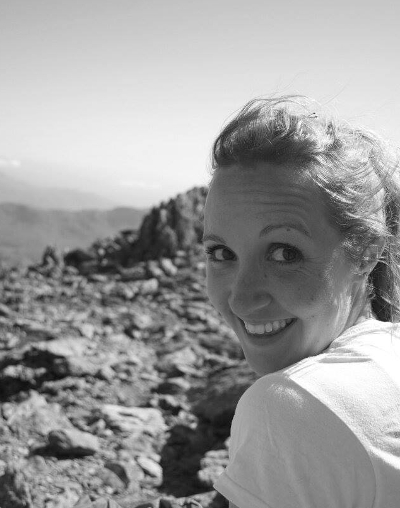 The great outdoors; fresh mountain air, babbling brooks, lichen covered rock and pedalos… are just some of the things we don't see from a desk. Freelancer Margaux Doey prefers to get up close and personal with nature and she documents her adventures in her Outdoor Chics blog. So pack your Gortex and Lembas bread as we find out more…
Hi Margaux! Tell us about your work – what subjects do you cover?
Most of my writing revolves around outdoor sports and activities – like hiking, climbing, surfing, etc. – as that's where my passion lies. But I also write about art, design and graphics. I've even written the odd piece on Porsches and corsets. I love the variety – you never get bored being a freelancer!
Where are we likely to see your work?
What's the most memorable work you've done?
I might have to say writing up our Snowdonia engagement walk for The Great Outdoors. Not many people can claim to have their engagement moment published in a magazine!
What interview or feature would you love the chance to do?
A kayak adventure tour around Norway's fjords for Wanderlust magazine. Norway – and to be honest all the Scandinavian countries – are high on my wish list of places to visit. And what better way to do it than by water for one of my favourite magazines?
Where do you source ideas for articles?
Ideas come from everywhere, really. Twitter can be great for inspiration and meeting people. I recently posted a blog on Outdoor Chics about a couple I met through Twitter who travelled from Prague to Berlin by pedalo. But I find just getting out and networking or chatting to people in the gym or at the shops can spark ideas. And on the odd occasion ideas have been sparked by good press releases.
How can PRs be useful to you?
I used to be a PR back in the day and I know it can be hard to get hold of journalists, so I always do my best to get back to those who put a bit of effort into their communications. I really appreciate when PRs do a bit of research on my blog or my specialisms as a journalist. And having my name at the beginning of an email really helps, too.
How and when do you like them to get in touch?
I prefer to be contacted by email. I use my inbox as my to-do list, so if it's in there, I won't forget about it.
Do you find press conferences, trips, parties and other events useful?
I enjoy events and think they're a great opportunity to network and get to know PRs and brands. But being based in Cardiff, I do struggle with most of them being in London. A little help towards travel expenses always helps to persuade me though!
What other subjects do you write about?
Outdoor-based activities are obviously my passion, but I also write articles on graphic design, motoring and motorsport, as well as travel. As long as it's not too technical, I'm happy to write about most things, really.
What do you find most appealing about the great outdoors?
For me, being outside is living. Most of my favourite memories are of adventures in the great outdoors, like the South Wales Three Peaks challenge we recently completed. We almost got blown off the peaks several times, it chucked it down with rain and my knees were shot at the end of it all, but the adventure is engraved in my mind and will stay that way for a long time to come.
Do you have any outstanding rambles you've been on?
Sure thing. Hiking the Three Sisters of Glencoe. It was my first proper hiking trip in Scotland and also my first wild camp. As we were setting up our tent for the night we were blessed with a sighting of some red deer grazing in the valley below. The Scottish Highlands are so rugged and beautiful and I can't wait to get up there again.
Do you tweet? Why, why not?
Yeah, I do. You can find me tweeting @TheOutdoorChic. Like I mentioned earlier, it's a great way to network, find inspiration, and tell other people what you're up to.
What other media do you enjoy in your spare time?
I love reading magazines when I have time – generally, when I'm travelling somewhere or off on holiday. The same goes for books, I love reading but find little time for it. Gotta love the odd evening catching up on some good old 'The Island with Bear Grylls' too!
You can find Margaux clinging from a rock face somewhere near you or tweeting @TheOutdoorChic.