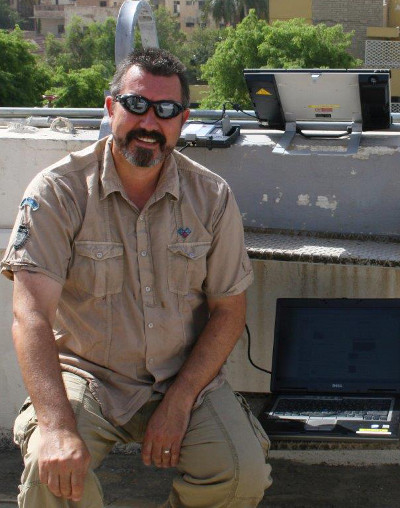 Hi Mike, tell us about your career in freelancing, and what aspects of reporting you cover?
As much as I like the idea of creative writing and being known for my style, I must admit that my skill sets are very much focused on breaking down barriers and factual reporting in the most challenging environments. I have a great passion for exposure and disclosure, revealing dirty secrets or bringing to the attention of the world the reality of a particular incident.
What inspired you to move into investigative work and war zone reporting?
I grew up on the wrong side of town and became a Royal Marine Commando for an easier life. I know what it's like to survive in the harshest of social environments and hostile regions. Leaving the military I picked up a contract on a narcotics enforcement team on the Indian subcontinent and for the first time started using a camera to record evidence. Returning to the UK my skills were sought by investigative agencies for covert surveillance and intelligence gathering.
A good friend was a former CBS cameraman and I was invited on an assignment to assist in front line filming during the Kosova war for one of the main European broadcast networks. Whilst the main production team covered the safe presenter to camera selections, we would go forward with local KLA groups and film front line stories. An awareness of military threats: bombs, boobytraps, bullets etc. kept us alive. It did not, however, prevent us from being robbed by local bandits in the mountains. It's a kind of hazard that unfortunately has not been an isolated incident.
A few years after the Kosova incident, an established American actor friend of mine was reading a book in his bathroom when I got a call. He read me the story published in Robert Young Pelton's book 'The World's Most Dangerous Places', where freelancer Roddy Scott detailed how we were robbed. Roddy unfortunately got killed reporting in Chechnya in 2002. Reading the article and building on my experience up to that date made me more aware of writing about them and adding to my imagery.
Your work has taken you around the world – what differences do you see in the journalism industry globally, especially in regards to freedom of press?
There are some countries where there are more rigorous reporting restrictions and the exposure of sensitive material will attract attention. I only have to mention Edward Snowden, Julian Assange and Peter Hounam to illustrate that there are obvious risks involved when you expose material. You will often risk life and limb getting the story but equally do not forget the risk assessment in how you are going to present the material and the ultimate personal cost.
Military formations and police will often allow journalists/camera teams to report in conflict zones. There are practical and obvious tactical restrictions in what you can report and I personally have never felt them unreasonable. Reporting deaths and naming individuals is an obvious concern before families have been notified and revealing details of tactical briefings prior to the commencement of operations is also another restriction. Both are routinely imposed.
I find it disappointing that some young talented journalists see any restriction as being a breach or restriction of rights, and selfishly put young lives at risk or subject families to emotional distress for the selfish desire to make a headline. You have to be aware that in live reporting you have a responsibility and that everyone these days, including the bad guys, watch Sky News, CNN, BBC News etc. Freedom of press should never be an excuse for lack of personal responsibility.
What is the most memorable piece of work you have done so far in your career?
I can honestly say that every assignment has had its own unique memory. In the late 1990's I went undercover in the North West Frontier region of Pakistan and Afghanistan and pursued a story of nuclear canisters containing uranium and plutonium being sold. It made a spread in the Sunday Mirror and US President [Bill] Clinton brought the story up in his discussions with the Russian government. I also appeared on breakfast TV where the story was also detailed.
On the other side, my wife would disagree in that the most memorable was one of the times Scotland Yard picked me up from home at 3.30am and gave me a free 48 hour break including bed and breakfast. In snooping around and digging deep on certain individuals you will often find that there may be other government agencies already involved. It's the unfortunate reality of getting involved in sensitive material.
What assignment or feature would you love the chance to do?
Passionate personalities, like brands, have to maintain a positive image and manipulate the public. Like any good advertising agency they will focus on the positive and deflect the negative. My passion is very much identifying a loose thread on the jumper and pulling it apart until it has been completely revealed, and I relish every opportunity to do so.
You have worked within the investigation departments of some major UK news titles – tell us more about your work there?
I have contributed to the investigation departments of the News of the World, Sunday People, Sunday Mirror, The Sun and the Sunday Express. Assignments covering: drugs, immigration, prostitution, radical and extremist groups, MP's expenses, celebrity exposures, gun running… the list is endless. I had some great experiences with former News of the World investigative reporter Gerry Brown before his death in 2004. I increased my skill base and knowledge from some of the great legends of the last 25 years, and witnessed many Oscar winning performances in some of the entrapments used over the years developing stories.
Whilst technology can play an important role I don't believe there is ever justification for phone tapping unless it's recording your own conversations.
Is social media important with your work?
Social media is an exciting resource to tune into for research and intelligence gathering. As long as you have a good internet connection you can set up a project from a safe and distant location and conduct all your background research with limited risk or exposure. The risks in entering a hostile or challenging environment can be extremely high, so I cannot emphasise enough the ability to fully research and prepare your assignment before you stick your boots on the ground.
Social media research will allow the individual to generate relationships and make contact with local in-country contacts. You can gain some confidence in these and test before you place yourself at risk. You also gain a valuable insight into the territory and identify useful elements to pursue on the ground. I attended a BBC internet research investigation course many years ago and found this extremely valuable. In fact, a great deal of my commercial investigative work is completed as a desk-based exercise.
How can PRs be useful to you, and how should they get in touch?
Working in the conflict or investigative environment my skills do not immediately become obvious to PR's. However, one should remember that there are times when there is obvious advantage when competitors are defending rather than promoting their services. As a member of the Association of British Investigators, a small amount of research will uncover my details.
What media do you enjoy in your spare time?
I try to experience every new and exciting media in my work and my family life. I particularly like live streaming video and when working away the live links provide comfort and support in maintaining family relationships in a more personal manner. With sons and daughters living around the globe I'm constantly reviewing or being shown new media by my family for ease of communication and of course cheaper cost.
What advice would you have for someone looking to get into your line of work?
Take an enthusiasm pill, because you will need to drag your backside and carry your laptop, satellite transmission kit, cameras and personal kit along with protective body armour and helmet etc. You need a sense of humour and will find that you are very much going to be alone in your efforts.
You will walk dark and dangerous pathways and you will, without exception, face confrontation when seeking to expose an individual or organisation. Near-death experiences and kidnapping are regularly experienced in hostile regions. I can assure you that you will not be able to avoid these experiences.
Develop your own confidence and ability. Do a hostile environment course or join the part time TA – Reserve Army for a short period to gain some general knowledge and understanding of a war zone and associated risks.