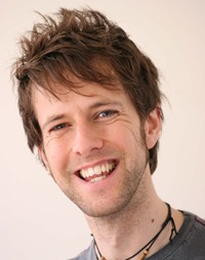 'Blood and Ink' are areas of expertise for freelance journalist Russ Thorne (this also happens to be the title of a book he's written). Education, tattoos and travel are his specialist subjects, though he also knows a bit about rescuing Jack Russells, escaping from submarines, and practicing kung fu. Read about this and other exciting adventures in journalism in today's interview.
About your journalism:
What do you write about?
It's quite varied! I write education (especially undergrad and postgrad) features but also cover tattoos and body art as well as music, corporate copywriting and a bit of travel.
Where are we likely to see your work?
Most recently I've been contributing to The Independent's Postgraduate section, Skin Deep magazine and the Guitar Planet online magazine. I've also written four books on tattoos and body art.
What's the most memorable work you've done?
I'd say that the last tattoo book, 'Blood and Ink', was pretty memorable as I was able to interview some of the biggest names in the industry – and tattoo artists are rarely a dull bunch. Features-wise I recently wrote about famous postgrads for The Independent, which was a fun piece, and a little while back I put together a piece for Real Travel about an epic train journey across India – memorable for all sorts of reasons! I also wrote about how you escape from a submarine once: I spent the day in a huge water tank with lots of tough Navy guys who laughed at my hair.
What interview or feature would you love the chance to do?
At the moment I'd really love to write a China-based travel piece exploring the different historic kung fu temples and provinces – I've studied kung fu for a few years now but haven't visited its spiritual home. That, or a US road trip looking at tattoo art and artists along the way. And I'd interview Springsteen, just to see what the man behind all that music is like.
Or I'd write about the neurotic Jack Russell we've just rescued from Dogs Trust, but I think that's been done…
About you and PRs:
Where do you source ideas for articles?
Sometimes press releases are useful, but a lot of the time it's extrapolating ideas from news stories, talking to people in the industry and trying to work out what I'd like to know more about as a reader who's interested in my particular fields.
How can PRs be useful to you?
They're invaluable for sourcing interview subjects and information for education subjects in particular, and I'm always looking for news about courses, MBA initiatives, grad schemes and so on. In the tattoo field there tends not to be a lot of PR…yet.
How and when do you like them to get in touch?
Email is always best because it means I have information in front of me and it's easy to keep track of everything, especially if I'm working on several pieces at once across different subjects. I like to get absorbed in pieces when I'm writing and too many phone calls can distract my butterfly brain.
Do you find press conferences, trips, parties and other events useful or an interruption?
They can be useful when relevant, but as I'm based in York and lots of things happen in London I don't often get the opportunity to attend. I'm always open to trips and ideas though, even as opportunities for networking.
If you could make one change to the way PRs deal with you, what would it be?
Generally the PRs I work with are extremely helpful. The only suggestion I'd make is to reinforce the 'getting in touch by email first' thing; it's not that I don't want to speak to people (that is part of the job, after all), but emails help me stay organised! Then, by all means, give me a ring to follow up on something.
About you:
How would you pay the bills if you weren't a journalist?
I probably wouldn't, this is the only thing I'm halfway good at! But I play in a country band and if there was a way of doing that for a living, it would be terrific. Or teaching kung fu. A kung fu country band, perhaps? (Maybe I should stick to the journalism.)
If we gave you £1000, how would you spend it?
On taking my wife somewhere nice. It's the least she deserves for putting up with a permanent writer-in-residence.
What books are on your bedside table, magazines in your bag, or blogs on your screen?
By the bed there's poetry by Simon Armitage and Ted Hughes plus a collection of Zen haiku; 'Until I Find You' by John Irving; a stack of John Burdett thrillers; Alain de Botton's latest; at least four Batman graphic novels and 'The Hobbit,' which I'm reading to my wife (and dog) at night. I do the voices and everything.
Magazine-wise it's Skin Deep, Empire, Esquire and Men's Health, and on-screen the Needles and Sins tattoo blog, plus my friend Daniel Gray's blog – he's a writer and designer who sees a slightly more elegant version of the world than most people and manages to translate it onto the screen. I admire him for that.
[lnk|http://www.journalistdirectory.com/journalist/XiLXT/Russ-Thorne/|_blank|Russ Thorne]
[img|jpg|Russ Thorne]