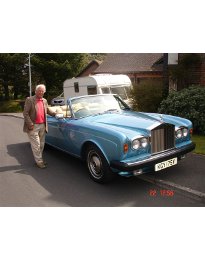 About your journalism
What do you write about?
Motoring – essentially descriptions and tests of new models; also I have a great interest in classic cars and run two of them myself, and am writing a lot about classic cars and motoring in the days before seat belts, speed limits, parking rules and suchlike.
I also write on caravanning and have been a keen tester of motor caravans and trailer caravans since the 1960s.
Where are we likely to see your work?
On the Internet in Gear Wheels/Milestones, and in The Jewish Chronicle business supplement. Also various magazines such as Good Motoring, Audi Driver, Driving, and Classic Cars for Sale.
What's the most memorable work you've done?
Some of the road tests that I did for Autocar during my 26 years on the staff were very memorable, especially the test in Italy of the Lamborghini Miura, in which I reached 172mph, and the combined road test and journey to Sweden in a Rover 3.5 litre to cover the change of rule of the road from driving on the left to driving on the right. I have written 60 of these adventures, which are being compiled in a book to be called 'Memoirs of a Road Testing Man'.
What interview or feature would you love the chance to do?
I would like to do more travel writing, but am looking forward to a 1,500 mile tour of Germany in a BMW 520d in June with my caravan visiting a number of caravan accessory and motorhome manufacturers.
About you and PRs
Where do you source ideas for articles?
When a new model is introduced and I am able to go on the launch, I always follow up with descriptions and road impressions. If I am unable to go I try to borrow a test car later to catch up.
How can PRs be useful to you?
They are always most helpful and informative, but some of them allow themselves to be hampered by their insurers who impose an age limit of 70. This curtails their publicity as well as making it impossible to write about some car makes such as Renault and Volvo.
How and when do you like them to get in touch?
Whenever there is a news story or new model to be introduced.
Do you find press conferences, trips, parties and other events useful or an interruption?
No, they are always welcome and if I am too busy to attend I ask for the press information to be sent.
If you could make one change to the way PRs deal with you, what would it be?
Going back to what I replied earlier, it would be for them to be more realistic about the insurance of test cars.
About you
How would you pay the bills if you weren't a journalist?
Probably by something involving driving, such as taxi work or long-distance coach driving.
If we gave you £1000, how would you spend it?
On a holiday somewhere warm during November – always the worst month to be in Britain.
Do you tweet? Why, why not?
No, I see no need for it, and spend long enough in front of the computer anyway.
What books are on your bedside table, magazines in your bag, or blogs on your screen?
Various motoring/caravanning magazines, and I am halfway through a very interesting book on the story of Bletchley Park during the war. I am also an enthusiastic reader of novels by Craig Thomas and Frederick Forsyth.