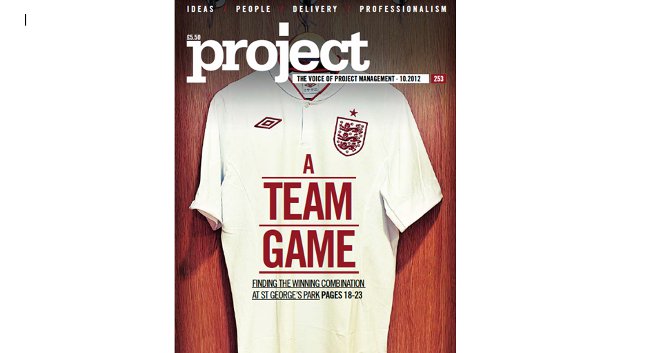 You've been at the helm of Project magazine for almost a year. What's changed in that time?
We are working hard to engage with our readership as much as possible, from more regular readership surveys to an increased social media presence. We have revamped our correspondence page to incorporate more readers' views. All of this is aimed toward ensuring that we reflect the magazine's tagline and truly represent the profession as 'the voice of project management'.
Read in over 70 countries, Project obviously prides itself on being, 'available everywhere, to everyone'. How do you meet the needs of such a diverse readership?
As the official title of the Association for Project Management (APM), all members of the association receive the magazine, but it is also open subscription. So anybody in the world, at any level of their career can subscribe. This is one of the reasons our readership is so broad. To cater to our audience we have a simple mission: "To uncover excellence and innovation and disseminate it to the profession as the voice of project management." This mission forms the basis of our content. We travel the length and breadth of the UK to speak to project managers on the front line, share their innovative techniques, and, in some cases, the not so innovative. Sometimes the back to basics approach is just as successful.
We bring our readers news, views and interviews from those delivering projects big and small, from all sectors and from around the globe.
What makes you different from the other outlets in the project management sector?
We are the only project management title in the UK with an Audit Bureau of Circulation (ABC) figure (21,189). Also, we work hard to be the voice of project management. As I have mentioned, we react to readers' needs by ensuring a two-way dialogue. Headlines Corporate News is the agency that I work for, and that produces Project on behalf of APM. It is an internal communications firm that understands the importance of engagement. I use the principles of Headlines in my role as editor of Project.
Another thing that sets us apart is that we are open subscription. It may be an official title of APM, but Project is independent and objective, acting as a reliable source of information for practitioners all over the world.
How do you decide the content, front covers and headlines?
Each month I chair an editorial board meeting. I attend conferences and seminars around the country to stay abreast of industry developments, and of course keep my eye on the news to see what we should be covering. I come up with a news list before our editorial board meetings and go over what I would like to cover. We then have an open discussion about how best we can approach the subject.
I write or edit all of the copy, headlines, standfirsts and captions. And the front covers and artwork is very much a collaboration between myself and the excellent design team here at Headlines. They really are world class. I will often have an idea about they way I want a feature to look, but then Duncan Boddy (graphic designer) will blow me away with something ten times better. My favourite front cover so far was the October 2012 issue. I had interviewed the project director who delivered St George's Park, the new national football centre, for the FA. Our photographer got a snap of a shirt hanging in the changing room and Duncan used it for the cover shot. We are a very strong team and that is key in the success of the magazine.
About you and freelance journalists
Name the three most important attributes that make a freelance journalist stand out for you and would make you use them again?
A good freelancer that would capture my interest is somebody who:
1. Doesn't need a lot of handholding.
2. Is keen, accurate and full of ideas.
3. Meets expectations.
If you can, tell us about the best approach you've seen from a freelancer…and the worst…
Best, somebody who sent me an article for consideration and offered it free. They had read the magazine, understood what our readers wanted and went for it.
Worst, somebody who thinks that they are doing you a favour. It's a two-way street.
About PRs
What types of PR agencies do you work with? (Big, small, consumer, tech, independent, in-house…)
I work with a mix of national, local, tech and in-house PR agencies. Everything is a project and a lot of firms are keen to shout about success. We hear from plenty of people representing these firms.
Do you tend to work with the same PRs or do you receive contributions from a wide range of sources?
A wide range of sources, but always keen to work with those who deliver good stuff.
Do you ever find your idea of a good story to be out of synch with PR goals or objectives? If so, how do you work around this?
The majority of the time, yes. If I receive a release that doesn't capture my attention early on then I will normally email back and explain our mission again – to share excellence and innovation. I ask them, why should the wider profession hear about this, what can they learn from it. If they don't email back then there isn't a story, but sometimes they go back to the client and we strike gold!
How do you think the PR/journo dynamic will change in the future?
It is always difficult to predict the movement of the media. However, it seems that more and more of those in PR roles are trained journalists. This may be due to centralisation and the state of local media. But this shift may mean that PR becomes much more effective; who better to write news releases and build relationships than those that have served on the other side of the fence? These ladies and gents know what will get the column inches.
About you
Describe a typical day at work: What are your editorial duties/responsibilities at the outlet (e.g. commissioning, subbing, features, interviewing)?
There is no such thing as a typical day in my office. One minute I will be subbing a contributor's feature, the next I will be on a construction site interviewing a project manager. But, my responsibilities as editor of Project include interviewing, writing, editing contributions, attending events, seminars and conferences, subbing and proofing pages and overseeing (dare I say, project managing) the publication through design.
What interests you most about your role?
It is varied and I am living the dream. When studying Journalism at De Montfort University, I remember working on a group project to create a publication, from inception to delivery. It was tough but I really enjoyed it – I thought how amazing it would be to be in control of a real publication – and here I am!
Where have you worked previously, and how did you end up in your current position?
I graduated during a difficult time in the media industry. It was 2009, when a lot of journalists were being made redundant and there were few opportunities for graduates. For some time I had to work for free, for a number of outlets. It was tough but it gave me the opportunity to get recognised and I was eventually offered a freelance position with the Times & Citizen, Bedford. Freelancing seemed to be the only way in for me and as my experience grew, so did my client book. I began writing for jewellers, football magazines, Northcliffe and BskyB (Sky Sports News).
In 2011, I decided that it was time to find a secure role and move my career on to the next stage. I discovered Headlines, which, with a very impressive client list including Aston Martin, Jaguar Land Rover, Tesco and Nike to name a few, seemed like a fantastic company to get involved with. I wasn't wrong. I interviewed and was offered a role as a journalist. I joined Headlines in October 2011 and began working on internal publications for Jaguar Land Rover and others. I worked alongside James Simons, the previous editor of Project, and when he decided to step down I was offered the role. It was a big step up in responsibility and a jump up the career ladder, but one I was ready for and a challenge I am very much embracing.
Do you tweet? Why, why not?
Yes, I am a prolific tweeter (@AHub_Project). The project management community is very active on Twitter under the hash tag #pmot (project managers on Twitter). Utilising this social network has been key in engaging the audience. I have found stories, set up interviews and got invaluable reader feedback on news through Twitter. If you don't already… get tweeting.
If you could time travel what time would you go to?
Tough one… I always said I would have liked to have 'crooned' back in the original big band days of Frank Sinatra, Dean Martin, Luis Prima and the like. That's the era I would go back to.