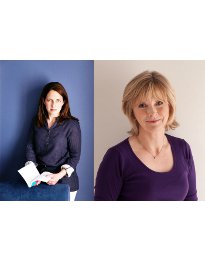 Want to write about your passion for cataloging abandoned sheds in the Sussex-Kent area? Knitting hats for mice? Know everything there is to know about early-90s Tony Slattery sitcom 'Just a Gigolo'? Okay, maybe some interests *are* too niche for publication…
Being published authors themselves – as well as freelancing for a variety of magazines and newspapers – Glynis (pictured above right) and Liat (above left) know their stuff. Find out about their six-week How to Write Your Non-Fiction Book course, and how their own experiences in journalism might be able to help you with yours.
About your journalism backgrounds
What subjects do you both write about?
Glynis Kozma: I write mainly about education, parenting, family and health.
Liat Hughes Joshi: Mostly parenting and family life, nowadays. I also do quite a lot of product test features.
Where are we likely to see your work?
GK: I've written for The Times, The Guardian, and a range of consumer magazines including The Lady, Saga, Sainsbury's Magazine, Independent School Parent, Right Start, and the websites Everyday Health and Parentdish.
LHJ: I've been a regular for The Sunday Times and Telegraph, and at the moment you'll find my writing in parenting publications such as Mother & Baby, Pregnancy & Birth and, like Glynis, on the website Parentdish (it's a brilliant site for parents with children of all ages, whereas many focus just on babies and toddlers. The editor has assembled an impressive team of ex or current broadsheet contributors).
What's the most memorable work you've each done?
GK: My feature for The Times on student suicide, my interview with Sandra Howard when I had to get past Michael Howard to speak to her – he was lovely – and an interview with Charley Boorman who, I discovered, was riding his motorbike at the time!
LHJ: I'm an obsessively-keen tennis player and I used to have a nice sideline in writing about tennis holidays (this sort of thing: http://www.guardian.co.uk/travel/2006/jun/28/1). Editing the travel pages of Ace Magazine (sadly no longer in print) was my dream 'gig' and involved numerous press trips to test out racquet resorts all around the world. And obviously I HAD to try the swanky spas out for a little after-match pampering research too. Best of all, on one trip I got to have a hit with Pat Cash. More recently, I've enjoyed doing some radio and TV work as a commentator/expert.
What prompted/inspired you to write your books 'Leaving Home' and 'Secondary School: A Parent's Guide' and 'What to Buy for Your Baby' and 'Raising Children: The Primary Years'?
GK: I was commissioned to write both my books because of my teaching background. This provided me with masses of input into 'Secondary School', where I covered everything from choosing the right school to options after A levels, behaviour and emotions as well. When I wrote 'Leaving Home' my son and daughter were at university – so I road tested the book on them!
LHJ: When I had my son I realised that there were ridiculous numbers of baby products out there and parents-to-be were pretty overwhelmed by (often conflicting) information on what they needed and what would be a waste of money. I wanted to create a single source of advice that parents could trust, as it's totally independent. This could be quite a dry topic, so I made it chatty and hope it's like having a knowledgeable best friend around to guide you through the decisions.
With my second book, I saw that there was lots of advice out there on parenting babies and toddlers, and a good deal on teenagers too, but not that much about primary school age children. I approached a few publishers and ended up with Pearson's Prentice Hall imprint. I then assembled a team of experts – child psychologists, nutritionists, sleep specialists and the like – and a panel of parents to provide input.
Do you think either of you would ever delve into writing fiction?
GK: Funny you should ask! I am currently writing a novel and have spent some time being mentored by writing coach and author Jacqui Lofthouse. It's work in progress.
LHJ: For adults, no, but I've got an idea for a series of children's books. Whether I'll actually ever get round to writing them is another matter…
About the How to Write Your Non-Fiction Book course
You run a six-week writing course together – how did you two originally meet, and what inspired you to start up the courses?
We chatted on an internet forum for freelance journalists and realised we had much common ground, so met up. We share lots of similar experiences with our work ,but also interests and ideas outside of that, too. And we're both Northerners by upbringing so have a certain bluntness and honesty with each other, which we appreciate. After a while, we started discussing the need for a course for prospective non-fiction authors and felt our combined experience was valuable. It went from there.
Take us through what you cover in the six weeks…
We've designed it to cover everything a non-fiction author-to-be needs to know to take ideas and turn them into a pitch that's 'publisher ready'. So, ensuring their subject really is marketable, finessing their idea, researching the right publisher, what publishers do and don't want to see in proposals, creating a biography, structuring the book's chapters, writing a sample chapter. We also gathered considerable input from publishers themselves, and have included many of their tips and comments.
Are there any particular success stories from the course (among the many, no doubt!) you could tell us about?
It's a fairly new course so it's too early to say if any participants will get book deals but we've had extremely positive feedback from them so far, including how pleased they are to have made huge progress with their proposal in such a short time. It's been interesting to see that the focus of our feedback varies so much with different students – some are adept writers and need more help with finessing their concept, others have been weaker at writing but have had a well-formed idea for their book.
Do you think any niche interest could be turned into a successful non-fiction book?
A publisher will obviously need to know there is a sufficient market for a book to make it financially viable. Potential authors with rather more obscure interests might be better off looking into self publishing. Talking of this, The Bookseller has an annual prize for the most obscure titles published. Had someone come on our course suggesting they were hoping to write 'The Stray Shopping Carts of Eastern North America: A Guide to Field Identification', we're not sure we'd have suggested they had much of a chance of being published.
Who supported you when each of you started in journalism? Any teachers/writers/friends who gave you good advice? What was it?
GK: I joined a couple of online forums for freelance journalists and after talking that way for a while, someone suggested we met for lunch. Five of us turned up and we've become good friends, as well as offering support to each other, either in finding suitable case studies or thinking of new angles for potential features.
LHJ: I used to meet up with an old-hand who was a journo years before in New York. She'd been on the team at Forum during a very permissive era, and it was certainly eye-opening hearing some of her stories. We'd play Scrabble at the café in Kenwood, North London, and then she'd act as my informal mentor afterwards. I also did a freelance journalism course at the City Lit with Liz Hodgkinson who was marvellous and gave me the confidence to send my first proper pitch, which, bravely perhaps, was to The Sunday Times. As an unknown, I was incredibly lucky that the section editor there was willing to give me a go and commissioned me. After that I became a regular for a while, and this really got me started with a strong portfolio. That was over ten years ago and I've remained freelance by choice ever since.
When reading through students' submissions for the course, do you two ever disagree over what is good/bad writing? Is one of you the 'good cop' and the other the 'bad cop' when it comes to this part?!
GK: We thought it vital that we moderate each other's comments on our students' assignments. This means we can give each other a slap if we feel one of us is being too harsh – or too lenient – before the assignment goes back to the student, and it also ensures consistency. Our opinions do tend to dovetail really well and we bounce thoughts and ideas off each other.
Liat, how helpful is your past experience in management consultancy with running the course?
Surprisingly helpful. I did significant amounts of pitch and business plan writing back then and although the context was different, there was much transferable knowledge, particularly around looking at how marketable something really is, what the real competition consists of and how whatever the product or service is can be promoted. And I still have a penchant for using spreadsheets for everything imaginable (a very management consultant thing to do).
About you and PRs
With your freelance writing, do you find that your idea of what makes a good story is very different to most PRs'?
GK: Yes! There are some lovely ideas coming from PRs but often they don't translate into features that well, and this can be hard for some PRs to understand. More often than not the topic has been covered a lot already, or they are pushing a product and expect me to write a feature around it – and it just rarely works that way. My features tend to be focused on psychology and behaviour, so it's rare that I can incorporate products, but I'm always interested in hearing about anything connected with behaviour, education and relationships.
LHJ: The very best PRs seem to understand what I'm looking for and, crucially, what my editors are likely to commission a feature about. I value their opinions and we trade thoughts and ideas. At the other end of the scale, frankly, some are dire and their press release emails make a very quick exit from my inbox. It doesn't take long to research what I write about and realise that I probably won't be interested in the tremendously exciting new widget for engineers you're promoting. I also particularly dislike it when I'm bullshitted about a product by someone who doesn't know what they're talking about, or assumes I don't, and makes claims that don't hold up to any scrutiny. For instance, all pushchairs are described as lightweight by baby gear PRs – but when you ask how much they weigh, you find out it's about ten tonnes! If you're doing PR for products, you really need to do your homework about them and the market. Oh, and with kids stuff, about safety issues. Not everyone does this.
Another pet hate is when some PRs fawn over bloggers (and I mean those who aren't journos too) but pretty much ignore journalists, most of whom have far wider reach. I'm afraid all this is that grumpy Northerner side of me coming out…
Do you find press conferences, trips, parties and other events useful or an interruption to your daily work?
GK: I don't do so many as I rarely review products, but I'd like more notice when possible from PRs, as it's tricky fitting in trips at short notice around deadlines.
LHJ: Of course some are spot on and lead to a feature, but if I went to every product launch I'm invited to I'd never get any actual writing done, so I have to be picky. I struggle to do a lot of events and trips now as I've a school-age son and face childcare issues if I disappear off too much. I've had to turn down all sorts for this reason, including a press trip to review some uber-luxurious villas in Barbados. I'm expecting my son to send me on a similar visit when he's a grown-up to make up for that one!
How many press releases that you receive from PRs actually result in a story for you?
GK: Very few for me. Too many are for products, and publications don't want advertorials, I'm afraid. Give me details of a ground-breaking book telling me about psychology or family dynamics and I'm your woman!
LHJ: Hmm, maybe one in 100 leads to an actual story, if that. But I still need some of the other 99, as they're about products that I might feature in the regular reviews and shopping pages I do.
About you
How would you pay the bills if you weren't in journalism?
GK: I'd be a bestselling novelist – I'd hope!
LHJ: I suppose I might be a management consultant still – it might mean more money, but much less of a non-work life (a 60-hour week wasn't unheard of) so I don't think I'd be anywhere near as happy.
Do you tweet?
GK: Yes, of course, @glyniskoz. I tweet about the subjects I write on, mainly. Oh, and the weather.
LHJ: For general stuff, I'm @liathughesjoshi but I also have a feed for my baby gear book, the immodestly titled @babygearguru. The latter means I don't have to bore those followers who aren't in the thick of nursery product buying with info they aren't interested in.
What books are on your bedside table, magazines in your bag, or blogs on your screen?
GK: I've just discovered Elizabeth Taylor after hearing an extract from 'Mrs Palfrey at The Claremont' on Radio 4's Bookclub. Brilliant stuff. I'm also a fan of Ian McEwan – 'Sweet Tooth' is on the pile, and I've recently read Julian Barnes' 'Sense of an Ending', which was excellent. I'm also a fan of Sebastian Faulk and Helen Dunmore.
LHJ: I'm a McEwan fan too – indeed, Glynis and I often swap notes on what we've loaded onto our much-loved Kindles of late. Recently, I've enjoyed John Lanchester's 'Capital' and Sebastian Faulk's 'A Week in December' – they're freakily similar, and I'm intrigued about what the two authors think of this. I'm not sure any other readers have noticed.
The magazines in my bag tend to be my football-obsessed son's Match of the Day ones.
Blogs – The Kraken Wakes from Cath Janes makes me smile. I do like a good old rant and Cath takes letting off steam to another level. I can almost hear her blood boiling over when I read it.
What interview or feature would each of you still love the chance to do? Are there subjects you haven't touched on that you'd be tempted to write about/learn more about?
LHJ: Not quite answering your question, but I'd love to make documentaries on social history, particularly the social history of parenting.
GK: Oh dear – too many to mention, but I'd love an agony aunt style column on a regular basis.
Glynis, you once wrote a piece for Essentials about being a 'people pleaser' – have you managed to curb this impulse?!
The feature was written with my tongue firmly in my cheek! I'm pretty good at putting my foot down these days and saying "no".
Finally (and very importantly), what would both of you like for Christmas?
GK: A lovely family day, because both my children have recently left home; help in the kitchen; and Chanel No.19, please. And a stack of commissions to keep me busy next year!
LHJ: A column in a national newspaper. Failing that, an iPad Mini. Although if I had the former, I'd be able to afford the iPad Mini without feeling guilty.
More information on Glynis and Liat's How to Write Your Non-Fiction Book course can be found here.