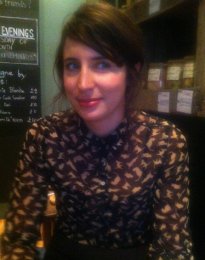 About London On The Inside:
Who reads it and how many of them are there?
Londontheinside
has been around for two years as of this month (July) which means our visitor numbers are still increasing month on month. In June we had approx 85,000 unique visits and although a large proportion of our readers are from London we also have readers worldwide!
What subjects do you cover?
Music, Fashion, Food, Drinking, Travel and everything in-between.
What makes you different from other blogs in your sector?
The team behind
Londontheinside
all work in the industries we write about which gives us an inside scoop and in-depth knowledge! Plus as fellow Londoners wanting to get the most out of London we are effectively our audience so (hopefully)they know what our target readers want to read about.
Why do you blog?
I want to share my love for London and all of the great things going on in the city. I'd often get alerted to secret sample sale, a free food event, a new restaurant or hidden bar and I wanted to post it somewhere everyone could see it – spread the love if you will!
What are your favourite blogs?
I really like to read blogs when I know the people behind them – About London, Tiki Chris, Faerietale Foody, The Cocktail Lovers, Oh and I'm also a big fan of Fashion Foie Gras
About you and PRs:
Do you work closely with PRs or do you keep them at arm's length?
I work closely with a number of PRs, and as a fellow PR I know they are valuable sources of info. Sometimes dealing direct with companies when there is no PR department can be a nightmare.
Do you have any advice for PRs?
This comes from my experience as a blogger and Travel PR: Always say Thank You for the coverage, it really makes a difference. Know the publication you are pitching too and make sure what you send is relevant. If I'm looking for quirky, eccentric things don't send me a menu update – please – unless it includes the rarest, most expensive, diamond encrusted scallops in the world! That said I don't mind being included in group emails as I can just delete but if you are sending something which is non-relevant don't keep sending and chasing up!
What information/input from PRs is most useful to you?
I love to hear about any new openings, pop-up events, anything which is related to London, any freebies, one-off shows, exclusive content and up and coming bands.
What's the best starting point for a PR who wants to tell you about their client?
Send me an email with an intro paragraph about the client and why it would suit Londontheinside.
When is the best time for PRs to contact you & what is your deadline for contributions?
They can email me at anytime and I will usually pick it up on an evening or at the weekend!
About you:
Do you have a day job?
A phrase I use far too often is…
Cheers me dears
I'd like to have a go at….
Being Mayor for a day!
Where do you hope to be in five year's time?
Further than I am now!