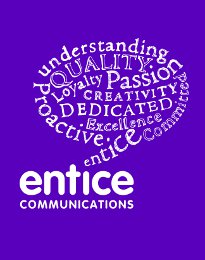 About the agency
What industry sectors does the agency specialise in?
Entice Communications specialises in the lifestyle, fitness, health, wellbeing and beauty sectors.
You describe your agency as a 'boutique-style PR agency.' What is it about the agency's approach that leads to this label? Is there anything particularly different in the agency's methods?
Well, the definition of boutique is a small business, offering specialist or customised service. And I think this sums up what we are about – we are a team of 12 people, so that makes us a close-knit bunch and even if we are not individually involved on an account, we all still contribute ideas for each client. The other element of boutique, and the most important in my mind, is the element of customised service. We don't just do PR – we work with a business to understand very carefully what their needs are and then we devise a strategy that will meet their needs. As an integrated agency, we have marketing specialists in-house, as well as a digital PR division, so clients have the opportunity to tap into that expertise and in return, we can offer a fully integrated solution.
The team at Entice combined possess a lot of expertise from PR and marketing to journalism and publishing. How do you think this helps the agency to be successful? Does having a more complete knowledge of the media industry lead to more successful campaigns?
I think that it does make a huge difference because we can deliver across the board on all elements of communication and connecting with potential and existing customers. The nature of how we communicate has changed immensely, largely in response to new technologies, and you can no longer draw a definitive line and say PR stops here and marketing starts there.
We were very proud that one of our clients Louella Belle, a major UK nail care distributor, recently won Best Marketing and Support at the inaugural Scratch Stars nail industry awards. We've been working on their trade PR for two years, and their marketing support for almost a year and a half now, and there is definitely a symbiotic relationship between those two elements of the communications mix.
Having team members with this wide range of expertise also helps us to see the bigger picture for our clients. Even if we don't work directly on marketing for a client, what we can offer is a better understanding of what their marketing team will need to know and how we can integrate our efforts to ensure the campaign is successful and delivers results.
The agency has now been operating for more than ten years, what has been the biggest challenge faced in this time? How did you overcome this?
Apart from the obviously challenging economic climate, the transition to digital media was a big one for us as I come from a more traditional media background. That said, we have embraced it and brought in a specialist to train all our staff. This is now part and parcel of our press office duties and we are proud to be successfully managing social media platforms for most of our clients.
What qualities do you look for in new recruits?
Apart from relevant professional and industry experience, I always look for energy, enthusiasm, creativity, great work ethic and a general passion for what we do. It is so much easier to do your job well if you love what you do. All of our team has a general passion for PR and marketing and the industries in which we operate.
About clients
Tell us about a client you recently worked with. What was the company's brief, your approach and the result?
Sweatshop appointed Entice Communications to launch its new bra-fitting service, to highlight the importance of wearing a correctly-fitted sports bra.
Our campaign focused on a bra amnesty, designed to drive people to Sweatshop stores to recycle their old bras for a good cause. We developed a collaboration with the Microloans Foundation, a charity which provides loans and business training to women in Africa.
Also, key journalists were invited to a 'bra surgery', where they experienced Sweatshop's specialist service first-hand. The messaging was supported with expert comment from Dr Joanna Scurr from Portsmouth University, a leading authority on breast health, who also helped develop the fitting service.
The second phase of the campaign was the commission of a news survey, to generate factual content and put Sweatshop's brand name on the news pages. This survey revealed the number of ill-fitting, unworn bras gathering dust in women's wardrobes, helping to highlight the importance of a specialist bra fitting service.
Our launch event resulted in extensive coverage promoting the bra fitting service and charity initiative in target titles including The Times, OK!, Closer, Hello, Prima, Red, Health and Fitness, Sportsister and Zest. The survey generated news stories in key newspapers including The Daily Mail, The Express and The Sun. Our active press office also generated case studies, expert comment and product placement in a diverse range of consumer titles including Daily Mirror, At Home, BodyFit, Tatler, More, and Good Housekeeping.
The total audience reached was 253,216,045 and 76% of coverage was outside of health and fitness titles, as per our brief.
How do you balance the use of social media and traditional PR in your work?
I think when it first became widespread, some people saw social media as the only way to go. However, I think that it really is another tool in the PR's toolbox – we are seeing journalists use Twitter to find stories and case studies, and Facebook and Twitter-generated content being used as content in traditional media. So in terms of balance, we always endeavour to stay abreast of how this is being used, by being involved ourselves, so we can stay abreast of these new trends. It has its place alongside traditional PR and we are incorporating that in how we work here at Entice.
Is there a potential client you'd love to work for?
That is a hard one to answer. We love working with any new brands that are launching new concepts to the market, especially in the fitness and wellbeing arena as this is where our expertise and contacts lie.
What has been your most memorable work for a client?
I think the most memorable work must have been when we secured endorsement for Power Plate with Madonna, which resulted in a double page spread in the Sun as well as countless other target publications. This coverage and endorsement resulted in a considerable uplift in sales from both commercial customers and consumers.
About journalists
Which media outlets or journalists do you find you work with the most often?
As specialists in the health, fitness, lifestyle and beauty sectors, we are of course talking to the health editors, the beauty editors and the freelance writers who also specialise in the areas.
What can you offer to journalists seeking a story on one of your clients?
We always work hard to provide a unique angle or feature idea for our journalist contacts. We have access to a wealth of experts as well as extensive products and services for them to trial.
How do you build and maintain strong relationships with journalists?
The fundamentals of maintaining a good relationship with journalists is making sure we are delivering them what they need – newsworthy content. We work really closely with all our clients to ensure they understand the nature of PR, and what journalists are looking for. It is very much a balancing act between the hopes and desires of our clients and what actually would be considered newsworthy, but it is an essential one to achieve. We must maintain our reputation of giving journalists great stories and ensuring our clients get the credit. I have always maintained that a good PR should care as much about their journalist contacts as their clients and provide them with an excellent service.
How do you think the PR/journalist dynamic will change in the future?
I think as we understand more about where social media may take us, this could certainly affect the relationship between PR professionals and journalists. There's a lot more opportunity for people to cut out the middle man now, with journalists interacting directly with story subjects. PRs will have to make sure that they remain relevant to journalists. That said, the changing media landscape could also result in more cuts to editorial teams, so as long as PRs ensure that they continue to deliver the right sort of content to a busy journalist, I think they will remain an essential part of the equation.
About you
How did you get into PR?
My background is sales and marketing and I ended up in PR when the first agency I worked at decided to expand in to this area. I realised very quickly it was where my passion lay and subsequently decided to set up my own agency, which combined both my skill sets to offer an integrated service to clients.
What was it about your experience in PR and marketing prior to forming Entice that gave you the inspiration to start a boutique-style agency?
My decision to start the agency was really more to do with my own personal interests. I'm passionate about health and fitness and wanted to combine that with my experience in communications.
Are you involved in any other projects?
I have always been heavily involved in charity work and have chaired several committees to help raise funds for cancer, which is really dear to my heart.
Name three guests you'd invite to a dinner party and why.
This is really an interesting question. I think one of them would have to be my paternal grandfather who I never met and the other two would be Winston Churchill and Margaret Thatcher.
What is the best piece of business advice you've ever been given?
Never say never. Always consider every opportunity given to you and surround yourself with an excellent team who can help you deliver.