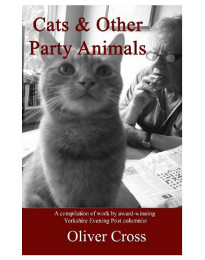 Read on to find out about the pond-dwelling animals that blight Oliver's life and which member of the Royal family is allegedly a fascist.
Hello Oliver, tell us a bit about your new book 'Cats & Other Party Animals'.
It's a fairly random collection of the weekly, mostly page-long columns I've written over the last 13 years for the YEP. It's sometimes meant to be funny and sometimes deadly serious, or, which is perfectly possible, both. Waterstone's Leeds branch couldn't decide where to shelve it so stuck it under local history, even though it's neither local nor historical. I'm campaigning to get it moved.
What was your inspiration for writing it?
My former features editor at the YEP, Anne Pickles, told me that that I could write an entertaining column and would have to start it next week, or else. Inspiration didn't come into it.
Some of the topics sound pretty intriguing – glum goldfish, the cheerful dead and a royal fascist to name a few! Any interesting stories behind the headings?
Well, the cheerful dead takes in thoughts on deaths which have affected me, including those of my mother, my YEP colleague and friend Martin Woods and an old neighbour. It's one of the most upbeat sections of the book. The royal fascist is Prince Charles (I explain why) and the glum goldfish live in my garden pond and constantly blight my life.
Do you have any advice for others out there who'd like to get a book published?
Contact Nigel McDermid of York Place Media, who did it for me and knows what it's all about.
Are there any writers you look up to?
All good poets and Victorian novelists, especially Dickens, but closer to my own field Garrison Keillor, Bill Bryson and the late Alan Coren.
Have you any plans for future books?
Since I took so long to put this one together and am still writing weekly, I have built up enough material for a follow-up, but I'm trying to think of something original – maybe an off-beat travel book (I can't do fiction).
What has been your favourite writing assignment so far in your career?
A trip to witness the opening of a cable car in Armenia; strange but unforgettable.
Are there any other features, books or interviews you'd love the chance to do?
Plenty – I'm a literary tart.
Where do you source ideas for articles/features/etc?
Mainly, column-wise, from my own experience; I'm deeply suspicious of commercial surveys.
How can PRs be useful to you?
I'm always interested in any ideas or experiences I wouldn't otherwise encounter.
How and when do you like them to get in touch?
I like email or Facebook.
What is the last film you watched/book you read?
Film – 'Sunshine Over Leith' (great fun); book – 'Joe Gould's Secret' by Joseph Mitchell, a surprising, off-beat documentary account of an eccentric New York bum.
If you weren't a writer, what would you be doing now?
Writing as a hobby.
If a film were made about your life, who would you choose to play you?
I think Dolly Parton is the most admirable performer on earth, which isn't relevant…I just wanted to say it.