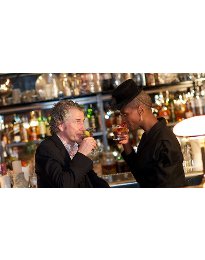 About The Cocktail Lovers
2012 was a big year for The Cocktail Lovers with the magazine moving into a print format. What inspired this decision? How has the transition gone?
2012 was a very big year for us, particularly for a team of two! We reacted to popular demand and took the decision to build on the success of our digital, page-turning magazine and went into print as well. Some might call us mad but it was definitely the right move – there are no other drinks publications combining fashion, travel, music and restaurant reviews and the reaction has been fantastic.
We timed the launch of the print issue to coincide with London Cocktail Week, distributing 10,000 copies at the main hub in Covent Garden and the remaining 40,000 in bars, hotels, member's clubs, salons and trade shows in London but also nationwide and abroad.
The production process itself was easy enough – we worked with a great team, including an ace designer, great photographers, illustrators and a couple of freelance writers and got on with it; the hardest part was the distribution. We're definitely farming that out next time! As for feedback; it's been amazing. So much so, we're planning two print issues a year (one running from April to June, the other from October to December), together with our four digital editions (January to March, April to June, July to September and October to December).
You were recently shortlisted in the Launch of the Year category in the BSME awards. What is it about the launch of the magazine that you think led to this recognition?
I think it was down to the fact that we've put a lifestyle spin on the drinks industry. My background in fashion (working at the Daily Telegraph and the Sunday Mirror) and editing Where London magazine certainly helps. As does my husband Gary's previous life as an executive creative director at advertising agencies such as Saatchi & Saatchi and Ogilvy & Mather. Together we have a good understanding of what consumers want and we've tried to deliver that in our magazine.
What are your plans for the magazine in 2013? How do you plan to build on the successes of 2012?
As well as the print and digital editions, we'll continue to contribute cocktail-related features to magazines and online sites, plus radio to promote our brand. We're travelling to Trinidad in February to compere the global Angostura Cocktail Challenge and take part in the carnival and we're also working on some cool projects with major drinks brands – nothing we can talk about yet but all very exciting.
Who are your target audience and how many people read the mag?
We don't have a specific demographic, which is good. Our readers take in everything from 18 year old guys who aspire to be bartenders, through to cool Hoxton types and discerning couples, to women in their late 50s who relish their evening G&T. The fact that we include restaurant reviews, recipes, fashion, travel, party pages and general cocktail-related features means our appeal tends to be fairly wide-reaching. In fact, we set out to be a magazine aimed squarely at consumers but we're also read and enjoyed by the drinks trade, which is a great compliment.
What subjects do you cover? What stories are you most interested in covering?
Our stories are all drinks-related but we like to look at things a little left of centre, that can be anything from art and culture to music and quirky venues. We love hearing about anyone doing new things, whether it's glassware, cocktail rings, fab frocks or making a new gin. The one thing we don't do is condone irresponsible drinking – we don't take ourselves too seriously, but we are very serious about that.
What makes you different from the other outlets in your sector?
We're 100% drinks lifestyle rather than out-and-out trade. We're not experts and neither do we pretend to be, we're cocktail lovers writing for cocktail lovers.
About freelance journalists
Do you pay for contributions from freelance journalists?
We're just about covering our costs but we're aiming to be in a position to pay freelancers soon.
About PRs
What types of PR agencies do you work with?
We work with all manner of PR companies, big, small, consumer, in-house, independent – across fashion, beauty, food, travel, homewares and of course drinks. There are some who send through releases on a regular basis, while we will contact others specifically if we have a story or product in mind.
Do you find that your idea of what makes a story and a PR's tends to differ?
Some PRs tend to see you as a mouthpiece for their press releases rather than contacting you with new and interesting stories. That said, I still prefer to receive press releases and make up my own mind whether they work for us.
About you
After working as a journalist for many years you decided to start your own magazine. What was your inspiration for doing this? Have you found the change rewarding?
My husband and I had been writing The Cocktail Lovers site for a few years and just decided to go for it full-time. We knew that with our combined experience, contacts and passion for the subject we could build a good product – something a bit different. We've both found it extremely rewarding and have huge plans for the future. We wouldn't have it any other way.
Where did your love of cocktails begin? And how do you become an aficionado of them?
I didn't drink cocktails at all until I met Gary! He's always been a big fan and we used to go to cocktail bars for our date nights. I loved the glamour, the art, the style, the history and the people and started writing about cocktails more and more until we decided to launch The Cocktail Lovers.
Do you tweet? Do you find it useful for work?
We do Tweet. Not only have we made some invaluable friends and contacts through Twitter, it keeps you up-to-date with what's going on all over the world. It's invaluable. You can find us @cocktaillovers.