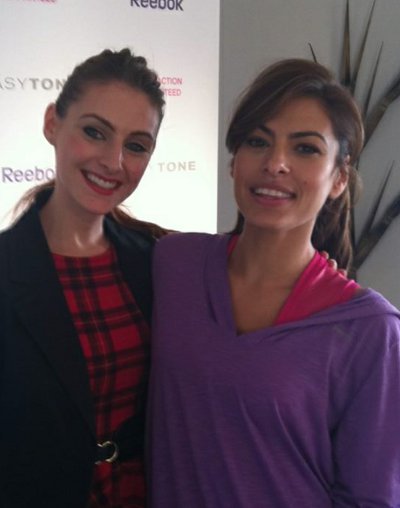 Following Ursula Dewey's recent promotion to managing editor at sofeminine.co.uk, we got in touch to find out how she got started in journalism and what's next for the women's interest website.
Ursula (pictured, above; the lady on the left who isn't Eva Mendes) shares plans for international expansion online, building a bigger, better team, the benefits of social media and potentially hooking up with actors using the aforementioned social media. Stranger things have happened…
About sofeminine.co.uk
You were recently promoted to managing editor at the website – what are you most looking forward to getting stuck into in your new position?
This is a really exciting time for sofeminine.co.uk – we have a site redesign to roll out later this year which is a core project I'm looking forward to implementing, along with a new section for our celebrity offering and new article formats – my priority is to make the site design a lot more nimble while growing our fan base through our innovative and thought-provoking content.
The company has grown hugely in the past year and it's been exciting to see us overtaking publications with an on-shelf presence. We have a vibrant new editorial team in place and I'm looking forward to ensuring the site is always bursting with informative lifestyle features, fashion and beauty news and, of course, plenty of breaking celebrity gossip.
sofeminine.co.uk is part of an international group, Aufeminin, and we have plans to extend the anglophone offering within the group, which I will also be overseeing. Canada and America are at the top of the list.
What would you say are the key differences between sofeminine and other women's interest brands?
sofeminine.co.uk is exclusively online and unlike magazine sites it's more of an online lifestyle destination for all areas of women's lives; from fashion and beauty to relationships, career and celebrity news.
As well as finding out awards ceremony gossip, users can also use sofeminine.co.uk to find out everything from the female issues we're supporting, to learning how to do Victory Rolls and finding advice on getting a promotion; the sofeminine user is an ambitious woman who is engaged with current affairs as much as she is with Downton Abbey or the latest MAC collaboration.
In short, sofeminine.co.uk is a diverse resource for the multi-faceted lives that women lead today.
Who are you working with on the team there and what are their responsibilities on the website?
Our celebrity sections are headed up by Esme Riley, who is celebrity editor and a star in her own right! She covers everything from reality TV show gossip to Hollywood news, celebrity galleries and soaps spoilers, all while turning around breaking celeb stories aplenty and looking after our Twitter – it's @sofeminineUK.
Our lifestyle team is currently headed up by Maria Bell, who looks after the relationships, parenting, work and money and women in focus sections. She also works across food and drink and the health sections and as well as creating reactive news pieces for our women in focus pages, her role is very much a balancing act between women-focused news and creating evergreen content that needs to be written with thought, research and flare – which she never fails to do!
What big upcoming fashion/beauty/showbiz events are you looking forward to covering on the site?
The BAFTA TV Awards and The British Soap Awards are always important ones for us. We will be covering those events live as well as the glamour that is the annual MET Ball, which is always a hit for our fashion pages.
About sofeminine.co.uk and freelance journalists
Does sofeminine.co.uk pay for contributions from freelance journalists?
While we used to rely heavily upon freelancers, as the team has grown we now produce all content in-house. However, if a freelancer has an excellent idea for a feature or series for sofeminine.co.uk the best thing to do is to send an email to pitch ideas.
We have plans to launch sites in Canada and America so would welcome emails from freelancers in these territories.
About PRs
Of all the press releases you receive on a daily basis, what percentage of them make it to publication?
We never put press releases directly onto the site and always tailor content to fit with the sofeminine.co.uk style. The press releases that have the most success are those that are sent out in a timely manner reacting to events, releases with interesting expert sources, attention-grabbing stats or irresistible photography.
How do you think the PR/journo dynamic will change in the future?
I think PR and journalists will continue to go more social via Twitter with tags like #journorequest or #PRrequest, which can be really useful.
About you
What do you love most about digital publishing?
I love the energy of working online, of being able to react to new stories immediately and have a strong element of engagement and interaction with your readers – that's pretty special. It's also really exciting to be able to see how well articles have performed at a click of a button – it helps ensure you're always producing the kind of content that readers are going to love. We can also have interactive formats that add an extra dimension you just don't get in print. Also, through our use of social media we feel much closer to the reader. Our Pinterest boards are another element that I'm especially proud of.
How did you originally get started in journalism?
I began by studying Media Practice and Theory at Sussex, then worked on the university magazine as editor which gave me a hunger for journalism. I did a range of internships at Condé Nast and IPC Media on titles such as Look, GQ, Vogue, Maybourne Style and Mandarin Oriental's MO magazine and after a stint in beauty PR at Liz Earle I returned to writing; freelancing for regional publications and contributing to Natural Health. I then studied for my NCTJ while working for sofeminine.co.uk, where I've worked my way up over the past three years. In 2011 I made it to a runner-up for the Vogue Talent Contest, which definitely gave my career a boost.
Do you tweet?
Absolutely – it's so important to have a Twitter presence and gives you the chance to reach out to people in a whole other medium. It's also a great way to showcase some of the great content from the site, although my tweets are often a mix of work-inspired posts, there's also the occasional tweet to see if me and Ryan Gosling could get together some time. Stranger things have happened on Twitter after all!
Follow Ursula @Ursula_Dewey and follow the team on @sofeminineUK. We wish her luck with Ryan Gosling.