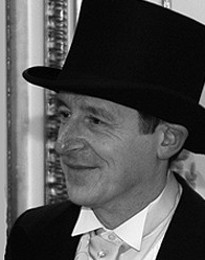 In the digital age that we live in, we've seen print circulation declining and readers switching week by week from print to screen, so why is one online magazine launching a print edition? This is exactly the question we put to Jon McKnight, Editor of Luxurious Magazine…
Luxurious Magazine has been online-only for three years and has just launched as a print magazine. With most print publications becoming digital-only, why is Luxurious Magazine bucking the trend?
Luxurious Magazine's founder, Paul Godbold, had the advantage of starting with a blank sheet of paper – or, rather, a blank screen – and took a 21st Century approach to publishing. Unlike traditional publishers who felt they had to have impressive offices in the right postcodes and rooms full of permanent staff, he realised an entire publishing empire could be run from a laptop with writers working remotely, wherever they lived in the world. He proved it by turning Luxurious Magazine into a success.
So many people were crying out for us to produce a printed version of the magazine that it seemed almost rude not to. And with none of the legacy overheads that have threatened the very existence of many established publishers, we've been able to launch a print edition with a production department of one – me – and a small team of freelance contributors.
Established publishers have been cutting out years of fat and scaling down their operations in a desperate attempt to survive, taking their publications online in a last throw of the dice. But we've started out as an ultra-lean operation and refused to subscribe to the orthodoxy that you need tier upon tier of editorial staff, each with assistants, expense accounts and ever-grander offices in showpiece buildings.
In effect, we have the luxury of flexibility. And by producing a luxury magazine that can't be bought or subscribed to, we don't have to worry about newsstand sales, unsold copies, or costly marketing campaigns to build a subscriber base. We put our magazine into the most exclusive places where it will be read by the very wealthy people that our advertisers want to get their messages in front of.
How much of a luxury is Luxurious Magazine? Where can you get a copy from?
The only way to get your hands on a copy of our printed magazine is to be in the very exclusive places that make it available to their clients and guests. You could, for instance, obtain a copy by spending £25,000 for a single night in the most expensive suite at Rosewood London, or £5,000 for a night at Schönbrunn Palace in Vienna.
You'll find it at The Goring, where Kate Middleton spent her last night before becoming the Duchess of Cambridge; The Wellesley in Knightsbridge; and a string of other luxury hotels in London. Spa lovers will be able to see it at Champneys in the UK and The Farm in The Philippines; it's gracing the coffee tables of numerous Royal Warrant holders and Harley Street consulting rooms; and clients of Prestige Pawnbrokers, featured in the Channel 4 series Posh Pawn, can read Luxurious Magazine while they borrow against their Bentleys, private helicopters and family tiaras. And anyone who buys a £30 million business jet from Bombardier will receive a free copy of Luxurious Magazine when they take delivery.
Can you give some examples of the luxury goods/places/foods/events the magazine features?
The launch issue includes road-tests of an Aston Martin and a convertible Bentley, interviews with Raymond Blanc and Grand Metropolitan CEO Vin Lee, reviews of that £5,000-a-night suite at Schönbrunn Palace, and features on everything from undiscovered artists to what it's like to order a bespoke suitcase worth £2,000 from Globe-Trotter, who also make them for the Queen and the Beckhams. American celebrity chef Devin Alexander explains how to have your cake and eat it, celebrity confidence coach Jeremy Milnes reveals that even the rich and successful can be held back by insecurities, and Captain Paul Day of Regency Air Charter talks about the benefits of flying by private jet. And in between the editorial pages, we have the likes of Robinson Helicopters, Rolls-Royce Motor Cars, SEAmagine mini-submarines and jewellers Backes & Strauss advertising.
With the magazine using a team of journalists around the world, as the Editor do you ever get to visit some of the amazing places featured?
Yes. I'm still adjusting to life outside Palace walls after a magnificent night at the Schonbrunn in Vienna. It's a tough job, but…
And I keep ending up in Monaco, for some reason, though one of my colleagues is there at the moment instead.
Any articles in the magazine which particularly stand out for you and why?
Gina Baksa's interview with Raymond Blanc, snatched over an unexpected breakfast with him at Le Manoir Aux Quat'Saisons, is beautifully written and revealing, punctuated with references to the progress he was making on a boiled egg as they talked. Vin Lee, the CEO of Grand Metropolitan, is a fascinating character, describing how much easier his life would have been if he'd had $3 billion back in 1992.
And we even have Coutts, the Queen's bankers, writing about Passion Assets – the classic cars, the Old Masters and the jewellery people buy because they love them but may or may not be good investments.
Even though your background is in journalism – 36 years so far – you also have experience in advertising, PR, copywriting, video-presenting and TV production. Are you managing to do all of these things? How is your time split?
I am tending to concentrate on editing and producing the magazine at the moment, but I have presented a handful of videos for Luxurious Magazine including one in which I drew on a £105,000 BMW i8 with a marker pen, and another in which I asked someone to lock me into the tiny space under the bonnet of a Tesla so I could emerge on camera, looking dishevelled and claiming I'd been under there for 40 minutes but still couldn't find the engine.
As a PR man, I managed to promote a metal-bending factory by imagining what would happen if the Daleks commandeered it to reproduce themselves in galaxy-threatening quantities – a story that was featured in The Manufacturer magazine and ended up with Spencer Kelly driving around in the Dalek on BBC Click.
What's been your most lavish spend?
In relative terms, the £275 crocodile-skin wallet I bought in The Burlington Arcade way back in the Eighties when I was earning about £50 a week. And a £4,000 four-poster bed from Simon Horn, hand-made to my specifications in France, which I bought in 1990 after winning an Audi in a slogan competition and selling it.
Finally, any tips on how us regular folk can become privileged readers of the magazine?
Tough question! The magazine is aimed exclusively at the very wealthy so, apart from winning the Lottery, the only way is to be successful financially. But all of the features in the launch issue will be published online as soon as the second issue comes out in three months' time.
You can find Jon tweeting @JonBonViveur