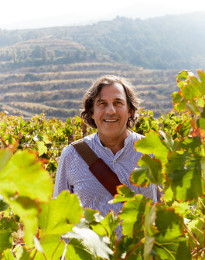 After drinking, eating, and travelling around the world with publications including The Sunday Times, Elle, Vogue and Tatler, Andy Harris settled down (a bit) in 2008 to co-found and edit Jamie Oliver's jamie magazine. Now on its 50th issue, the magazine keeps Andy drinking, eating, and travelling to find quality tales and tastes for its readership. He takes us through what it's like working with Jamie, what we'll be eating in ten years, and potential front covers for Christmas (get ready for something very special, that's all we're saying)…
Congrats on reaching 50 issues, Andy! What do you think makes the magazine such a draw for readers? What does the magazine give people that Jamie Oliver's books and television shows don't?
Once people get the magazine in their hands, they seem to love our slightly irreverent and quirky viewpoint. We are passionate about all things to do with food, drink, and travel and Jamie's natural vitality and zeal spices up every page. And we are the only UK food magazine to offer brand new recipes from Jamie every issue, plus we've got the best design out there, and great uncoated paper, too. Our app's not bad, either.
What's the best thing about working on a magazine with Jamie?
It's great when Jamie does his stories in the magazine and we workshop ideas together. He also scrutinises every page and always has some brilliant ideas and comments. When we are travelling and meeting passionate people around the world – amazing Jamaicans making spicy goat curry beside a Blue Mountain road; Royal Ballet dancers and musicians; Epifanios, a Mount Athos monk who is also a great cook and raconteur; chefs and home cooks everywhere…
The 50th issue features predictions from Jamie on what we'll all be eating in ten years, a gallery of cakes, and an article on aubergines – quite a mix! Will we all be eating aubergine cakes in ten years' time?
Well, I might, as I love aubergines! They do kind of make aubergine cakes in Turkey, where the vegetable (or is it a fruit?) is one of the high priestesses of Ottoman cuisine. In the future, I hope we'll all be cooking and eating healthier food on a regular basis…'get kids cooking early' is the mantra we all follow at the Jamie Oliver organisation.
You've previously worked as a chef and food writer, and spent time travel writing for Vogue and Tatler, as well as working as food and drink editor of Elle – which particular experiences/skills from these roles feed into your work on jamie magazine?
My first writing jobs were travel pieces – I covered the Rio Carnival for The Sunday Times and I learnt a lot about cachaça, Brazil's national cane spirit, during the frenzied samba-fest. If I wasn't drinking I was always gravitating towards street food stalls around food markets and have been doing the same ever since…so I like to combine great food, drink, and travel together and think that's reflected in some of the magazines I've worked on, such as Vogue Entertaining and Australian Gourmet Traveller, and now jamie magazine, of course.
Who else looks like they'd share your passion for food and drink? Brad Pitt did the first ever interview in the magazine – which other celebrities would you love to feature?
I'd love us to interview David Attenborough, Prince, the current Pope, and some Formula One racing drivers, to name just a few…really anyone who has interesting kitchen tales and tastes.
Do you commission freelancers for the magazine, and if so, for which sections? And how should a writer get in touch, and with what kind of pitch?
Occasionally we need small pieces on interesting producers, places, and products. Pitch to me direct, short and sweet, by email…
What types of PR agencies does the magazine work with? What kind of things from PRs do you find useful?
We get a lot of food, travel and restaurant PRs contacting us. If something's interesting we always follow up and try and do something. We like product news, travel news, anything about openings around the UK, and not just London-centric, please.
We imagine you get a lot of press releases about different kitchen gadgets/new niche food products – any odd ones?
Honestly, I bin a lot of press release emails as many are irrelevant! There are always some mad ones for yet another kooky flavoured popcorn or BBQ sauce that I can't resist, though.
How do you plan each front cover – and how many different front covers can you think up for Jamie for the next ten years? Will he ever pose in a bathtub full of lobsters, or should we give up on that dream?
In the UK, we mostly have food on the cover and have only featured Jamie on it a few times, so we've got lots of scenarios to try… We were going to do a version of your bathtub and lobster suggestion with chillies – covering Jamie in them, 'American Beauty' style – and we've always got a few secret ideas bubbling away for Christmas time…
Mmm…interesting… *gets lost in thought*… Right, yes! So, the word 'foodie' is used a lot these days – are you pro 'foodie' as a descriptor, or do you find it as annoying as we do?
As annoying as 'Gastro', 'Tasty' and 'Delicious'…
And those are certainly very annoying. Lastly, as someone who's exposed to pictures of quality food all day, what's your guilty pleasure treat?
Love a bag of cheese and onion crisps and any kind of ice cream…
Good choices; Andy clearly knows a lot about this food stuff.
The jamie magazine team can be found tweeting @JamieMagazine. Why not campaign for the chillies front cover in time for Christmas?