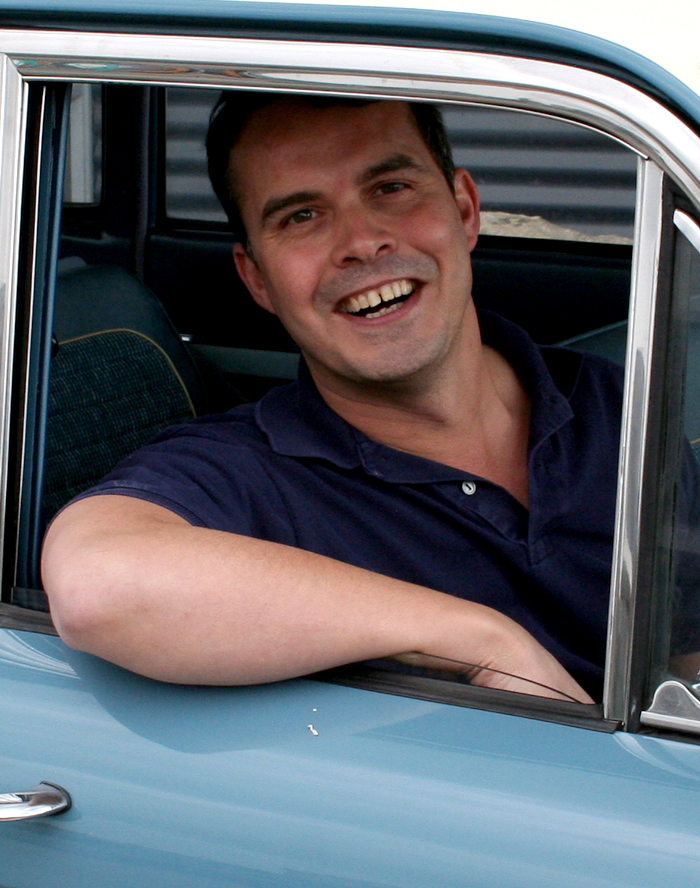 Covering "anything American and automotive", Classic American magazine caters to the niche market of US car enthusiasts in the UK. Working on this publication is editor Ben Klemenzson's idea of heaven – find out why, in today's interview…
About the publication:
Who reads it and how many of them are there?
Amazingly, there's no typical profile of an American car enthusiast – it could be anyone from Lord March of Goodwood, to someone living on a council estate in Liverpool. That's what makes it so diverse and interesting. American cars are still a pretty niche market in the UK, however, and we reckon there are probably no more than 250,000 American car enthusiasts. Having said that, who couldn't help but love a '65 Mustang or a '59 Cadillac?!
What subjects do you cover? What stories are you most interested in covering?
We cover anything American and automotive, from brand-new car reviews and reports to features on classics from the Fifties and Sixties, road trips across America and profiles of designers. We even carry lifestyle and music features. If it's American and even vaguely automotive, we'll feature it!
What makes you different from the other outlets in your sector?
We're the UK's original American car magazine, and being run by American car enthusiasts for American car enthusiasts means we understand what makes our readers tick and what interests them.
How do you decide the content?
Choosing the content of each magazine is probably one of the most important aspects of my job. It's a fine balance of getting the right era and make of cars, along with the balance of car and non-car features.
Do you produce a features list? Why? Why not?
We do produce a features list, although I usually don't plan further than two or three months ahead, the reason for this is that I'm often discovering feature cars on a month-by-month basis. If I had 12 months of magazine planned ahead, then other titles would be able to run features on cars which had just come out before Classic American.
About you and freelance journalists:
Do you like freelance journalists to get in touch with you directly to pitch ideas? And if so, how?
I'm more than happy for freelance journalists to contact me with feature ideas, although I'm not really able to say yes or no until I've seen the finished feature.
Name the three most important attributes that make a freelance journalist stand out for you and would make you use them again:
The three most important attributes would be:
1. punctuality
2. original and interesting content
3. sticking to agreed word count
If you can, tell us about the best approach you've seen from a freelance…and the worst…
The best approach was probably from a freelancer who I use regularly now that approached me face-to-face at a car show and pitched himself directly. The worst was an unsolicited and arrogant email!
About PRs:
Do you work closely with PRs or do you keep them at arm's length?
We have worked closely with PRs dealing with American vehicles in the UK; I'm happy to work closely with them as it's content that is of interest to the readers and is cost-effective.
If you could make one change to the way PRs deal with you, what would it be?
I'm totally happy with the way PRs deal with Classic American.
How should a PR approach you about their client?
Phone, email…bongo drum!
What information/input from PRs is most useful to you?
Information about American vehicles on sale in the UK, launches, test drives; all the usual stuff. Products which are useful or suitable for any automotive use.
When is the best time for PRs to contact you and what is your deadline for contributions?
Any time. Our monthly deadlines are the end of each month.
About you:
Describe a typical day at work: What are your editorial duties/responsibilities at the outlet (e.g. commissioning, subbing, features, interviewing)?
I work mostly from home nowadays. It took a little getting used to, but I tend to work in four hour bursts, interspersed with breaks like a swim, lunch or going to the gym! The last two weeks of each month I drive 150 miles to my publisher's offices in Lincolnshire and sign-off the magazine.
What interests you most about your job?
I love American cars, so just reading and writing about American cars is my idea of heaven – best of all, I get paid to do it!
Where have you worked previously, and how did you end up in your current position?
My first job after university was on Marks and Spencer's graduate training programme, I lasted year. What really finished it for me was when my boss at Marks and Spencers in Hartlepool gesticulated out of his window at the car park below and said: 'One day, all this could be yours…' I applied for the position of editor on Classic American the next day, and here I am 16 years later.
Do you tweet? Why, why not?
I don't tweet or Facebook. I think they're the emperor's new clothes and are a total waste of time. I'm far too busy editing a magazine to have time to give blow-by-blow updates of what I'm up to – I can't actually imagine anyone would be that interested anyway. I like brushing my teeth with Colgate, but I have no interest in following it on Facebook or Twitter! Sorry, I'm strictly old school when it comes to social media and it really is my bête noire.
If you could time travel what time would you go to?
I would go back to the industrial revolution; seeing something like Stephenson's Rocket and the first steam ships and mills must have been a fascinating time in Britain's history.
[img|jpg|Ben Klemenzson]
[lnk|http://www.featuresexec.com/mediaoutlets/profile.php?pubid=9087|_self|Classic American]