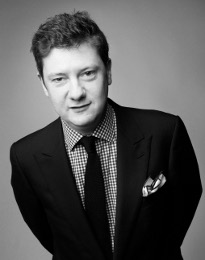 All you stylish gents and not-so-fashionable fellas seeking to avoid sartorial scrapes, make a note in your little black books for the March 2013 launch of The Big Black Book in the UK; a biannual style guide from the team at Esquire.
We catch up with editor-in-chief Alex Bilmes since we last spoke to him a year ago to find out how The Big Black Book will differ from its older 'brother' in the style stakes. Avoid looking like a nightclub weirdo, get smart about the best Bond and pull your socks up; let's get started.
How will the British version of The Big Black Book differ from the US original?
British men obviously have a completely different style to American men; we don't dress the same, we don't see things the same, we have a different attitude and a different heritage and we'll be reflecting that.
The British version of the main Esquire is very different from the US version, although we do share a history and a DNA in that we see ourselves as the most literary, cerebral and intelligent of the men's magazines.
How do the US and UK readers differ, do you think?
British men do have a different sense of humour to American men. I think we're irreverent, self-deprecating, witty, don't take ourselves too seriously (not suggesting that all Americans take themselves entirely seriously!) That's the kind of tone that we have in Esquire. The main magazine covers everything, where The Big Black Book is about style; very specifically about style. In Esquire we do sport, culture – this will be much more tightly-focused on fashion, style and products.
So the tone's going to be very different in The Big Black Book?
I think it will be different, yeah. And I think the areas of interest will be slightly different. In the main magazine, we cover the 'waterfront' in terms of style; everything from high-street to high fashion. I want this to be modern, but about classic style – very upmarket. It's about smart, formal dressing. Some of the stories we will be covering in The Big Black Book will be too niche, or 'special interest' to put into a mainstream magazine like Esquire.
Do you think you'll be attracting readers who may not have picked up Esquire before?
I hope that it'll be both new and old. I think that most Esquire readers are interested in style, because it is, after all, a men's style magazine. But there are readers of Esquire who skew much more towards pop culture, or sport as their main interest, whereas readers of The Big Black Book will be solely buying it because they're interested in what to wear. I do think there's a slightly different readership there. Because we haven't launched it yet, we don't know exactly, but I think it'll attract the 'already established' (I hate to say older) men.
In terms of print magazines available, there's a multitude of women's fashion and style publications. For the men's sector, there's GQ Style, ShortList Mode…
There's quite a few, yeah; there's Another Man, there's Arena Homme +. We're entering that market, to an extent, because they're also upmarket biannuals. I think that the difference is that they're very much fashion magazines, and we're more focused on style, which is a slightly more timeless – and less frightening – thing for men.
The truth is, without doing those magazines down (because I think they do a great job), they are magazines for the 'industry'. They're read by stylists and 'bleeding-edge trendies', I suppose. That's great, and that has its place – there are stylists and bleeding-edge trendies in the world, who need magazines too! But they have an embarrassment of magazines now. The ones I've mentioned are the tip of the iceberg – if you go into a newsagents where I work in Soho, they carry everything from around the world; there is an enormous amount of extremely esoteric and somewhat baffling (even to someone like me, who works in fashion publishing) stuff. The kind of imagery can be extraordinarily…weird. And not something you'd find a man wearing in the real world. You might see someone wearing it at 4 o' clock in the morning at some fleapit nightclub in Hoxton (I don't know, I haven't been to one of those in a number of years…).
We feel there's nothing for men who are simply interested in style as it applies to actual daily life. If you're interested in tailoring; if you like watches; if you want to know where to get a fantastic suit, or what to wear in summer; if you want to be really smart and you've got some money to spend )but you don't want to look like some nightclub weirdo) then that's what The Big Black Book will be for.
It's going to answer a need that isn't being answered at the moment. I think we do a good job of telling men what to wear in our main magazine. This will really be a manual, or a guide…
Isn't this going to be available in hardback, as a reference tool…
It isn't going to be hardback like a hardback novel, but it is going to have a much thicker paper…
Sturdy!
Sturdy; exactly, it's hard-wearing, like a good pair of shoes! And it's something that you're supposed to be able to keep; absolutely! At least for the six months before the next issue (and hopefully longer) because it'll be full of advice on getting the best out of the good things in life. It won't just be clothes; there'll be cars, drinks – all the stuff that sophisticated men like. It's supposed to be 'grown up' and mature; it's not for kids.
I've noticed that there's a real fascination with watches in men's magazines…what's up with that?!
There are lots of things that women can write about – women have jewelry, handbags; women have lots of accessories and can show off their taste and status in many different ways, where men only have a few. Men do it with cars, but when you enter a restaurant, you generally don't do it in a car! The way to show it in daily life is 'shoes and watches', y'know, I think that's true – those are the only two ways we really have. Obviously, you could be wearing a beautiful suit, but they tend to be very subtle. Unless you're very much in the know, it's hard to tell if you're wearing a Saville Row suit.
A watch is really instant and quick – they're also really nice! Blokes like them; they're badges of status, success and taste, and they signal to other men who know about things that you know what's going on. People who aren't interested in style maybe don't understand how much we like watches – we really do like watches, a lot, and we spend a lot of time thinking about watches!
Who's going to be thinking about these watches and working on the magazine – take us through the editorial team and the sections they'll be in charge of…
It's the Esquire team, though we will, of course, be using freelance stylists, photographers, writers. I'm overseeing it. The deputy editor of Esquire, Johnny Davis, will be working as the editor on this (he's a former editor of The Face). Our fashion and style team will be working on it; it'll be collaborative. And there'll be some crossover, so some of the photographers (we're not sure who yet, because we haven't commissioned them) who shoot the big stories on Esquire will be shooting big stories on The Big Black Book.
So will you be working with freelancers you've commissioned before?
Mainly, yes, on the whole. I think there will be some new ones, because we'll be using people in specialist fields, like luxury tailoring, luxury watches. We already work with some of those people, but it's a chance to expand our coverage of luxury.
What kind of celebrities, designers, photographers and contributors are you hoping to feature in the magazine?
I think that it won't have celebrities – it's not about celebrity. We do very well with celebrities in Esquire; they're kind of intrinsic to the magazine. But this is about men's style. There often really isn't a crossover between the two…there aren't an enormous amount of brilliantly-dressed celebrities, if we're honest.
Nope.
But there are a lot of extremely well-dressed men! And men's style, fashion and menswear is in rude health, creatively and for the big brands, financially. It's a good time to be doing it, because smart, successful young men are more interested in style than they ever have been. There's an enormous wealth of information – put it this way, it hasn't been hard to find things to cover. There's far too much stuff to get in – it's a real editing process. I wish we could do it more often than twice a year, because we've got so much more to say.
How much of the March issue has been put together already?
We've got it planned; we've got an enormous big list of things to put in it – half of which probably won't make the cut.
Will you be working quite close to the wire towards the end?
I think, as you probably know yourself, we will leave everything to the last minute, and then do it – no! There'll be things coming up over the next few months that we'll want to include (that we will, I hope, be able to include).
Style wise, who do you look up to?
Me, personally?! Like lots of British men, I've always been interested in style, and like a lot of British men, it started off as an interest in street style, pop culture, tribal stuff. As I've got older, I've become more interested in classic style. So these days I dress very smartly (which is part of the job, really). I wear suits everyday, I have some made for me, I wear lots of Saville Row; it comes with the job.
If you're a man who's interested in style, we're lucky to come from one of the main places for fashion. There's only really London, Paris, Milan. England, France, Italy. I grew up in London and have always been around men who were interested in looking good, what to where and how to wear it. We like all the details, all the arcane knowledge. It's all about the details; to the outside world, the changes that happen over time may seem tiny and incremental – lapels get thinner, trousers get wider. But men are interested in this, and knowing about it.
I'm wearing double-breasted suits now, but ten years ago I'd have looked like an idiot – men want to know this stuff! And that's what we're here for – you don't want to get it wrong. Men like rules about this – women can be much more experimental. That's what The Big Black Book is doing; you can be really stylish, but you don't have to be avant-garde, or looking odd. It's actually about fitting in while demonstrating a bit of flair.
You can really get into men's fashion; you can work with tailors, choose a specific fabric, or a cut that suits you. It's a whole world you can immerse yourself in.
Fragrance and grooming seems to be pretty important too…
Over the last decade and a half, there's been an enormous explosion in men's grooming all around the world. Fragrance comes under that category – it's also about shaving, it's about moisturisers, it's about all those products. Our fathers' and grandfathers' generation probably didn't spend an enormous amount of time moisturising! I suppose it plays into that 'metrosexual' kind of thing, which is men taking care of themselves. The notion of a 'dandy', the man who cares about these things, who looks after himself and tries to make himself look as attractive as possible, is a British idea; it started centuries ago, and it's a continuation of that. I think there was a regression in the 20th Century where it was seen as unmanly. To me, that was a step backwards, and I'm glad to say those days are gone now. Men go to the gym now; they care about how they present themselves to the world. It's important; wrongly or rightly, people judge you on your presentation. If you look like you don't care, people probably think you don't care. If you present a smart, organised and attractive face to the world, I think people take you more seriously.
Since we spoke to you a year ago about taking on the editorship of Esquire, what have been your main successes?
On Esquire?
Yeah!
In life?!
You can do 'in life', too!
No, no, no!
We've had a brilliant year – it's been a combo of luck and hard work. We've had an enormous number of exclusive covers with massive stars, shot by the absolute 'A-List' of photographers. We had a huge exclusive with David Beckham in the summer, we were the only magazine to get an interview with Daniel Craig for 'Skyfall'. In terms of our covers, I think we've, not stepped up a gear, I think we've moved through the gears in a Jeremy Clarkson kind of way – we're now at top speed! I think we've been able to refine what we did when I first came here, which is to give a huge injection of life and energy into magazines.
Since I might as well, I'll boast! I think there is no other glossy magazine, not just in men's glossy magazines, that publishes the quality of writers and photographers that we do in the UK at the moment. Will Self, A.A Gill, Giles Coren – these people are contributing to us every month, they're publishing things that wouldn't be published anywhere else, because these pieces are too irreverent, slightly off-the-wall sometimes.
And in terms of photographers, we've got people like Terry Richardson – he doesn't shoot for other British magazines, so it's a big coop. When someone buys Esquire, they really are getting the best magazine, journalism, photographers and fashion styling in the world. I'm really proud of it, I think it stands up to and is better than anything else out there.
What is there left to achieve in the next year?
The challenge, first of all, is to maintain that quality because it's not easy, frankly, to keep doing it every month! Obviously, we want it to keep getting better and better so that's the second challenge. When you've got something this good, it's difficult – we set a high bar and now we've got to jump over it every month.
What Esquire is going to do now is expand – The Big Black Book is the first part of that expansion. It's encouraging to me because, as everybody knows, this is a difficult time for any print publication, magazine, newspaper, book, whatever. It shows an immense amount of confidence on the part of my superiors that they're giving us the resources to go ahead and do something like The Big Black Book, because it's a serious undertaking. And it's not cheap to make a really great fashion magazine.
The main project for the early part of next year is our digital offering, and I can't tell you anything about that at the moment, but we're working on digital projects that I'm confident will really change the game for men's media in this country. They're original, clever, and compelling products. I wish I could tell you about them, but we will certainly be launching one of those ideas in the early part of next year and it'll shake things up a bit…
What media do you enjoy? Magazines, films, TV, books?
I'm an obsessive and always have been – I'm a horrible, monster consumer! I'm like one of those whales that just goes along hoovering up all the plankton. I like all of it; from trashy rubbish, to very highbrow stuff. I read everything from Grazia to the London Review of Books – I've got subscriptions to both of those. I read all the papers, I read lots of stuff online.
I think it's a mistake to think Esquire's market is limited, because we're competing for men's attention with Sky Sports, and all the other great media brands that men like. I watch football and I love pop music, I love movies and I'm interested in politics. I have to make a decision every night – do I watch Newsnight, or is the football on? Or should I read The New Yorker, or should I go to the pub? There are all these things competing, and consuming all of it is the job of someone like me, frankly, because we're the ones who then try and edit all that down and tell men (who have a proper job) which bits of culture they should consume. That's my job as an editor, to say "these are the ten interesting things this month that you need to know about", whether it be in style, or culture, or the news, or sport, or cars, or whatever. We synthesise all that stuff, and say "don't listen to that noise".
Have you seen the new James Bond film?
Yeah, I went to the premiere!
Was it good?!
It's brilliant. Are you a fan of James Bond?
… [At this point your intrepid interviewer hesitates…] …
Be honest. You don't care, do you?
…I'm really old-school; I like the Timothy Dalton ones. Which is really bad.
You don't… that is really bad. You can't like Timothy Dalton! He's Grumpy-Bond!
Yeah! He is the best!
*Exhales* Oh dear. You need The Big Black Book; we'll teach you which James Bond film you're supposed to like!
I need some tutelage.
You do.
If you'd also answer "who's the best Bond" with cries of "DALTON!!", you may also need some help. Don't risk further embarrassment – keep an eye out for The Big Black Book in March 2013.
While you wait, keep up with the Esquire team on Twitter @EsquireUK.